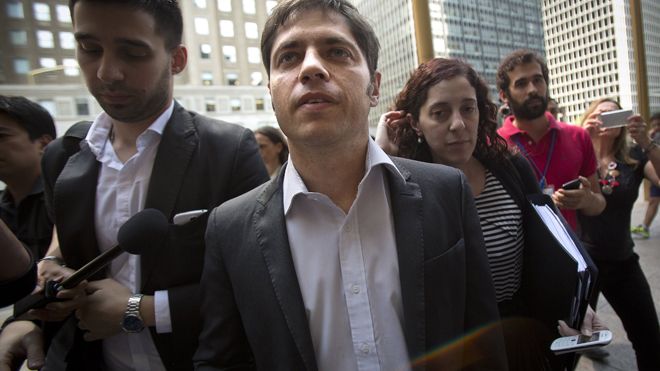 Argentina defaults on its debt after officials failed to reach a deal with holdout creditors after two days of talks, ending the night without a settlement on Wednesday. This is Argentina's second default in just over than 12 years.
Argentina's economy minister, Axel Kicillof, repeatedly referred to the holdout hedge funds as "vultures" during a news conference at the Argentine consulate in New York.
"Unfortunately, no agreement was reached and the Republic of Argentina will imminently be in default," Daniel Pollack, the court-appointed mediator said in a statement Wednesday evening.
Kicillof said Argentina proposed the holdout creditors roughly the same terms as other creditors who recently negotiated with the country, but those terms were rejected.
Argentina restructured its debt in 2005 and 2010 after defaulting back in 2002, and more than 90 percent of the bondholders had agreed to accept new bonds with reduced payments. The holdouts, however, refused the same terms fearing the same repeated failure to meet Argentina's obligations, and were awarded $1.33 billion, plus interest, by a U.S. judge.
A fresh default is not expected to damage Argentina's already weak economy anymore than it did more than a decade ago. In 2002, dozens of people were killed in street protests and the authorities froze savers' accounts to prevent a continuous run on the liquidity-light banks.
The default will worsen an economy that was already in recession, as well as weaken the currency as more Argentines hoard U.S. dollars. The hoarding of U.S. dollars will put significant pressure on foreign reserves, pushing up prices further. With Argentina being the world's third-largest soybean exporter, the commodity is expected to increase in price as demand increases.
"The full consequences of default are not predictable, but they certainly are not positive," Pollack said, calling the situation unfair and painting Argentina as a victim.
He said he planned to return to Argentina after the news conference.
One of the country's biggest challenge was that it could not pay the holdout creditors what was required without automatically triggering a clause that would have force the country to renegotiate with bondholders who accepted previously restructured debt agreements after the 2002 default.
The holdout creditors require full repayment on junk bonds they bought cheap when the country Latin America's No. 3 economy first defaulted.
The Buenos Aires government had requested a stay of the U.S. court ruling that set Wednesday's deadline, but the country had until midnight Wednesday (0400 GMT on Thursday) to reach a deal. U.S. District Judge Thomas Griesa in New York was set to prevent Argentina from making the July 30 deadline – representing the end of a 30-day grace period – for a coupon payment on exchanged bonds.
Argentina argues that a so-called rights upon future offers, or RUFO, clause prohibits it from settling with the holdouts. However, RUFO expires at the end of 2014.
Kicillof contends that Argentina made good on that payment, citing a $539 million deposit in a Buenos Aires account of trustee agent Bank of New York Mellon. And, according to a source at the bank, as of Tuesday that money was still there.
U.S. ratings agency Standard & Poor's adjusted the country's long- and short-term foreign currency credit rating to "selective default," down from triple-C-minus and C. S&P noted that Argentina had not yet made a June 30 coupon payment on its discount bonds due in 2033. The default rating will remain until Argentina makes a payment, the S&P said.
Roberto Sifon-Arevalo, managing director at S&P, said that the "making of the payment is not an automatic process – it takes time for that to happen," .