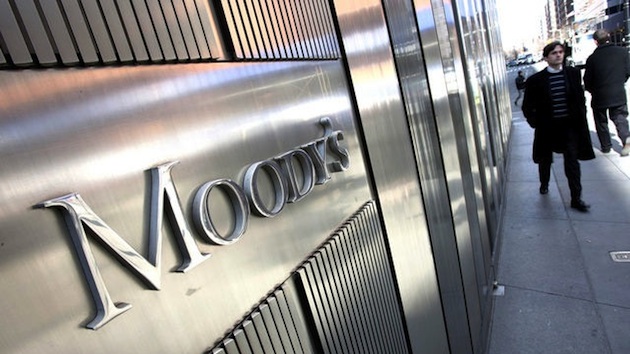 Moody's Investors Service on Monday downgraded Japan's sovereign debt rating by one notch to A1, citing rising uncertainty over the country's national debt. The latest development puts Keynesian economics in the hot seat just a few short days before a pivotal election.
The U.S.-based rating agency said the downgrade reflected the uncertainty around the nation's ability to hit its debt-reduction goal, which briefly sent the yen to a seven-year low against the dollar and pushed 10-year Japanese government bond (JGB) futures down by 10 ticks.
The downgrade came less than two weeks before Japanese Prime Minister Shinzo Abe seeks re-election at a snap poll where his stimulus policies and a decision to delay a second sales tax hike will be among the key campaign issues.
Abe's economic policies do not appear to have had an affect, and voters will have to decide whether they will revive the economy and restore the country's tattered finances.
"This is particularly bad for Abe because the opposition can attack him for this before the election," said Hiroshi Miyazaki, senior economist at Mitsubishi UFJ Morgan Stanley Securities.
The U.S. rating agency said the outlook was stable. However, the Bank of Japan, or BOJ, implemented a massive stimulus in April last year and expanded it on October 31. They bought more JGBs than the government issued last month, which rightfully increased fears of debt monetization, much like the United States.
Tom Byrne, regional credit officer of Moody's, said the downgrade was closely linked to Abe's decision to delay next year's scheduled sales tax hike, which made it more challenging for Japan to achieve its target of reducing the primary budget deficit in fiscal 2020.
"There is concern that fiscal policy in its current state will not achieve the long-term fiscal goals," he said.
The statement from Moody's underscores the dangers of monetary policies that disregard increased national debt, and that its short-term benefits far outweigh the long-term costs.
"Rising interest rates would increase expenditure and offset gains from revenue buoyancy," it said, adding that there was increasing uncertainty about how quickly Abe could even bring about his "third arrow" policy to increase Japan's long-term growth.
Byrne said that while the BOJ's stimulus policy was "unorthodox."
"If you take Abe's three arrows and combine them, the third arrow of economic growth policies hasn't been supportive yet," he said. The first two arrows are aggressive monetary and fiscal stimulus deployed to end nearly two decades of deflation.
Japan's A1 rating is now just one slot lower than China and South Korea, but it is four lower than the United States and Germany, which have retained their top Aaa ratings.
The Moody's downgrade brings its Japan rating into line with that of Fitch and one notch below Standard and Poor's. However, Japan's national debt is now twice the size of its overall gross domestic product, a course the U.S. is chartered to enter if no course correction is made.