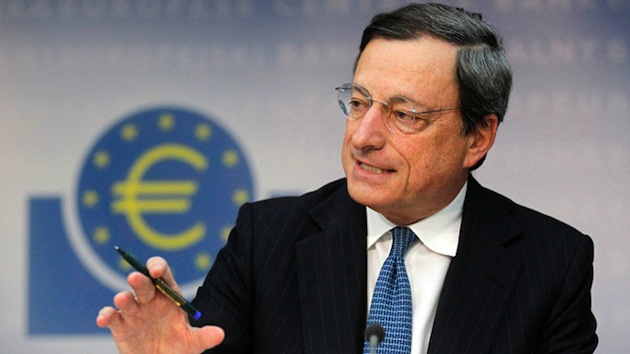 The European Central Bank announced they would keep the cost of borrowing at record lows after a meeting Thursday, facing two-sided pressure from Washington and Germany.
Both a public and private call from Washington pressured the ECB to hold the rates down, as administration officials and Fed players were concerned further global slowdowns would harm the U.S. economy. With no recovery in sight in at least 18 countries that share the euro, ECB President Mario Draghi will present fresh growth and inflation forecasts from bank staff at his post-meeting news conference at 1330 GMT.
Yet, both of these measures are likely to be downgraded further. Still, the U.S. Federal Reserve's influential vice chair, Stanley Fischer, said that money-printing would help Europe as it had the United States.
"If the ECB moves in that direction, it will have positive effects," Fischer, who was Draghi's academic mentor at university, told a newspaper in Italy.
However, Draghi considerable opposition from an economically stronger-than-average Germany. Last week, Sabine Lautenschlaeger, Germany's appointee to the ECB's Executive Board, said it was not the time for a state bond-buying program that would reduce the value of currency, increase inflation risks and inevitably increase the cost of borrowing.
While the ECB could extend their scheme to buy secured debt, including corporate bonds, it is unlikely it will announce any money printing to buy government bonds.