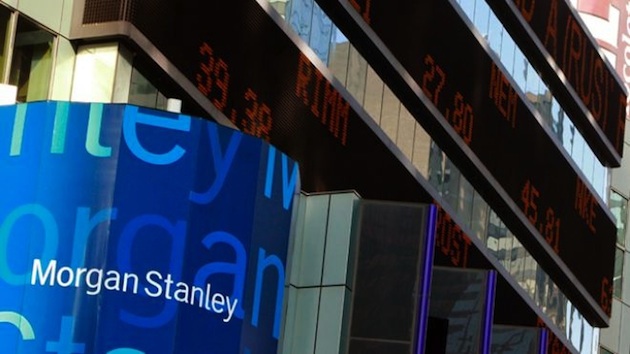 Morgan Stanley's (NYSE:MS) revealed Tuesday that their fourth-quarter profit increased from a year-earlier, but it still missed Wall Street's expectations. Last year, the company was weighed down by large legal charges, and revenue was hurt by the same investor trading stall that took a toll on rivals last week.
Shares of the company fell by 2.9 percent in pre-market trading Tuesday morning as a result, but as of 8:54 A.M. ET, they had bounced back to flat.
The bank reported a profit of $1.04 billion compared with a year-earlier profit of $84 million. Without one-time items and accounting adjustments, profits were actually down at 39 cents from 50 cents a year earlier, while analysts polled by Thomson Reuters had expected adjusted earnings of 48 cents a share.
The latest quarter's results include a tax gain of $1.4 billion and a compensation expense of $1.1 billion, but the year-earlier quarter included a pretax legal expense of $1.2 billion. Revenue fell 1 percent to $7.76 billion, and excluding accounting adjustments, revenue dropped 8.2 percent to $7.54 billion. That's below analysts' estimates of $8.08 billion.
Revenue from equities trading, which is a primary source of profit for Morgan Stanley, increase to $1.6 billion from $1.5 billion a year earlier, but came in lower than what rival Goldman Sachs Group Inc. (NYSE:GS) reported on Friday.
Morgan Stanley's revenue miss from "FICC" puts them in the same boat with Goldman, Citigroup Inc. (NYSE:C), Bank of America Corp. (NYSE:BAC) and J.P. Morgan Chase & Co. (NYSE:JPM), all of which posted lower revenue from fixed income, currencies and commodities trading. FICC has seen difficult trading conditions for firms across the Street, sucking up profits made elsewhere.
Morgan Stanley's adjusted FICC revenue posted at roughly $599 million, down 14 percent from a year earlier.
Wealth management, a far less volatile division in the firm, put up big numbers. Revenue rose 2.4 percent from a year earlier and edged up 0.8 percent from the prior quarter to $3.8 billion.
The closely watched wealth management unit's pretax profit margin, an efficiency metric, was 19 percent in the 4Q, flat from a year earlier and down from 22 percent reported in the 3Q. Morgan Stanley targeted a pretax profit margin of 22 percent to 25 percent by the end of this year.
Lower expenses helped to fuel earning increases. Even with a 28 percent rise in compensation costs, largely fueled by an early buyout of employee bonuses to speed up vesting periods, noninterest expense clocked in at $7.9 billion, which is down 2 percent from the year earlier and up 18 percent from the 3Q.