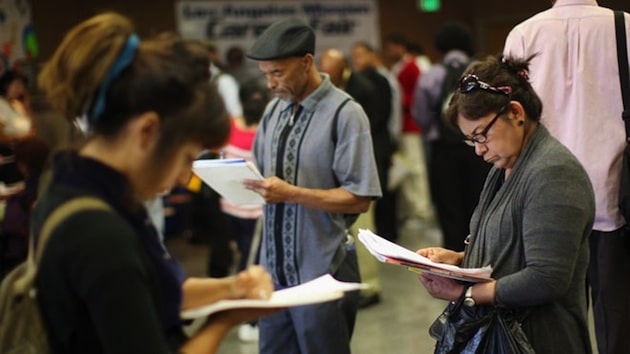 The U.S. economy added 257,000 jobs and the unemployment rate increased to 5.7 percent in January, but there's a good reason for that. The labor force participation rate, which remains at a 36-year low, rose by 0.2 percent to 62.9 percent.
Economists had predicted 234,000 new jobs last month and that the unemployment rate would hold steady at 5.6 percent. But with the civilian labor force increasing by 703,000 in January, which translated to more Americans re-entering the labor force, the headline number advances.
Unfortunately, despite this marking the 12th consecutive month in which the U.S. gained more than 200,000 jobs, it hasn't translated into bigger paychecks for U.S. workers. Wages remain a serious fundamental weakness in the U.S. economy.
Average hourly earnings for all employees on private non-farm payrolls rose by 0.5 percent in January, a turnaround from December, when wages fell by 5 cents to $24.57. Over the past 12 months, average hourly earnings have risen by just 1.7 percent, well below the 3 percent rate economists say is healthy.
Low wages are also symptomatic of the chronic, low-paying jobs that are by majority fueling job creation in America. While the U.S. has numerically regained the estimated 8.8 million jobs lost during the Great Recession, the quality of those jobs are not comparable. Further, such superficial analysis omits the impact of population growth.
The number of persons employed part time for economic reasons — which is sometimes referred to as involuntary part-time workers — was again unchanged in January at 6.8 million. These individuals prefer full-time employment, but were working part time because their hours had been cut back or because they were unable to find a full-time job.
The government requires just one hour of work per week and $20.00 in income to be considered "employed."
In January, 2.2 million persons were marginally attached to the labor force, of which 682,000 are "discouraged workers." These individuals were not in the labor force, wanted and were available for work, and had looked for a job sometime in the prior 12 months. However, they are not counted as unemployed because they had not searched for work in the 4 weeks preceding the survey.
When factoring for the government's methodologies, the real unemployment rate rose to 11.3 percent.
Meanwhile, because average hourly wages have been stagnant for years, which has kept the Fed's 2 percent inflation target out of reach, wages have emerged as perhaps the key indicator to determine when the Fed might start raising interest rates.
During the past year, at least, average hourly earnings growth has come nowhere near the 3 percent – 3.5 percent growth rate the Fed views as necessary to keep inflation at its desired target. While the inflation target has not yet been hit, the Fed is still expected to raise rates in mid-2015, or June.