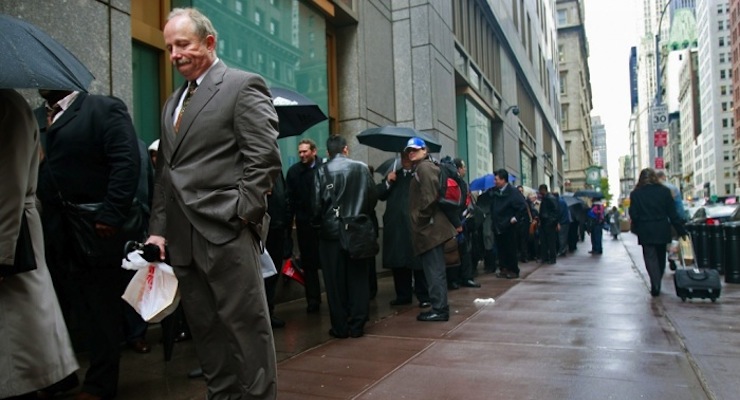 The Labor Department reported Thursday that weekly jobless claims for the week ending May 16 rose to a seasonally adjusted 274,000, an increase of 10,000 from the previous week's unrevised 264,000 figure.
The 4-week moving average was 266,250 — which is widely considered to be a getter gauge of the labor market, as it irons out weekly volatility — decreased by 5,500 from the previous week's unrevised average of 271,750. While this is the lowest level for this average since April 15, 2000 when it was 266,250, a survey released Wednesday offers a bleak labor market picture that isn't apparent by the headline numbers.
"The State of the Unemployed," a Harris survey of 1,553 working-age Americans conducted for Express Employment Professionals, found that 40 percent of unemployed Americans have completely given up looking for work.
"We often hear people theorizing about what motivates the unemployed or how joblessness is affecting the lives of our fellow Americans. Instead of guessing, we decided to ask them," said Bob Funk, CEO of Express Employment Professionals and a former chairman of the Federal Reserve Bank of Kansas City. "This survey shows that some of the troubling trends we observed last year are continuing. While the economy is indeed getting better for some, for others who have been unemployed long-term, they are increasingly being left behind."
The survey helps to explain the disparity between the Labor Department's data and reality, even though the government claims no state was triggered "on" the Extended Benefits program during the week ending May 2.
The labor report said the total number of people claiming benefits in all programs for the week ending May 2 was 2,195,714, which is a decrease of 58,933 from the previous week and down from 2,620,550 claiming benefits in all programs in the comparable week in 2014. While on the surface it may appear the long-term unemployment picture is getting better, it is largely a reflection of the number of ineligible people who have exhausted their benefits.
In reality, compared to last year, the average duration of unemployment has increased by greater than three months, from 23.2 months to 26.8 months. Further, more than two out of five unemployed Americans have been jobless for more than two years. That represents an increase from 2014, when 32 percent said they had been out of work for more than two years.
Among the roughly 9,000,000 Americans currently unemployed, 14 percent are receiving unemployment benefits and 89 percent say they would "search harder and wider" for work if their benefits ran out before finding a job. This is a typical finding and an economic reality, which is why repeatedly extending long-term unemployment benefits as advocated by the Obama administration and Democrats, may sound rosy but is simply bad economic policy.
Those receiving benefits were asked whether they agree with a series of statements about unemployment compensation benefits.
40 percent agree that "I haven't had to look for work as hard knowing I have some income to rely on."
36 percent agree that it "has allowed me to turn down positions that weren't right for me."
69 percent agree that it "is giving me a cushion so that I can take my time in searching for a job."
59 percent agree that it "has allowed me to take time for myself."
Meanwhile, 37 percent of unemployed American say they have never applied and 32 percent say they are not eligible. But, for a whopping 22 percent, which represents roughly two million Americans, benefits have already run out, and nine percent were denied.
"Over the last year, we have seen the unemployment rate go down, but we too easily forget that there are people still hurting, still wanting to work, but on the verge of giving up," Funk said. "I believe everyone who wants to work should have a job, so we must not overlook those who have been left behind and left out of the job market."