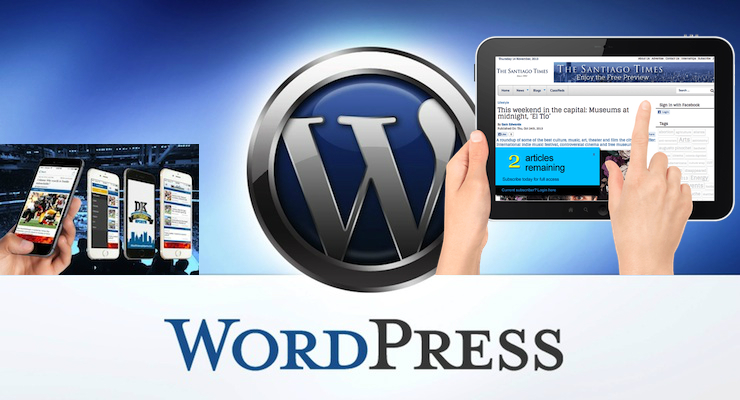 Since it's release on May 27, 2003, the WordPress content management system (CMS) has evolved from a blogging platform to an industry leader in Internet publishing. Their brilliance was in their decision to make WordPress a free, open source software for a community of loyal users, entrepreneurs, theme designers and plugin contributors in need of an easy-to-use yet versatile platform.
Research from W3Techs found that 15 percent of the world's one million largest websites are powered by WordPress, and over 54 percent of all websites using a CMS. As the pie chart below demonstrates, WordPress now powers 23.9 percent of all websites and is gobbling up marketshare quickly.
By comparison, Joomla, a CMS competitor, is in a very distant second used by just 7.2 percent of all the websites whose content management system we know. Joomla's market share represents just 2.9 percent of all websites. WordPress.org recently boasted that 22 out of every 100 new active domains in the United States are running WordPress, and the popularity of WordPress is evident from a simple search in Google Trends.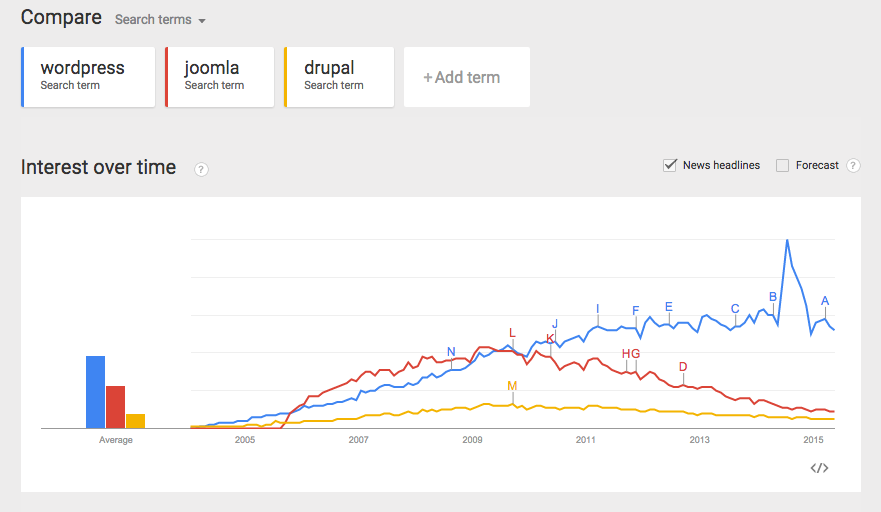 However, as forward-thinking and innovative as Team WordPress (WordPress Foundation) has proven themselves to be, they cannot take all of the credit for their platform's market dominance. There are scores of companies and individuals who, from the beginning, saw the potential in WordPress and helped grow the platform to the website-running giant it is now.
Recently, we had a chance to speak with the head of one of those companies. Peter Ericson is the co-founder of Zeen101, who together with Lew Ayotte, runs what is undoubtedly the most important company in existence for premium site publishers on the WordPress CMS, whether they know it or not.
The story of Zeen101 is inseparable from the evolution of WordPress from a simple blogging platform to one now used by news organizations, magazines, eCommerce sites and scores of other industries with an Internet presence. By default, a website's homepage on the WordPress CMS displays a simple blogroll of the site's latest "posts." Prior to version 1.5, that was not just the default but the only option.
"I started in a general web development company, but the tech wasn't there to give clients more flexibility" Ericson said. "We found a plugin that changed the WordPress frontpage from a blog to a static homepage. I thought 'this can be a website, not just a blog.'"
The publisher solutions that would come to be developed and offered by Zeen101 began with meeting the demand of a client — Dartmouth College — who told Ericson they needed a way to put Dartmouth Engineer Magazine online to reach alumni, current and prospective students. Basically, publishers at the Dartmouth Engineer — and later, the Atlantis Rising Magazine — wanted a digital version on WordPress.
For every need there is a product, that is, if the individual or the company has enough vision and skill to meet the demand. In this case, the demand was met by supplying Dartmouth with the Issue Manager Theme, which was originally developed to help Dartmouth manage each issue produced. The software also allowed publishers to easily design and publish digital issues without sacrificing quality of content, or quality and content.
From Issue Manager Theme To IssueM
Ericson and Ayotte decided to develop the plugin version of IssueManager, and shortened its name to IssueM. Because they made the move right around the time WordPress developed the custom post type functionality, the newly designed plugin gave clients the ability to abandon the blogging "post" default for an "article," which for obvious reasons is far more conducive to publishing news and magazine issue content.
The $50.00 purchases were coming, but not fast enough. So, two years ago, in the true spirit of WordPress, they decided to make the core software free, or open source, submitting it to the WordPress.org plugin directory. The business model, which stands to this day, consisted of offering premium products to use alongside the free core software, which would inevitably include the Leaky Paywall, the mobile app management software UniPress, and multiple traditional and native ad management tools.
"At the time, my wife gave me a rough time. She thought I was crazy to offer IssueM for free," Ericson joked. "But on the flip side, you have to have a plan to monetize that give-away."
It was a gamble, but one he says every WordPress software developer should consider making if, again, they have a plan to monetize.
"If anyone is thinking of taking their software open source, if you can, absolutely do it."
With the core software on the open source directory, Zeen101 opened themselves up to reviews from the who's who in the WordPress community. It proved to be a boon.
"What I like about IssueM (as well as being free) is that it is super simple and intuitive to use," Leanne King, a writer for the popular site WP Queen said. "You simply create the Issue of your Magazine in the dashboard of WordPress and then add articles to each issue. Easy peasy. Out of the box, it's a quick, elegant and free solution to get started as an online magazine publisher for your niche."
Meanwhile, with positive reviews making the rounds, Zeen101 continued to build publications and sell other premium software that integrates with IssueM. The help desk is continuously looking for patterns in the requests that come in from clients, which identifies common publisher needs that could be considered for development.
Dartmouth got them in the door with other schools in need of publisher solutions, including Simmons, Middlebury, Yale, Berkley and the State University of New York. They have even begun to make inroads into other commercial and professional industries, such as the American Bar Association.
A few years back, while Peter was browsing the RSS reader Feedly, he saw an article about the The New York Times beginning the evolution into the metered paywall model. It was a rocky rollout for The Times, but pioneering the metered paywall, which essentially allows readers to view a predetermined number of articles before prompting them to subscribe, turned out to be a profitable success.
Even prior to the more-known paywall pilot by The Times, the model had been on Ericson's radar. He had been watching Marco Arment experiment with The Magazine, which he later sold.
"The Magazine started with a metered paywall, and I thought it was coming and needed to jump on it," he said.
There are two practical benefits to the metered paywall juxtaposed to the hard paywall model used by most others at the time, including The Wall Street Journal, which continues to use the model. Unlike a hard paywall, with a "leaky" paywall Google still crawls the articles and pages on the site, and social media shares aren't, well, pointless.
To be sure, others have caught on to at least a variation of the model used at Zeen101, but there are some stark differences. Perhaps the most known paywall alternative, TinyPass, which is well-funded by corporate sponsors and venture capitalists, has several challenges in the growing WordPress publishing market.
"As far as Leaky Paywall or Zeen101, in general, in comparison to TinyPass and others, we come from the core of WordPress," Ericson said.
TinyPass is certainly not WordPress-specific and was clearly not designed with WordPress publishers, who represent the vast majority of CMS consumers, in mind. Because they aren't WordPress-centric, there is only so much their software can do.
In addition to the lack of functionality — or, the inability to provide a truly all-in-one, consolidating solution — TinyPass also generates revenue from subscription transactions. Leaky Paywall offers publishers the option to pay a one-time, inexpensive fee, allowing them to keep what will be a far larger portion of their profits.
Ask any WordPress publisher with a news or magazine niche what their main priority or request would be, and they will tell you integration and syndication. Whether they are running a small, local publication or a national outlet, no administrator or editor can spend precious time republishing articles from their main site to mobile apps or redesigning advertisement space for each platform. According to an industry leader, that model simply isn't viable anymore. Publishers will have to find new and faster ways to deliver their content to users, or drown.
"The business model for media agencies needs to change," says David Hohman, the Executive Vice President at Nielsen. "Many agencies still operate according to an old-school billable hours model, but as tech companies and platform vendors bring new services to the marketing and advertising world, media agencies are going to need to evolve faster."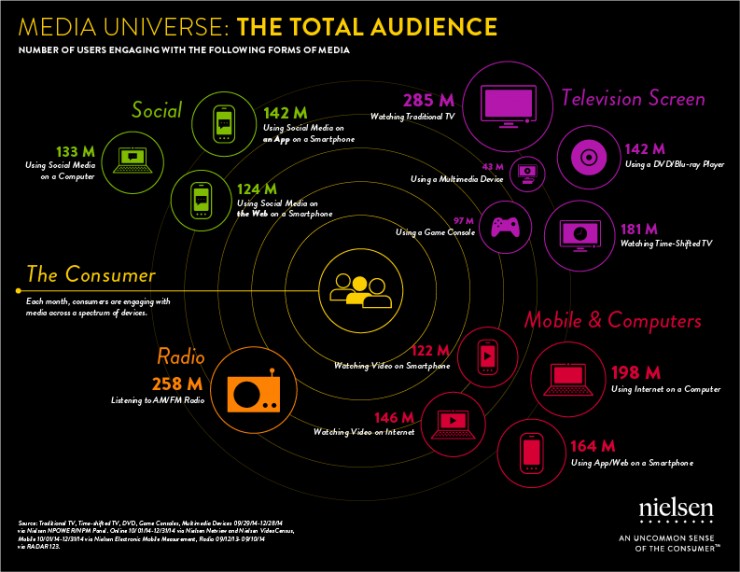 "Publishers are starting to realize they can integrate their platform with a seamless and easy, inexpensive solution," Ericson notes. "If publishers want to implement a paywall on their digital publication, integrate their site content, traditional and native ad management with mobile apps, there's no other way to do it."
(Disclosure: For all the obvious reasons above, People's Pundit Daily is also a Zeen101 client.)