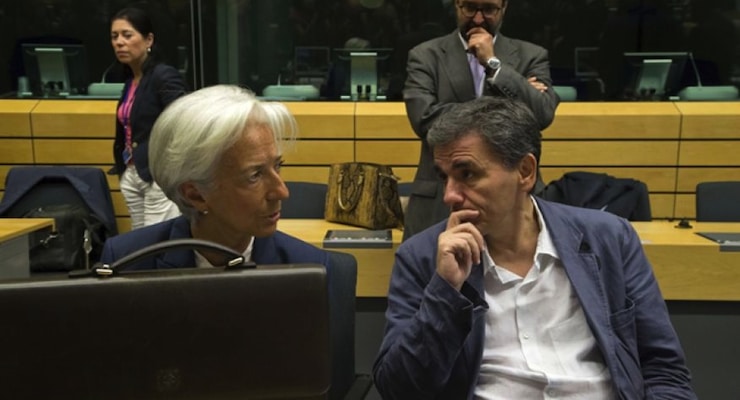 For understandable reasons, the fiscal mess in Greece has dominated the European economic headlines. But there are other developments that deserve attention. Amazingly, some politicians think Europe's stagnant economy can be improved with more harmonization, more bureaucratization, and more centralization.
The EU Observer has a story about a French scheme to transform the eurozone into a supranational government.
French president Francois Hollande has called for a stronger more harmonised eurozone… "What threatens us is not too much Europe, but too little Europe," he said in a letter published in the Journal du Dimanche. He called for a vanguard of countries that would lead the eurozone, which should have its own government, a "specific budget" and its own parliament. …French prime minister Manuel Valls Sunday said…France would prepare "concrete proposals" in the coming weeks. "We must learn the lessons and go much further," he added, referring to the Greek crisis.
I'm not sure what lessons Monsieur Valls wants people to learn. Greece got in trouble because of big government and excessive intervention.
So why is anyone supposed to believe that adding a new layer of government is going to make Europe more prosperous?
In all likelihood, the French are pursuing this agenda for two selfish reasons.
A "harmonised eurozone" means that all affected nations would have to abide by the same rules, and that inevitably means taxes and regulations are set at the most onerous levels. The French think that's a good idea because it's a way of undermining the competitiveness of other eurozone nations.
A eurozone government with a "specific budget" sets the stage for more intergovernmental transfers in Europe. The French think that's a good idea since they presumably could prop up their decrepit welfare state with money from taxpayers in nations such as Germany, Finland, and the Netherlands.
By the way,not all French politicians are totally misguided.
At least one of them is expressing more sensible ideas, as reported by the U.K.-based Telegraph.
France is "the sick man of Europe", François Fillon, the former centre-Right prime minister, has said in an open letter to French president Francois Hollande, calling for urgent economic reforms."The Greek tragedy shows that the threat of bankruptcy is not abstract," according to Mr Fillon… French commentators writing about the Greek crisis in recent days have pointed out that France's own national debt of more than €2 trillion (£1.4 trillion), amounting to 97.5 per cent of GDP, places it in the same league as Spain and other southern European countries.
By the way, the commentators who are fretting about French debt are focused on the wrong variable. The French disease is big government. High levels of debt are simply a symptom of that disease.
Moreover, I'm not sure that Monsieur Fillon is a credible spokesman for smaller government and free markets since he served during the statist tenure of President Sarkozy.
In any event, if there are any serious reformers in France, they face an uphill battle. As I've previously noted, many successful people and aspiring entrepreneurs have left France.
Here's a news report on the phenomenon.
[brid video="11766″ player="1929″ title="France's Reckoning Rich Young Flee Welfare State"]
And just in case you think this is merely anecdotal data, here's a table showing the nations that lost the most millionaires since 2000.
In the case of China and India, rich people leave because they want to establish a domicile in a developed nation.
But successful people escape France in spite of its first-world attributes.
Let's now cross the Pyrenees and see what's happening in Spain.
Our Keynesian friends, as well as other big spenders, are always trumpeting the value of infrastructure projects because they ostensibly pump money into an economy.
I've made the point that such outlays should be judged using cost-benefit analysis. Well, it appears that Spain listened to the wrong people. It got a €10,000 return on an infrastructure "investment" of €1,100,000,000.
One of Spain's "ghost airports"—expensive projects that were virtually unused—received just one bid in a bankruptcy auction after costing about €1.1 billion ($1.2 billion) to build. The buyer's offer: €10,000. Ciudad Real's Central airport, about 235 kilometers south of Madrid, became a symbol of the country's wasteful spending.
Wow, and I thought Social Security was a bad deal.
But Spanish politicians should be known for more than just misguided boondoggles.
Some of them also are working hard to make sure citizens don't work too hard. Here's a story from an English-language news outlet in Spain (h/t: Commentator).
Between the hours of 2pm and 5pm you will struggle to find anyone in the Valencian town of Ador; the town's inhabitants will have taken to their beds to catch their mandatory forty winks. The town's summer siesta tradition is so deep-rooted the mayor has enshrined his citizen's right to an afternoon snooze in law. …Ador could be the first town in Spain to actually make taking a siesta obligatory by law. …The new rules also stipulate that children should remain indoors:
One imagines the next step will be mandatory bed checks by new bureaucrats hired for just that purpose.
Though maybe they would need special permission to take their mandatory siestas from 11:00-2:00 so they would be free to harass the rest of the population between 2:00-5:00.
In any event, we can add mandatory siestas to our list of bizarre government-granted human rights.