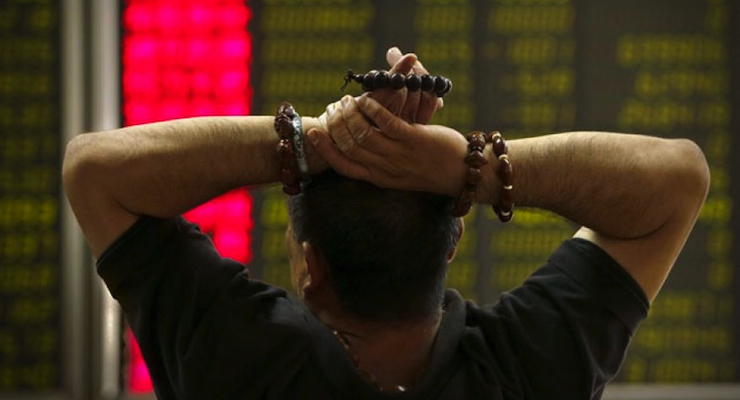 China's Shanghai Composite Index Sheds 8.5%
China's stock markets suffered their sharpest daily loss since the global financial crisis on Monday, wiping out Shanghai's gains for the entire 2015 year. The selloff comes as investors world-wide have been concerned by a slowdown in China's economy, and volatile selling in its markets.
The Shanghai Composite Index (SHA:000001) lost nearly 8.5 percent at Monday's close, which was its largest daily percentage decline since February 2007. Today's performance reminded investors of an 8.5 percent drop on July 27, when worries mounted that authorities were pulling back on measures to prop up the market.
Monday's selloff reverberated across Asia and beyond ahead of China hosting world leaders for a memorial parade next week, which is meant to show off its military power and increasing clout on the global stage. In addition, Chinese President Xi Jinping is scheduled to visit the U.S. next month. But a global selloff was already gathering pace by late afternoon in Asia, with European stocks and U.S. stock futures falling sharply.
Concern the Chinese economy may be slowing down dramatically triggered the heavy losses in global stock markets, commodities and emerging markets. China again moved to devalue its yuan two weeks ago—which could make its exports more competitive—came amid a string of weak data signal the economy may be far more fragile than initially expected. Despite a policy that includes interest rate cuts and measures to boost lending, officials have not been able to stem the bleeding.
The Shanghai Composite closed Monday at 3209.91, making total losses since its mid-June peak climb to nearly 38 percent. In the prior 12 months leading up to the drop, the index had doubled in value. The smaller Shenzhen market fell 7.7 percent to 1882.46, closing down 40 percent from its June peak. Both indexes breached a previous bottom in early July, after the government had stepped in with massive intervention measures to stem the bleeding.