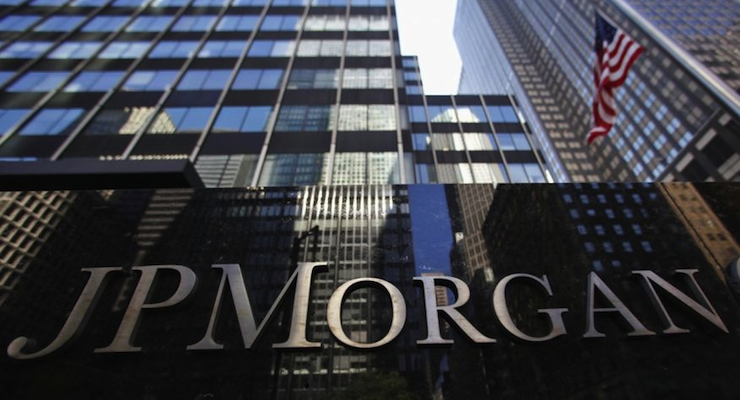 J.P. Morgan Chase & Co. (NYSE:JPM) posted third-quarter revenue declines that missed expectations and sent shares down 0.6% to $61.16 in after hours trading. The largest U.S. bank by assets reported a profit of $6.8 billion, or $1.68 a share juxtaposed to a profit of $5.57 billion, or $1.35 a share, in the same period of 2014.
Excluding $2.2 billion of tax benefits and other one-time items, earnings came in at $1.32 a share, below analysts' expected earnings of $1.37 a share. Revenue fell 6.4% to $23.54 billion, while analysts had expected $23.69 billion.
"We had decent results this quarter. We saw the impact of a challenging global environment and continued low rates reflected in the wholesale businesses' results, while the consumer businesses benefited from favorable trends and credit quality," said Jamie Dimon, Chairman and CEO. "Overall, our risk management discipline and diversified platforms across the businesses are serving us well."
Trading revenue decreased 15% to $4.34 billion from $5.07 billion in the third quarter of 2014, and the report follows comments from Bank of America Corp. (NYSE:BAC) and Citigroup Inc. (NYSE:C) executives that revenue at their units trading equities, bonds, currencies and commodities were expected to fall about 5% in the third quarter.
However, worth noting, overall costs decreased 3% to $15.37 billion from $15.8 billion in the third quarter of last year. Banks have been under continued pressure to keep costs in check as interest rates have remained low, which limits the profit margins in lending businesses.
"We continue to focus on our commitments, optimize our balance sheet and manage our expenses," Dimon noted. "We are also building the businesses for the future, dedicating resources to controls, cybersecurity and technology."
The bank's legal expenses still totaled $1.3 billion in the third quarter, which is higher than the $1.06 billion it reported in the same period a year ago. It is also far more than the $291 million it recorded in the second quarter. Return on equity, or a gauge of J.P. Morgan's profitability, was 12% in the third quarter compared with 10% a year earlier. J.P. Morgan faced some questions from analysts and investors earlier this year over whether it might be better for shareholders if the global bank broke itself up into smaller, more manageable units.
The bank continued to cut its workforce last quarter amid burdensome regulations and the need to offset legal fees, axing 1,781 people and putting their workforce at 235,678. That includes reductions across its consumer & community banking and corporate divisions. In May, The Wall Street Journal reported the bank began to eliminate more than 5,000 jobs as it looks to save on expenses.
"Our position of strength allows us to make significant investments to transform the businesses we operate, deliver better experiences to our customers and clients, gain share and be positioned to be a long-term winner," Dimon added.
J.P. Morgan kicks off the third-quarter earnings season for large U.S. banks, offering investors and analysts a snapshot of a quarter that is expected to be characterized by a decline in bond trading amid summer market swings and continued pressure on revenue.
Though shares of J.P. Morgan Chase hit an all-time record high of $70.61 in July, they've shed 13% off their high. On a year-over-year basis, they are down 1.7% juxtaposed to a 5.1% loss in the KBW index of bank stocks over the same period.