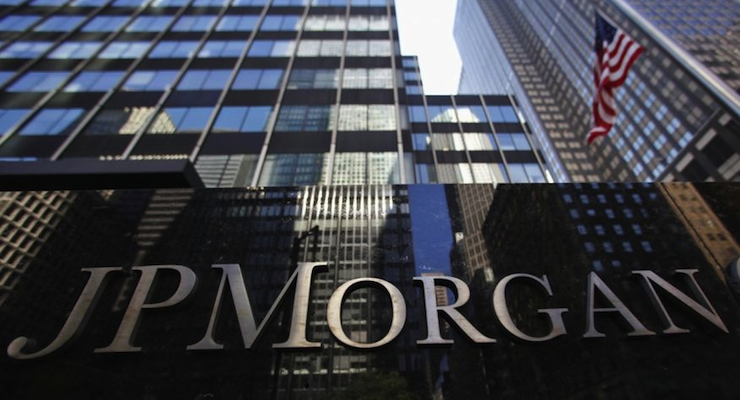 JP Morgan Chase & Co. (NYSE:JPM), the nation's biggest bank by assets, posted fourth-quarter earnings per share of $1.32 on revenue of $22.9 billion. The results–which mark a 10.2% rise in profit for the last quarter–easily beat Wall Street expectations and company estimates on both measures.
"We had a good quarter as 2015 came to a close," Jamie Dimon, Chairman and CEO said in a statement. The businesses generated strong loan growth and credit quality, except for some stress in energy. The consumer business continues to gather deposits, outpacing the industry. Markets were somewhat quieter, and we saw the impact reflected in the results of our trading and Asset Management businesses."
On a per share basis, JP Morgan reported earning $1.32. Analysts expected profits per share of $1.25 on revenue of $22.89 billion. Discipline on expenses contributed greatly to the better-than-expected report. The bank's net income rose to $5.43 billion in the three months ended Dec. 31 from $4.93 billion a year earlier.
"Looking at performance for the full year, 2015 was another record year for the Firm for net income and EPS, and importantly we exceeded on all of our commitments – balance sheet optimization, capital, GSIB and expense," Dimon added. "On operating leverage, we delivered core efficiencies while continuing to invest in innovation and technology, infrastructure and talent – crucial for protecting the company and customers, and for our growth."
JPMorgan is the first big bank to report results since the Federal Reserve (Federal Open Markets Committee) raised its benchmark interest rate for the first time since 2006 on Dec. 16. Because it enables them to charge higher rates on loans, themselves, interest rates are typically good for banks.
Citigroup Inc and Wells Fargo & Co, the third and fourth biggest U.S. banks, report results on Friday.
"The Firm is getting safer and stronger each year. We are continuing to adjust our strategy to the new world and to meeting all requirements," Dimon concluded. "We see exciting opportunities to invest for the future, to continue to deliver better and faster for our clients and customers."