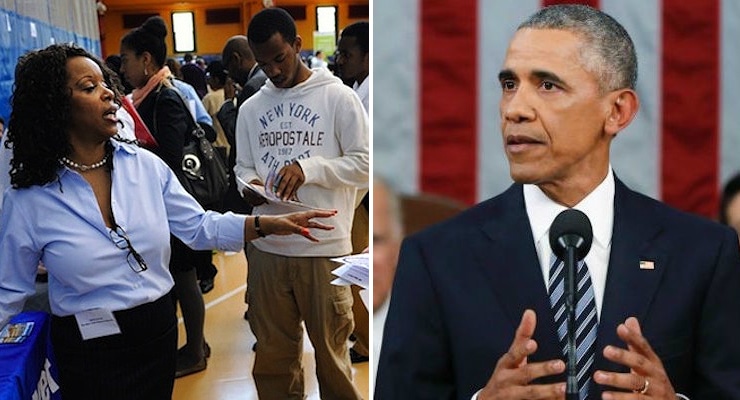 I normally enjoy working for the Cato Institute since it's a principled and effective organization.
But every so often, my job requires an unpleasant task, and watching the State-of-the-Union Address as part of Cato's live-tweeting program counts as one my least enjoyable experiences since joining the team.
But let's make lemonade out of lemons by looking at lessons that can be learned from Obama's speech. The most jarring part of the evening was when Obama bragged about the American economy.
Since we're suffering through the weakest recovery since the Great Depression, that was rather bizarre.
Moreover, being proud that we're doing better than Europe is akin to getting a participation ribbon in a soccer league for kids.
And the chest thumping about the unemployment rate was very misplaced since that piece of data only looks good because so many Americans have given up on finding a job.
I've pontificated on that issue before and cited the Labor Department's overall data, but let's dig a little deeper to fully understand why Obama should have apologized rather than patted himself on the back.
ALSO READ — December Jobs Report Easily Beats Expectations, Wages Stagnant
Here's the employment/population ratio for the prime, working-age population of those between 25 and 54 years of age.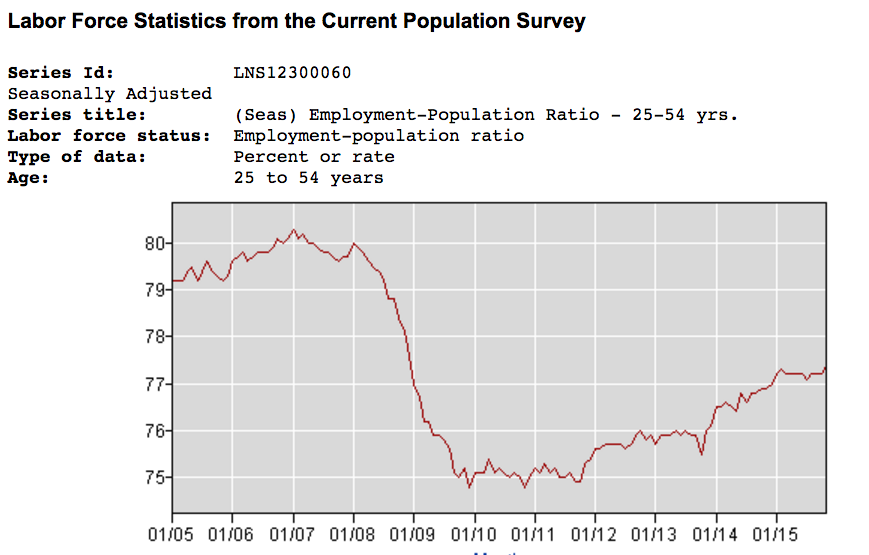 As you can see, this ratio has improved a bit over the past five years, but it appears that there's very little hope that the overall employment situation will ever recover to where it was before the recession.
At least not with current policies.
Here's another way of looking at the same data. It's labor force participation by age. The lines don't seem that far apart, but a 3-4 percentage point decline across age groups adds up to millions of people no longer productively employed.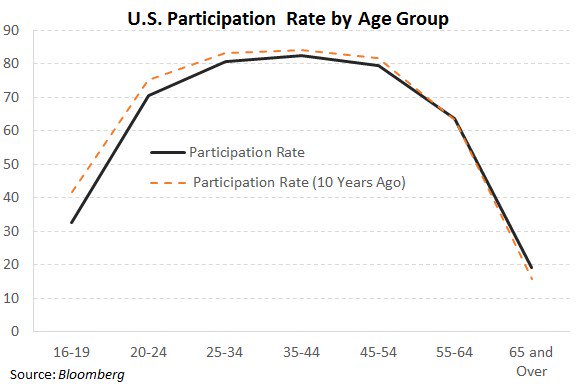 Last but not least, here's another way of approaching this data.
We have a chart from the St. Louis Federal Reserve Bank showing the number of working-age people not in the labor force.
There are two takeaways from this chart. First, it's clear that the problem started well before Obama. But it's also clear that the problem has gotten much worse during his tenure.
The bottom line is that the expansion of redistribution programs has lured more and more people out of the labor force, particularly when matched by government policies that have hindered the private sector's ability to create jobs.
So, you'll understand why I cited labor-force participation (along with stagnant household income) as Obama's real legacy in this interview.
[brid video="24671″ player="2077″ title="Dan Mitchell Commenting on Obama' Dismal Economic Legacy (and the Cruz Birther Controversy)"]
By the way, one of the perils of live TV is that you sometimes get curve balls. And since the Ted Cruz birther controversy is now big news, I was asked my opinion even though I don't have the slightest competency to discuss the issue.
Sort of like the time I went on a program for the ostensible purpose of discussing trade and wound up trapped in a discussion on America's relationship with North Korea.
My only regret from yesterday's interview is that I wasn't clever enough to say that I was more worried about Cruz supporting a Canadian-style tax system than I was about Cruz being born in Canada.
P.S. While I'm not happy about Cruz including a value-added tax in his reform proposal, don't read too much into that grousing since there are warts in the other candidates' plans as well.
With one exception.
[mybooktable book="global-tax-revolution-the-rise-of-tax-competition-and-the-battle-to-defend-it" display="summary" buybutton_shadowbox="true"]