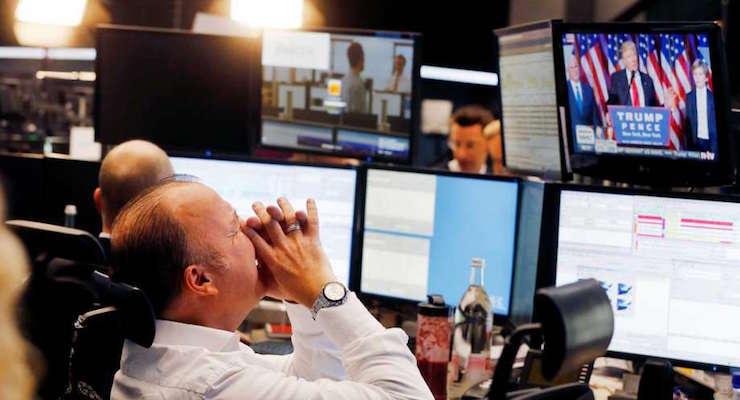 Despite the same dire predictions the British were given before the Brexit vote, traders in U.S. markets ended on the best 5-day period since 2011 and new highs. Investors and traders came to the realization that economically-friendly policy under a new Trump Administration outweighed the uncertainty after their preferred candidate Hillary Clinton was defeated.
The Dow Jones Industrial Average (INDEXDJX:.DJI) closed at the bell up 39.78, or a new record high of 18,847.66 (0.21%), one day after it saw a previous high fueled by Donald Trump's surprise victory on election night. The Dow crossed the unchanged line more than 150 times during the session and ended more than 5% up from the previous week and 8% on the year.
The S&P 500 (INDEXSP:.INX) finished down by 3 points, or 2,164.45 (-0.14%), but not before tacking on weekly gains of 3.79%. It's up 5.6% on the year now. The NASDAQ Composite (INDEXNASDAQ:.IXIC) closed up 28.32 points to 5,237.11, or 0.54%. It advanced to gain 4% year to date.
"For the moment, investors appear to see the prospects of tax reform and fiscal stimulus as the most important result of Mr. Trump's victory. Much is still unknown, however, and the initial reactions could evolve as the new administration's policy proposals and appointments take shape," said economists from Goldman Sachs in a note Friday. Goldman backed Mrs. Clinton heavily and failed to largely hedge against her defeat.
Meanwhile, financial stocks also saw big gains from the post-election Trump rally, with the sector jumping more than  11% on the week. Headlines detailing Trump's plans to dismantle Dodd-Frank legislation enacted in the aftermath of the financial crisis certainly helped, as it is widely viewed as a positive for community banks.
Big industrials and health care stocks also posted big weekly gains of 7.9% and 5.82%, respectively. Prior to the election, the nation's largest insurers announced they would not be participating in the ObamaCare exchanges, but the marketplaces and rising costs associated with them are soon to be a thing of the past. House Speaker Paul Ryan, R-Wis., on Wednesday announced his eagerness to work with the new president to repeal and replace the deeply unpopular healthcare law.
The bond market was closed on Friday for Veteran's Day, but the four trading days this week sent the benchmark 10-year Treasury bond yield to its biggest one-week gain in three years as it rose to 2.118%.
The yields, which traditionally hold an inverse relationship to prices on other long-term bonds, still moved higher. The two-year yield hit 0.906% and the 30-year gained to 2.928%. The shift in bond prices, which Goldman's economists say is the "most impressive" change in post-election trade, indicates investors anticipate fiscal stimulus enacted by President-elect Trump would help boost inflation.