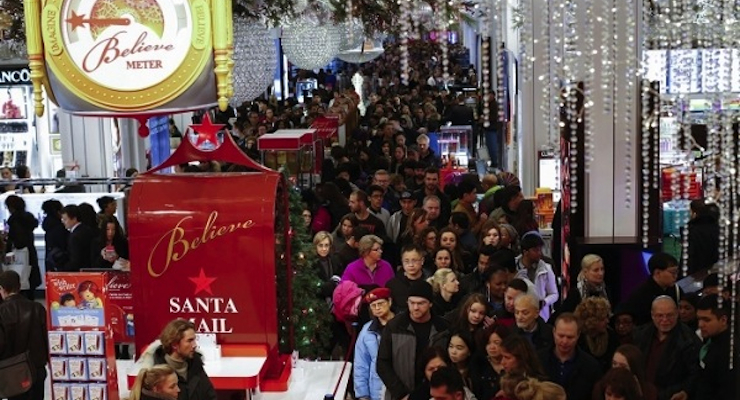 The Dow Jones Industrial Average (INDEXDJX:.DJI) and the S&P 500 (INDEXSP:.INX) hit new record highs on Black Friday. The gains, which come as the markets continue to rally in response to the election of President-elect Donald J. Trump, were fueled by rises in consumer stocks on the day that marks the official start of the crucial holiday shopping season.
The Dow Jones gained 51.02, or 0.27% to 19,134.20, while the S&P gained 5.44 (0.25%) to 2,210.16. The small cap Russell 2000 (INDEXRUSSELL:RUT) also hit a record intraday high on a day when trading volumes are expected to be relatively thin as the market closes at 1:00 p.m. ET (1700 GMT). As of 11:22 A.M. EST, it was trading at 1,343.44, up 1.34 (0.10%).
Target Corp. (NYSE:TGT) CEO Brian Cornell said Thursday evening that he was "very encouraged by the initial response" to toys and Apple Inc. products. He also said that hoverboards, which were revamped and cleared for sale after catching on fire last year, sold out online. Sales of their $10 giant teddy bear are also stronger than anticipated.
"So far, the most encouraging trend we are seeing is that while door-busters continue to be important," Mr. Cornell said, "once guests are there, they are shopping multiple categories."
Since the presidential election, the three main U.S. indexes have hit all-time highs and closed at record highs several times in the last few trading days. The Dow breached and closed over 19,000 for the first time ever.
"Trump's stock market honeymoon continues as the indices push higher this morning, and the focus now shifts to holiday sales," said Peter Cardillo, chief market economist at First Standard Financial in New York.
The National Retail Federation forecasts holiday sales to grow 3.6 percent this year to $655.8 billion, though it has missed performances in the last few years making overly optimistic with projections in the past. Nevertheless, the forecast includes roughly 137.4 million people who will be shopping in stores and online during Thanksgiving weekend alone.
The Adobe Digital Index said spending online increased 14% to more than $1 billion by Thanksgiving night. For brick-and-mortar stores, who look to the holiday season to account for roughly 40% of their total annual sales, the gains in online shopping are not as welcome.
"At one point or another this market is going run into a brick wall, but right now it's still being supported by the enthusiasm of Trump's pro-growth program," Cardillo said.
According to Customer Growth Partners, consumers are expected to spend $27 billion on the Friday after Thanksgiving this year, making it the second-biggest U.S. shopping day of the year behind Super Saturday. That falls on the Saturday during the weekend before Christmas.