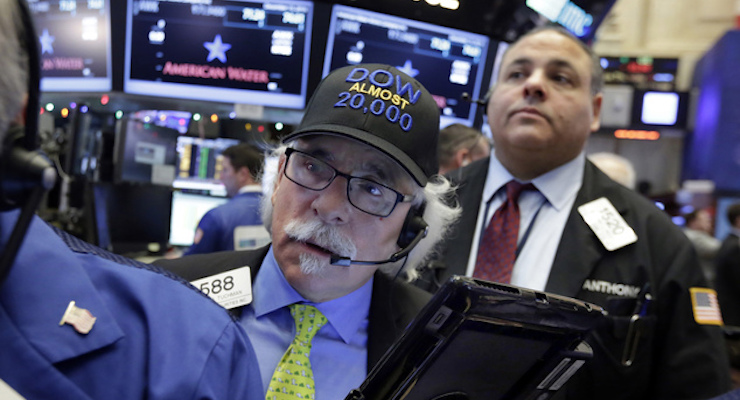 The Dow Jones Industrial Average (INDEXDJX:.DJI) breached 20,000 for the first time ever in history, continuing the post-election rally in response to Donald Trump. The Dow opened slightly under the historical mark at 19,994.48 before quickly breaching.
As of 9:40 AM EST, the Dow gained 97.38, or 0.49% to 20,010.09.
The markets have reacted favorably to President Trump showing he is serious about fulfilling campaign promises of lower taxes, less regulation, and more fiscal spending. After a breakfast with business leaders on Monday, he said they are aiming to reduce burdensome regulations by 75%.
The Dow crossed the historical milestone just 64 days after crossing the 19000 threshold for the first time ever. It was flirting with 20,000 for weeks and came within a fraction of a point on January 6, but pulled back. Throughout the rally, materials and financials have been key and continued their surge after President Trump on Tuesday signed an executive order green lighting the construction of the Keystone XL and Dakota Access pipelines.
But even as President Trump begins to win over the country and investors, the latter of which supported his rival during the election, the media continues to naysay. On Tuesday, just one day before the Dow crossed 20,000, the headlines were bleak.
Here's Why Dow 20K Won't Happen Any Time Soon
This Dow Jones Industrial Average (DJIA) Chart Says Stocks Have Already Peaked
Analyst: Trump Rally Is Over, Stocks Could Fall 25%
The headlines were reminiscent of the dire prediction made by New York Times economist Paul Krugman, who claimed the markets would "never" recover if President Trump was elected.