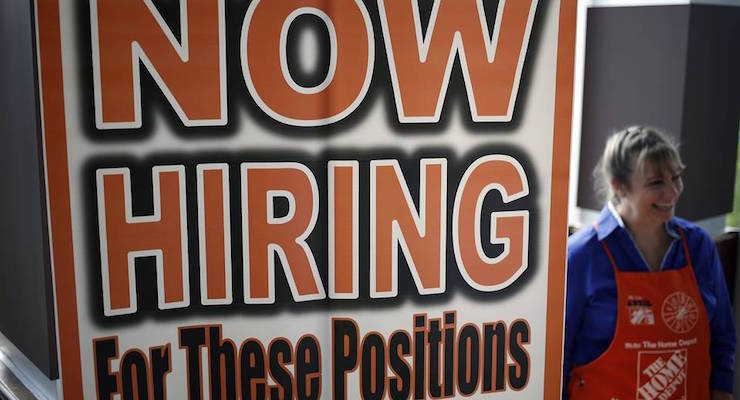 The Labor Department said Friday the first jobs report under President Donald J. Trump far exceeded expectations, adding 227,00 versus anticipated 175,000. The unemployment rate ticked higher to 4.8% as the labor force participation rose by 0.2% to 62.9%.
The less-cited but arguably more important employment-population ratio also finally began to increase, edging up to 59.9%.
"Time will tell if Trump can keep the economy's winning streak alive. It's not going to be easy to bring back those manufacturing jobs lost since the late '90s," said Chris Rupkey, chief economist at MUFG Union Bank in New York.
Manufacturing, which President Trump made a centerpiece of his campaign, actually added 5,000 jobs in January. Along with mining, logging and other high-wage industries, manufacturing has been on a downtrend.  The Institute for Supply Management's gauge of national manufacturing activity hit its highest level since August 2014.
Over the previous eight years, the U.S. economy mostly added part-time, low-wage and predominantly service sector jobs and it manifested into little to no wage growth. In January, average hourly earnings for all employees on private nonfarm payrolls rose barely by 3 cents to $26.00, following only a 6-cent increase in December.
Over the year, average hourly earnings have risen by 2.5%. In January, average hourly earnings of private-sector production and nonsupervisory employees increased by 4 cents to $21.84.
The Labor Department (DOL) jobs report, which is conducted by the Bureau of Labor Statistics (BLS), comes after the ADP National Employment Report on Wednesday showed that private employers added 246,000 jobs last month, up from 151,000 in December. The BLS report is the strongest number since September.
[social-media-buttons]
Pundit's Perspective
The mainstream media is attempting to either diminish the impact the new president had on hiring or flat-out give President Barack Obama the credit, altogether. For the record, we would like to see wages grow by a far greater pace in the future, but the pleasant surprise in the labor market this month is due to future expectations.
Employers do not hire based on the current conditions in a 21-day period. That's not how business works. Employers hire based on future expectations, which all data sets indicate is optimistic due to President Trump's proposed policies. In fact, the jobs numbers for November–released a week before the election–were revised down from 200,000 to 160,000.
Shocker.