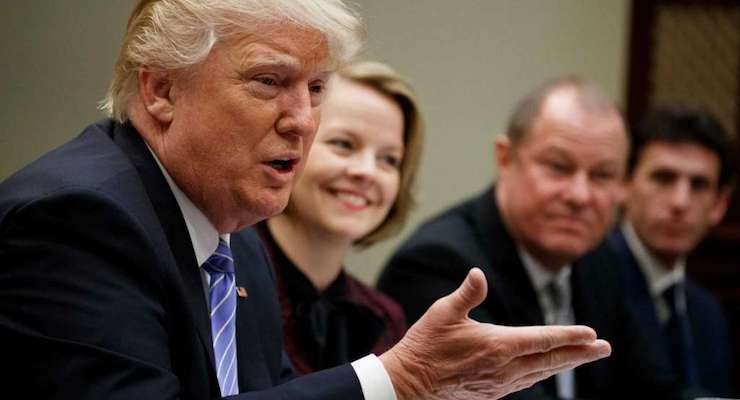 U.S. markets again hit new record-highs on Wednesday after President Donald J. Trump sat down with top U.S. retail CEOs at the White House to talk tax reform.
The Dow Jones Industrial Average (INDEXDJX:.DJI) rose 0.52% to end at 20,611.86, while the Nasdaq Composite (INDEXNASDAQ:.IXIC) tacked on 0.64% to close at 5,819.44. The S&P 500 (INDEXSP:.INX) climbed 0.50% to 2,349.25, marking a seven-session winning streak.
"My administration remains very focused on the issues that will encourage economic growth, that's what we're all about," he said during the meeting. "We have a lot of, a lot of companies moving back in, coming back into the country, bringing the jobs with them. We're cutting regulations big league. We're really cutting them by massive amounts."
The meeting included JC Penney Company Inc (NYSE:JCP) CEO Marvin Ellison and Target Corporation (NYSE:TGT) CEO and Chairman Brian Cornell. The latter closed 0.15% higher to 65.75, while the former was up 0.55% to 7.31.
The healthcare index gained the most climbing 1.17%, fueled by anticipation and optimism over Congress and the president vowing to move forward with the repeal and replace of ObamaCare. The nation's largest healthcare providers announced they would withdraw either partially or altogether from the government-run marketplaces.
Financial stocks, which benefit from higher rates, rose 0.74 percent. The utilities and real estate sectors, both of which do worse in high-rate environments, fell 0.39 percent and 0.30 percent respectively.