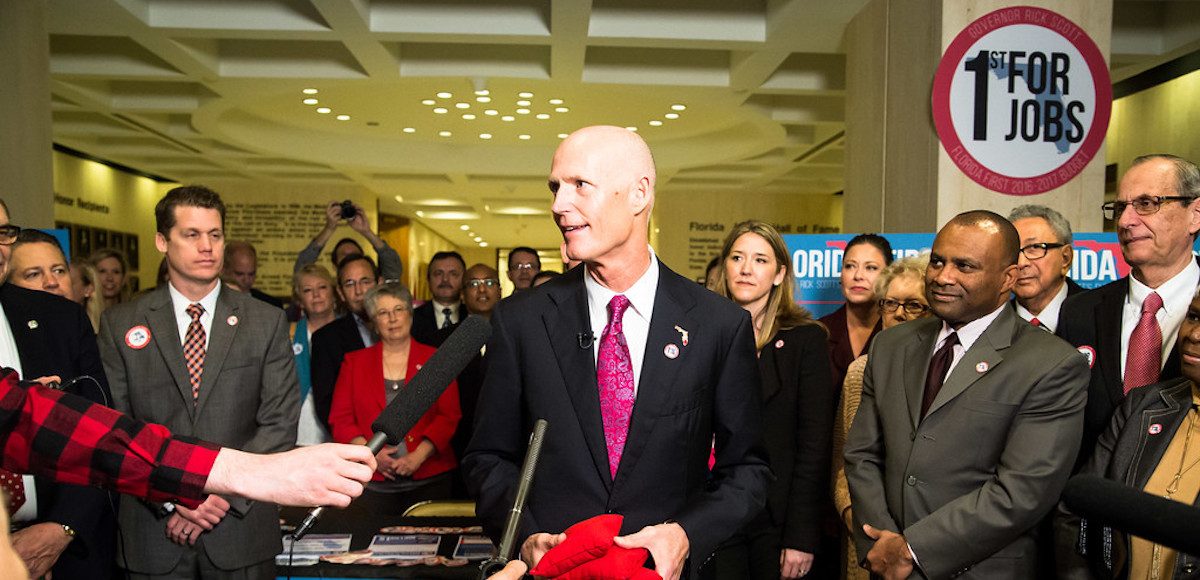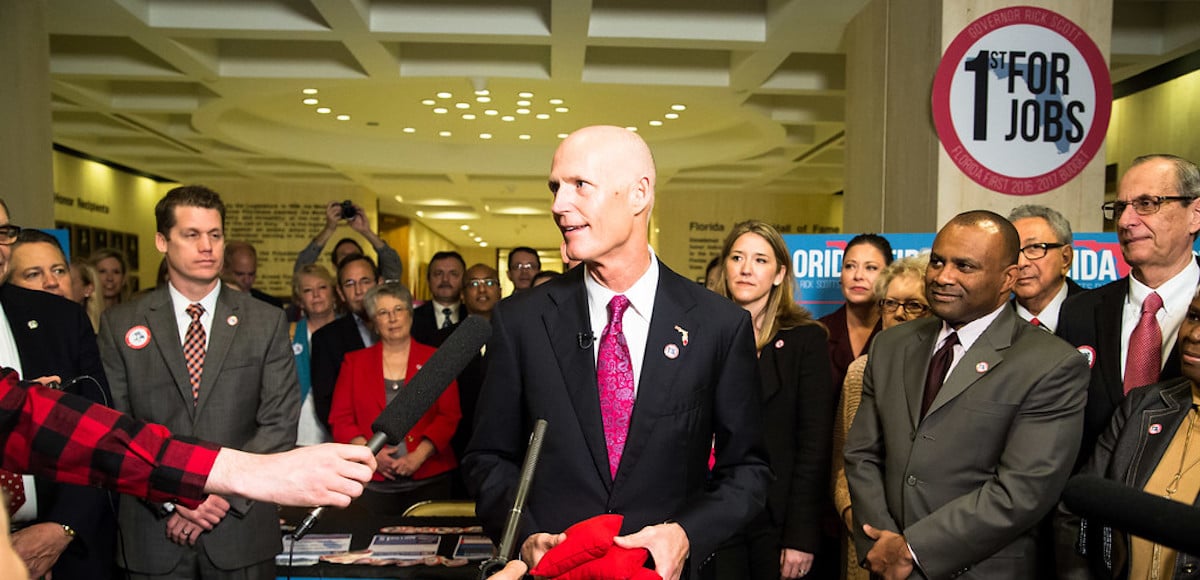 In 3 of the last 4 elections, Florida voters have chosen to elect Republican businessmen to serve as their state and national executives. The Florida Democratic Party has fallen far behind their counterparts in key measures, including registration, party affiliation and fundraising.
They'll get no help from bad economic news.
In what is the most underreported state economic revival in at least a decade, the Florida economy under Republican Gov. Rick Scott has not only outperformed the nation as a whole but also the former businessman's own campaign promises.
Gov. Scott was first elected in 2010, when he narrowly defeated Democrat Alex Sink in a wave election for Republicans. During the campaign, he pledged to create 700,000 jobs in seven years. As of June, a whopping 1,615,700 new private and public sector jobs had been created in the Sunshine State, more than doubling his pledge.
Florida leads the 10 largest states in job growth and has added 75,449 new businesses since December 2010, a 16.5% increase in private-sector employers. At 4.1%, unemployment in the state is at the lowest level since 2006 and lower than the 4.4% national rate, which itself is a 16-year low.
The Scott Administration's recipe for growth in Florida has been lowering taxes and regulations, diversification of the economy and investment in infrastructure and jobs training. The Republican-controlled legislature has approved $6.5 billion in tax cuts proposed by Gov. Scott over the last six years.
"We have worked hard to diversify our economy by cutting taxes and reducing burdensome regulations to make Florida the most business-friendly state in the nation," Gov. Scott said in a statement. "Our economy is on a roll, and with the creation of the new $85 million Florida Job Growth Grant Fund to promote public infrastructure projects and job training projects, we will continue to welcome job creators to our state and help create opportunities for future generations."
While great strides have been made in the governor's effort to diversify Florida's economy, tourism remains a major driver of growth. The industry represents 1.4 million jobs and provides more than $50 billion in income for Floridians.
In 2015, it began to grow at a record 4% and the most recent numbers show the tourism industry growing at a 4.5% annualized rate. In 2016, tourists spent more than $108 billion in Florida and generated more than $11 billion in state and local tax revenue. Since 2011, the state has added more than 250,000 jobs in the tourism industry.
The Florida Consumer Sentiment Index conducted by the Bureau of Economic and Business Research at the University of Florida shows Floridians of all ethic backgrounds and socio-economic situations are feeling the economic revival. It's accelerated further since the election of President Donald J. Trump, who proposed an agenda that mirrors Gov. Scott's.
Consumer sentiment among Floridians rose 1.5 points in July to 97.7, the second-highest reading since March 2002.
"Floridians are more optimistic," said Hector H. Sandoval, director of the Economic Analysis Program at UF's Bureau of Economic and Business Research. "The gain in July's sentiment came from consumers' future expectations about the economy in the medium and long run."
"Remarkably, these positive expectations are shared by Floridians across all demographics and economic levels."
Without headwinds from the White House, which the state faced under the Obama Administration, labor conditions have improved even further and Floridans feel it. Optimism nationwide in several economic indicators have reached historic levels and Floridians are more optimistic about their economic future than they've been in a long time.
"The positive economic outlook in the first half of the year brought consumer sentiment in Florida to its highest levels in the last 15 years," Mr. Sandoval added. "There's no evidence that economic conditions will change in the short run, thus high sentiment levels should persist in the second half of the year."
Prior to Gov. Scott's election, Texas led the nation and the top 10 largest states in job growth. California was and still is known for bleeding productive residents amid high taxes and burdensome regulations. Gov. Scott used that proactive style he was known for as a businessman to compete for the exodus of businesses and helped Florida overtake The Lone Star State.
Since 2011, more than 1,000,000 people moved to Florida to take part in the economic revival, one that is happening whether the media reports on it or not.