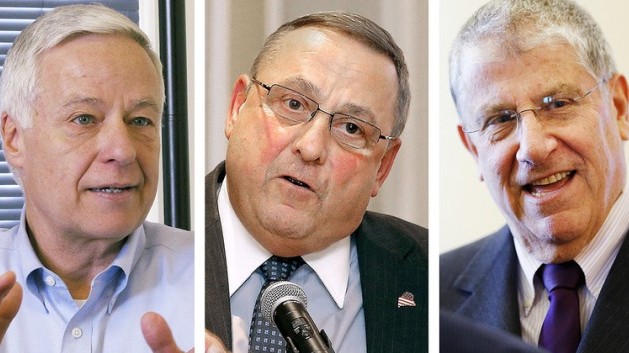 The Maine Governor race is the tenth article in what is a succession of articles offering expanded analysis for the ratings on our 2014 Governor Map Predictions. Incumbent Republican Governor Paul LePage will seek reelection in a three-way race, challenged by Democrat Rep. Mike Michaud and independent Eliot Cutler. It won't be LePage's first three-way dance, but what about his last?
In 2010, with political muscle from the Tea Party, Gov. Paul LePage won another three-way race for governor, barely defeating independent Eliot Cutler 38.1 to 36.4 percent, trailed by Democrat Libby Mitchell at a pathetic 19.1 percent. LePage will have to deal with Cutler again in 2014, but this time Democrats will have a chance to take the spot of lead challenger away from the independent.
On June 13, 2013, Rep. Mike Michaud announced that he had formed an exploratory committee, and was polling about 4 to 6 percent ahead of LePage, with Cutler at the end of the pack. A March poll found LePage ahead of both Cutler and Michaud, but prophetically found Michaud's favorability rating second only to Sen. Susan Collins among Maine politicians. But Michaud has another element working to his advantage.
A big boon to Michaud will be the fact he represents the more conservative of Maine's two congressional districts, which happens to be the biggest congressional district east of the Mississippi River. Polling has been difficult to rely upon in this race, because most of the early polling was conducted by Democratic polling firms, one of which was 4 points more Democrat on average in past surveys of races in the state.
Initially, I rated this race "Leans Democrat" for the simple fact LePage has been somewhat controversial and much of the excitement he had in 2010 seemed to be absent early in the cycle. Of course, that all changed with the implementation of ObamaCare in this state and across the country, but he is vulnerable, nonetheless. To be sure, Gov. LePage is polling better in recent surveys, no doubt due to ObamaCare, and is currently leading on the PPD average of polls by a small 1-point margin. However, in what I expect to be a very close race, it would be wise to dive deeper into the fundamentals.
Though Maine remains a Democratic-voting state on the federal level, Republicans have managed to nearly dominate the state's national Senate elections over the past fifty years. Speaking of which, the state's most popular politician — Sen. Susan Collins — just so happens to be on the ballot this cycle, and is currently crushing her opponent by more than 30 points in recent polling. Her coattails may have marginal yet significant influence in a very close race, because the electorate in the 2014 midterm elections will be older and more conservative.
Still, Maine is somewhat of a political outlier in American politics. With roughly 95.2 percent of the state's population being white, conventional wisdom holds that the state should be dominated by the Republican Party. But, in addition to having the highest percentage of non-Hispanic whites out of any state in the nation, it also has the highest percentage of French Americans and current French speakers out of any state, most of whom are descendents from Quebecois immigrants who arrived between 1840 and 1930. Why does any of this matter?
Because Maine's white population is filled with subgroups that remain a part of the shrinking white Democratic voter base, including French Catholics who make up the largest religious group in the state. While Romney barely lost the Catholic vote nationwide in 2012, he won the Irish and Italian Catholic voting blocs while losing the Hispanic and French voting blocs. LePage doesn't have to worry a whole lot over the 1.3 percent population of Hispanics in Maine, but he does have to worry about the 23.9 percent of French and French-Canadian voters who live and vote in the state.
As far as party identification and Partisan Voting Index variables, Maine is expected to have a PVI of D+5, which is identical to 2010 but lower than 2012. This certainly points to a good outcome for the incumbent, but Gallup also found a slight rightward shift since 2012 in their annual Gallup party ID by state survey.
Worth noting, Maine voters have a history of accepting independent and third-party candidates more often than most other states, including Reform Party candidate Ross Perot and Maine's other senator, independent Angus King. This has the very real potential to doom Michaud, and it is beginning to show up in polling.
Both LePage and Michaud have factors working in their favor, but it is pretty clear Michaud has lost at least some of his early steam. The political environment has moved from leaning to favoring to out-right favoring Republicans, though gubernatorial races are much more influenced by local politics than national elections, such as statewide elections for U.S. Senate.
| Poll | Date | Sample | LePage (R) | Michaud (D) | Cutler (I) | Spread |
| --- | --- | --- | --- | --- | --- | --- |
| PPD Average | 3/31 – 4/25 | — | 39.5 | 38.5 | 17.0 | LePage +1.0 |
| Rasmussen Reports | 4/23 – 4/25 | 830 LV | 40 | 40 | 14 | Tie |
| Pan Atlantic SMS | 3/31 – 4/5 | 400 LV | 39 | 37 | 20 | LePage +2 |
| Pan Atlantic SMS | 11/25 – 11/30 | 400 LV | 36 | 37 | 18 | Michaud +1 |
| PPP (D) | 11/8 – 11/11 | 964 RV | 36 | 38 | 15 | Michaud +2 |
| Critical Insights | 9/27 – 9/30 | 600 LV | 30 | 33 | 24 | Michaud +3 |
| MPRC (D) | 9/8 – 9/10 | 652 LV | 34 | 40 | 17 | Michaud +6 |
| PPP (D) | 8/23 – 8/25 | 953 RV | 35 | 39 | 18 | Michaud +4 |
| Pan Atlantic SMS | 3/11 – 3/16 | 403 RV | 34 | 23 | 26 | LePage +8 |
| PPP (D) | 1/18 – 1/20 | 1268 RV | 34 | 30 | 26 | LePage +4 |