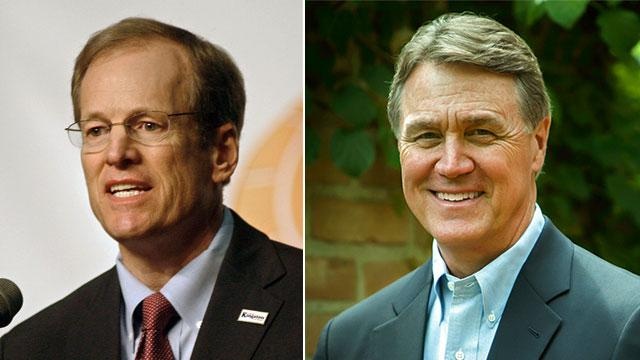 As is often the case in a run-off election, the first-round favorite has become the underdog in the July 22 run-off and visa versa. Perdue finished first with just under a third of the vote in the May 20 Georgia Republican primary for U.S. Senate. However, for several reasons, second-place finisher Jack Kingston is now poised to win the nomination and starts as the heavy favorite over Democrat Michelle Nunn in November.
First, polling conducted on the race shows Kingston with an 11-point lead over Perdue, but it is what is occurring on the ground and reflected in the polling that warrants the rating change. If we overlap the counties that supported Karen Handel, who was eliminated in the May 20 primary, and compare them with the areas Kingston has enjoyed an increase in support, then it becomes clear that Handel's voters are backing Kingston over Perdue. And they are doing so in droves.
Another related factor is simple enthusiasm. Kingston's voters are far more enthusiastic over his potential nomination and believe he is the better candidate to take it to Nunn, daughter of longtime Senator Sam Nunn, in November. While we actually believe that is the case, it only matters what the voters of Georgia believe. Kingston is currently leading Nunn by 6 points, a slightly larger margin than Perdue leads her by in a hypothetical matchup.
Second, Jack Kingston is an ally of Gov. Nathan Deal, who is also running for reelection. This has allowed him to keep up with Perdue's self-funding abilities, though he has still been outspent. Further, it appeared early in the cycle that the constant bombardment of negative headlines involving ethics violations may hurt Deal's reelection prospects. But that isn't looking as if it will be a great boon to Democrat challenger and state senator Jason Carter.
Carter, the grandson of former president Jimmy Carter, believed that the increase in the state's black voter population would propel him to victory. Yet, Deal performed exceptionally strong among black voters in 2010 and is poised to do so again in November.
If Deal wins even 10 percent of the black vote, then it is practically a statistical impossibility for Carter to pull together a majority. The Georgia Senate race and Governor's race are both rated "Likely Republican" on PPD's 2014 Senate Map Predictions and 2014 Governor's Map Predictions.