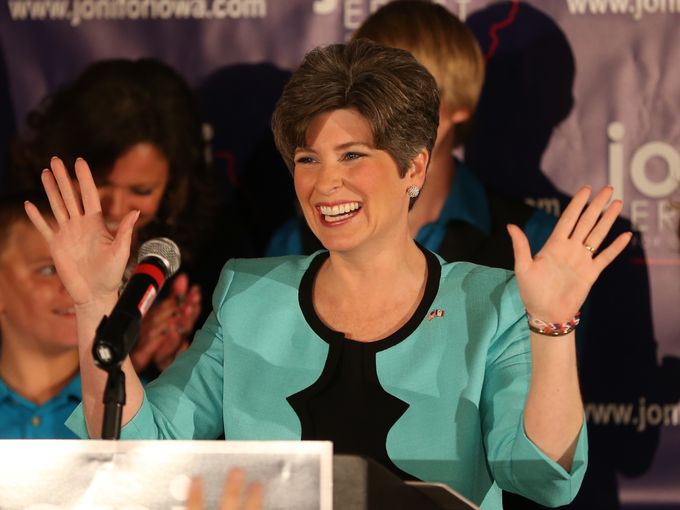 The Iowa Senate race is already heating up following the absolutely dominating performance of self-described "mother, soldier, conservative" Joni Ernst. People's Pundit Daily is now affirming our "Toss-Up" rating after revisiting our election projection model. If Republican Joni Ernst defeats Democratic Rep. Bruce Braley, then she will become the first female U.S. Senator to represent the state of Iowa, leaving Mississippi as the sole state yet to elect a women to the U.S. Senate.
Following the Republican primary for Iowa Senate, Ernst has pulled ahead in the polls. The latest Rasmussen Reports survey of likely Iowa voters found Ernst with 45 percent support to Braley's 44 percent. Only 3 percent said they prefer some other candidate in the race, while 9 percent remained undecided. That survey was followed up with another poll conducted by Loras College that also found momentum building for Ernst. She now leads Braley by a wider 48 – 42 percent margin, according to Loras, and also had a 3-point lead among those who say they will "definitely vote" for their choice.
Admittedly, the reversal in polling has been dramatic, something extremely rare in political contests absent scandal or event. However, this was actually expected based upon the model used at PPD. And when we dig a little deepeer into past surveys, we can easily identify part of Braley's problem.
Despite early polling consistently showing Braley leading his potential Republican challengers, we first identified a "Democrat Disadvantage" in the Iowa Senate race back in December of 2013, prior to Braley being caught on video trashing Iowa farmers and the extremely popular Republican incumbent Senator Chuck Grassley.
Which brings me to my first point, and is a great place to start when explaining the political environment in Iowa.
Iowa voters approve 62 – 27 percent of the job Senator Chuck Grassley is doing in the Senate, but in a Quinnipiac University poll conducted prior to the health care debacle, only a 55 – 31 percent margin approved of retiring Democratic Senator Tom Harkin. In fact, what most pundits and "political hacks" have been missing, is that Iowa voters simply want their next senator to be a Republican and the next Senate to be controlled by the Republican Party.
The very first Quinnipiac poll found Iowa voters by a margin of 46 – 41 percent say that they want the Republican Party to control the U.S. Senate, while a Harper Polling survey conducted a month earlier had found Iowa voters said by a margin of 42 – 38 percent they want a Republican senator. More importantly, ideologically, Iowans are firmly aligned with the Republican candidate on the issues, and because Ernst has managed to build a coalition that includes both conservative activists and the Establishment, it isn't hard to imagine she will have the ability to convey that message.
By a 2 to 1 margin, Iowa voters say they want a senator who opposes ObamaCare and a path to citizenship for illegal immigrants, and a plurality want someone who is opposed to stricter gun control laws. While I expect the gender gap to persist in this race to a certain extent, despite the historical significance of a potential Senator Ernst, the likely composition of the electorate will help to blunt the gender gap. The Partisan Voting Index, or PVI, was D+1 in 2010, when Republicans made big gains in the state-wide elections.
Worth noting, in 2010, Republicans won 83 percent of the races in states where the PVI was D+2 or more Republican. In 2014, the PVI is again estimated at D+1, and the environment is arguably shaping up to be either equally favorable or even more favorable to Republican candidates.
President Obama's job approval rating, as I've previously explained in more detail, weighs heavily on the election projection model used at PPD. Obama's approval rating in Iowa has consistently lagged behind the nationwide average. Even now as I write this, only 43 percent approve of Obama nationwide on the PPD average, while Obama's approval in Iowa was at 39 percent in the last Quinnipiac poll, and is 3 points lower than the national average according to Gallup.
"President Barack Obama twice carried Iowa and it was the Iowa Caucuses which began his march to the presidency, but if he were on the ballot here today he would be toast," said Peter A. Brown, assistant director of the Quinnipiac University Polling Institute.
Up until now, I have focused on several variables used in PPD's election projection that clearly benefit Ernst, which even suggest an advantage for the Republican candidate. But there are two important variables keeping this race a competitive "Toss-Up" rather than "Leans Republican."
First, the money race. Braley will have a significant financial advantage over Ernst into the general election. While his advantage is likely to shrink over the coming months, his campaign has reported more than $2.3 million cash on hand as of mid-May. Ernst, on the other hand, will have to rebuild her campaign coffers after a costly primary. Second, Braley is a serving congressman, which means he has a base of support to draw on that is significantly larger and more loyal than a state senator has.
On a final note, even though candidate recruitment or strength is a very influential variable in PPD's model, it has been completely overblown in favor of Braley by other pundits. "Ernst proved herself to be the best of a second-tier lot: Now she's in a first-tier race, and she needs to continue to improve her performance, particularly on fundraising," wrote Kyle Kondik and Geoffrey Skelley at Larry Sabato's Crystal Ball. While I obviously agree with the latter point made by the guys at the Center for Politics, will all do respect, they are off the mark on the former.
Sure, it is true that Ernst has yet to become a proven candidate. But the only candidate in this race so far who made a near-catastrophic mistake worthy of being labeled a second-tier candidate, was Bruce Braley. If they think that the video showing Braley trashing Iowa farmers is not going to be plastered on every Iowan's TV screen, and well-exposed when the two candidates trade blows in a debate, then they are sorely mistaken.
Many of the other pundits are rating this race "Leans Democrat," but for all the reasons above, I must respectfully disagree. When we tally up all of the variables in our model, Republican Joni Ernst has a small advantage, specifically a 53 percent chance of victory. The race will remain a "Toss-Up" until one of the candidates moves above a 55 percent chance of victory, but make no mistake, the Iowa Senate race is now a solid "Toss-Up."