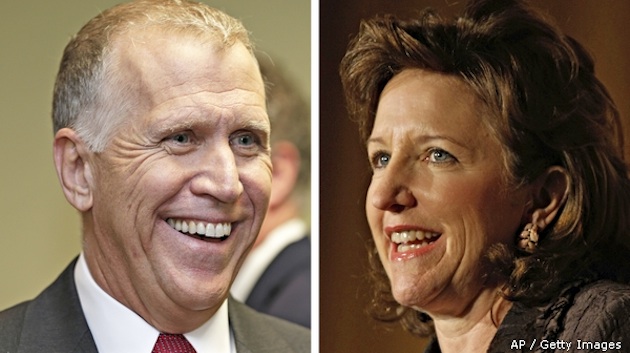 State House Speaker Thom Tillis had led incumbent Democrat Sen. Key Hagan in four out of five North Carolina Senate polls conducted since July. For reasons including but not limited to recent polling, PPD is updating the status of the race from our previous "Toss-Up" rating, to "Leans Republican." First, let's begin with the polling data, then get into both the "big picture" and "All politics is local" fundamentals that largely drove up the chance of a Tillis victory.
The sole survey showing the incumbent up by 3 points, 42 – 39 percent, was conducted by the Democratic pollster PPP, or Public Policy Polling. PPP, and in fact most of the pollsters below, use methodologies that are suspicious at best, and at worst, are intentionally dubious. We have repeatedly documented the fact that robo-call polls are of poor quality, as is the case with both PPP and Rasmussen Reports. But those particularly of registered voters — conducted at this point in the cycle — have projected results 3 – 5 points more Democratic than the actual vote results more than 70 percent of time.
That being said, in the case of North Carolina, that disparity is significantly more pronounced, a clear trend that historically speaking will favor Republican Thom Tillis. Tillis leads by 1 point in the larger sample poll conducted by controversial online pollster YouGov over a period of nearly a month. However, the small lead came from later interviews, suggesting that the political winds are blowing in his favor. If we were to ignore partisan polling and registered voter polling, then Tillis has an average lead of 3 points, which consequently, is exactly where our sources on both sides see this race as of now.
Nevertheless, the fundamentals of this race also favor Tillis over Hagan. In our updated expanded analysis recently released on the most competitive Senate races this cycle, we wrote the following:
Given incumbent Sen. Kay Hagan's abysmal approval ratings and lack of accomplishment, the race is likely to move into "Leans Republican" territory pretty soon. Because Tillis is the face of a controversial state legislature, Hagan has been moderately successful thus far at remaining competitive. However, the fundamentals of this race are against her.
That time has come. Unlike say, Mitch McConnell in Kentucky, another incumbent with terrible approval ratings, Hagan cannot rely upon her state's overwhelming political leanings. In fact, it isn't even clear whether "purple" is a correct characterization of the Tar Heel State. In 2008, Democrats made enormous progress, but Mitt Romney still flipped North Carolina by a small 2-point margin in 2012 despite massive black voter turnout and a deeply depressed white vote.
It is becoming incessant to listen to political prognosticators talk about midterm electorates being older and whiter, but even if black voters turnout more than past midterm cycles, PPD's research into the latest U.S. Census data suggests the increases in eligible black voters from 2010 to 2014, haven't been significant enough to save Hagan. We expect the 2014 midterm electorate will most likely resemble a slightly less Republican electorate than in 2010, but there is a chance it may not be that far off.
Gallup's annual party ID by-state survey found a rightward shift in the state throughout the year 2013, putting the partisan mood of the electorate almost on par with where it stood in 2010. Also, the Partisan Voting Index is only slightly less Republican in 2014 at R+3, down from R+4 in 2010.
Compounding Hagan's challenge is the well-known fact that North Carolina's most active progressive groups — well, how should I say it — really don't like her. Candidate strength is without a doubt one of the most important variables in PPD's election projection model, which you could read more about in our 2014 Senate Map Predictions. And, for someone who outperformed even Obama in 2008, Hagan isn't a very strong candidate.
Now, on the other hand, Tillis is the speaker of the controversial state legislature, which pretty much makes him the face of gun control and voting rights measures that the Left just absolutely despises. But it also allows him to take credit for several really positive pieces of news coming out of North Carolina.
Last year, much to the chagrin of in-state progressive groups, North Carolina cut unemployment benefits down to a 20-week maximum. Previously, unemployed North Carolinians could receive unemployment benefits for up to a whopping 73 weeks. Tillis and Tar Heel Republicans made the case that it was the responsible and economically viable thing to do. Yet now, Bloomberg found that "about 1.6 million people in North Carolina received SNAP benefits in April, down about 6 percent from a year ago," and the reduction of unemployment in the state leads the nation.
That's a pretty good story to tell, and I happen to know they are going to tell it, along with the fact Sen. Hagan has literally nothing to show for her time in Congress. Hagan hasn't sponsored a single piece of legislation to put in front of voters to soften the fact she voted for ObamaCare, a piece of legislation that North Carolinians never wanted and still remains deeply unpopular.
The bottom line is that both of these candidates have less-than desirable polling numbers, and the race is still very competitive. However, there is still yet one more hidden advantage favoring Tillis.
Libertarian Sean Haugh is currently enjoying a fair amount of the vote in polls, which most agree is disproportionately hurting Tillis. Third-party candidates historically see their polling support fall as the race draws closer to Election Day and, in such an important election that may decide control of the U.S. Senate, we expect that trend to continue.
Previous Forecast: TOSS-UP | Chance Of GOP Victory: 54 Percent
Current Forecast: LEANS GOP | Chance Of GOP Victory: 64 Percent
North Carolina Senate Polls
| Poll | Date | Sample | MoE | Tillis (R) | Hagan (D) | Spread |
| --- | --- | --- | --- | --- | --- | --- |
| PPD Average | 7/5 – 8/6 | — | — | 44.3 | 43.0 | Tillis +1.3 |
| Rasmussen Reports | 8/5 – 8/6 | 750 LV | 4.0 | 45 | 40 | Tillis +5 |
| Civitas (R) | 7/28 – 7/29 | 600 RV | 4.0 | 45 | 43 | Tillis +2 |
| CBS News/NYT/YouGov | 7/5 – 7/24 | LV | 3.5 | 48 | 47 | Tillis +1 |
| PPP (D) | 7/17 – 7/20 | 1062 RV | 3.0 | 39 | 42 | Hagan +3 |