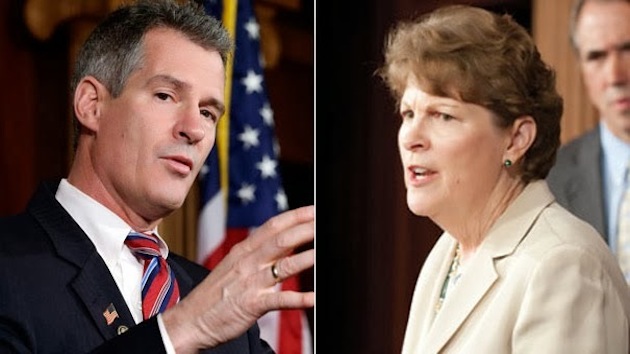 Former Massachusetts Sen. Scott Brown has cut his polling deficit against Democrat Sen. Jeanne Shaheen in half since we last visited the New Hampshire Senate race. While we still view Shaheen as the favorite in this race, the political winds are clearly shifting in Brown's favor.
(UPDATE: PPD moved the New Hampshire Senate race to a Toss-Up on October 15, 2014)
Yes @SenScottBrown caught @JeanneShaheen in #NHSen race. We'll dive into it in detail tomorrow @PPDNews Here's #COSen http://t.co/wlPbbYdkSg

— Richard Baris (@Peoples_Pundit) October 15, 2014
Considering the political landscape, historical and incoming data, which we will soon go over, we are moving the status of the New Hampshire Senate race to "Leans Democrat" on PPD's 2014 Senate Map Predictions model. Let's have a brief recap and take a look at the current state of the race.
Pre-Primary Commentary
It was never a secret that Shaheen and her team were scared of a challenge from Brown. So, playing smart politics, the bombardment of negative attack ads by Shaheen's camp hoping to define Brown as a carpetbagger came on early and hard.
And it worked.
After closing the double-digit deficit to within the margin of error, Brown again began to trail Shaheen by a low-double-digit margin in the PPD average of polls conducted during the primary. We moved the race back to the "Likely Democrat" rating it was assigned before Brown announced his bid after pols told us "Brown needs to be within 5 to 7 percentage points of Shaheen by mid-September or national money won't come."
Post-Primary Commentary
After handily defeating his primary challengers, Brown has now begun to coalesce Republican support. He has made serious gains in the polls hammering Shaheen on the issues of border security, foreign policy and national defense. In a recent NBC/Wall Street Journal Poll, Republicans led Democrats nationwide by 38 points on the issue of national defense, which was good news for Brown considering 1) New Hampshire is a hawkish state and, 2) the Granite State tends to follow nationwide trends.
But even better news for Brown is that he has hit the mark donors were looking and, in fact, he actually came close to beating their expectations. So it shouldn't be at all surprising to hear what is now headed Shaheen's way.
The Coming Ad Blitz
Immigration and ObamaCare — along with President Obama, himself — have been Shaheen's kryptonite this cycle. Two new ad blitzes will begin hammering her on both issues at an intensity she has never had to handle this entire midterm election cycle. First up, the absolutely devastating ginormous ad buy from the Chamber of Commerce seeking to remind New Hampshire voters of Shaheen's support for ObamaCare, a deeply unpopular law nationwide and in the state.
According to FEC filings, the Chamber coughed up $500,000.00 for TV and digital advertisement supporting Scott Brown from September 6 to October 3. Sources tell us much of this buy was to be back-loaded so it can run into TV and digital advertisement promising to both oppose Shaheen and support Brown from September 20 to October 3. This will be Shaheen's equivalent of "Hell Week" due to the shear amount of dollars — in excess of $1 million — to hit her in just over a week.
"Senators are meant to be a check and balance on the White House, but in voting for ObamaCare Jeanne Shaheen parroted the Obama administration's promise," the ad posted above says. It is a particularly smart ad not only because ObamaCare is so unpopular — because the state's coverage networks were hit extraordinarily hard by the law — but also because the state has a long history of checking in-party power.
"New Hampshire families and seniors are left to face the consequences," the ad says of the narrowing networks. "Say no to Jeanne Shaheen and the Obama agenda."
Ouch.
The next ad is an extremely powerful ad that hits Shaheen on both immigration, or border security, and national defense. However, it is unclear whether the same muscle will be put behind it we are seeing with other ads. Currently, Brown has a bit more than $1,193,000 cash on hand, roughly a quarter of what is in Shaheen's war chest, but a campaign spokeswoman said the ad would air on WMUR, WBIN, cable outlets and Boston stations.
"Anyone who turns on the TV these days know we faces challenges to our way of life," Brown says speaking directly to camera. "Radical Islamic terrorists are threatening to cause the collapse of our country. President Obama and Senator Shaheen seem confused about the nature of the threat – not me. I want to secure the border; keep out the people who would do us harm and restore America's leadership in the world."
For those who may not see the power of the message in this ad, now-Sen. Kelly Ayotte smoked Rep. Paul Hodes by over 20 points in a PVI (Partisan Voting Index) electorate of D+2, and Republicans picked up both seats in the House of Representatives. They saw their largest majorities in the state House and Senate since 1962 and 1900, respectively. ObamaCare and national defense were central campaign themes, while illegal immigration and border security — also unpopular in New Hampshire — weren't even being debated.
"I'm Scott Brown and I approve this message. Because protecting the homeland is the first step in making America strong again."
Ouch.
At a time when President Obama's approval on foreign policy is a negative 35 – 58 percent and, with under 50 days to go before Election Day, the good senator better hope Obama's ISIS strategy bears fruit soon. Sure, Shaheen has plenty of money to give it back as good as she gets it, particularly because she has $4,286,797 cash on hand according to the last FEC disclosure. But her strategy of hitting Brown early achieved maximum effect. In other words, the dreaded "carpetbagger" label is already Brown's to bear.
"There are so many attack ads in the water right now, I just don't think they're cutting through," said campaign manager Colin Reed.
We are inclined to somewhat agree with Reed. If the label of carpetbagger is going to defeat Scott Brown, then it has already. The fact the race is still tightening — more so than the average in more reputable polls — is evidence of voters' willingness to switch to his side despite their beliefs in that label. There is a reason she is trying to limit the number of debates when Democrat Gov. Maggie Hassan has accepted all seven debates with Republican challenger Walt Havenstein.
Polls show Shaheen is more popular than the president and a certain group of voters see her, but not the president, in a favorable light. Still, a significant number of voters see her favorably but disapprove of the job she has done as senator. Whether Brown wins will rely upon how many of these voters he can win over before November 4.
Unfortunately for Shaheen, Brown is one of the best retail politicians in modern American politics and if anyone can do that, it's him.
Wildcard Fun Facts
New Hampshire has a propensity to decide elections late, give pollsters erroneous responses and follow nationwide trends. In the Granite State, Republicans have made relative gains in voter registration, PVI trends and Gallup's annual state-by-state party ID survey. However, unlike Republicans, after the 2012 election Obama's OFA team remained in New Hampshire to continue their perpetual campaign, which may blunt the natural rightward shift we are observing in the electorate this year, both in New Hampshire and nationwide.