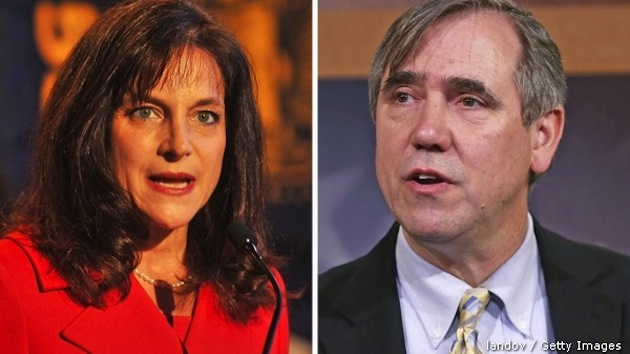 As Republican candidates gain ground in contested Senate races nationwide, incumbent Democrat Sen. Jeff Merkley is actually seeing his chances at reelection increase. According to PPD's 2014 Senate Map Predictions model, Merkley now has an 84 percent chance of defeating Republican challenger Monica Wehby in November, up from 74 percent first assigned in April.
The rating, itself, has not changed. But that shouldn't be construed as a lack of movement in the Oregon Senate race. Because a probability from 65 to 84 percent is assigned a "Likely" rating, we cannot stress enough how significant it is that Merkley has moved the needle just under a "Safe" rating. In a year when Democrats retaining control of the U.S. Senate is looking more and more difficult, it is a pretty extraordinary accomplishment.
Let's take a look at why, while first throwing in a brief recap. As a spoiler alert, it is worth mentioning that "candidate strength" is the problem for Republicans in this race, though other variables show the race was always going to be a heavy lift for the GOP.
Wehby, a children's brain surgeon, started off the leader of a small field of Republican candidates hoping to expand the 2014 Senate map by running particularly strong in Blue and Blue-leaning states. She raised more than $1 million in the weeks leading up to the Republican primary, in which she defeated state Rep. Jason Conger of Bend, a more conservative candidate many GOP voters found to be a viable alternative.
Conger, unlike Wehby, had prior experience as a candidate and the proven ability to win as a conservative in a liberal-leaning district. Nevertheless, the Karl Rove brain-trust deemed him too conservative to win in a statewide race against Merkley, opting instead to take a risk on an inexperienced candidate who held more moderate positions on social issues.
And now they are paying for it.
Wehby has been plagued by bad press from the start of the general election. In two separate instances, reports surfaced that both her ex-husband and former boyfriend had called the police on her, one for assault (throwing a book) and the other for stalking (she showed up at his house unannounced).
To be fair, both of these two men had questionable motives, i.e. bankrolling a super PAC that supports his supposed stalker. They ran to a hostile liberal media that were all to willing to make mountains out of mole hills to advance the Democrat's campaign. Most political junkies know just how bias Oregon media are — perhaps, you might remember this disgraceful excuse for journalism — and no serious pundit would argue that they don't disproportionately hurt Republicans.
That said, Wehby's star fading is a demon of her own design. A new headline emerged last week that may just be a campaign-ender. It has already caused big party donors — as well as outside groups — to reconsider shifting resources to more winnable contests.
"Monica Wehby says that she is different, but she copied her tax plan from Mitt Romney, plagiarized her health care plan from Karl Rove, her economic plan from a slate of national Republicans and ripped the rest of her anti-middle class agenda straight from the oil billionaire Koch brothers," Merkley campaign spokeswoman Lindsey O'Brien told PPD last week.
Ms. O'Brien and the rest of Team Merkley have been relentless in their attacks in wake of the story, but it was the response that did the most damage. First, the campaign arrogantly acted as if Wehby was above response, then tried to quietly scrub the website before blaming it on a former teammate, Charlie Pierce.
"Dr. Wehby is too busy performing brain surgery on sick children to respond. Sorry," an aide told told Buzzfeed, the site that broke the story. Meanwhile, Pierce, who is now working to elect Republican Rep. Dennis Richardson as governor, vehemently denied he is to blame.
"I did not author either of those two policy papers," Pearce told KGW. "Any accusation to the contrary is false to the extreme."
How a campaign handles a story like this is more important than the story itself, in most cases. Yet, rather than accepting responsibility and moving forward, the inexplicable continues.
"Well, there's just not enough hours in the day to sit and look at all of that," Wehby said to conservative talk radio host Lars Larson. However, as of today, the Wehby campaign has refused multiple requests to comment when offered a chance to explain the story to People's Pundit Daily, despite PPD making them aware of the release of this updated expanded analysis and rating.
The status of the Oregon Senate race is a staunch reversal from a time when the"train wreck" known as ObamaCare was dominating the headlines and we were prompted to put this race on watch. One of Wehby's ads was even named the best ad of the cycle by the Washington Post and featured on Red State. Now, it is likely that national Republicans will have to find another race to force Democrats' hands.
Even if Wehby remained truly competitive yet went on to lose in November, the importance of the race relating to the battle for control of the U.S. Senate, would still have been significant. Though Democrats have been out-raising and outspending Republicans in 9 out of 10 key Senate races, Harry Reid & Co. cannot afford to rescue Democratic senators that should otherwise cruise to reelection. Only in the deeply conservative state of Alaska have Republican groups outspent Democrat groups.
Jeff Merkley, on the other hand, is proving himself an asset to Senate Democrats rather than a liability, or at least as much as Wehby is proving herself to be a disappointment. Whether or not Democrats win some or all of these races in Blue or Blue-leaning states, is and was always irrelevant. Democrats would have been forced to spend time, money and other resources that would have otherwise gone toward defending purple and Red-state Democrats.
Sen. Jeff Merkley, who won by a surprisingly narrow margin in a wave year, is in much the same position as Democrat incumbent Gov. John Kitzhaber; he could lose under the right set of circumstances. But none of those circumstances have developed. The lack of a Republican bench in Oregon — mainly because Rep. Greg Walden, the only Republican in the state's congressional delegation, opted against running for higher office — has worked to Merkley's advantage the entire cycle. So, even if Merkley has the occasional embarrassing moment, it doesn't appear this particular Republican can take advantage.