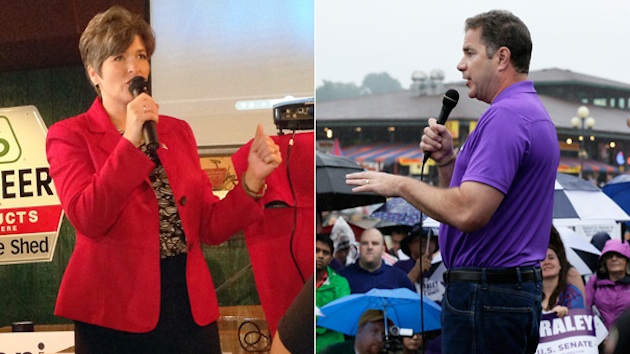 In the contest to replace outgoing Iowa Democrat Sen. Tom Harkin, Republican Joni Ernst is now a slight but clear frontrunner in the Iowa Senate race. In December, 2013, the Iowa Senate race was the fifth article in what was a succession of articles offering expanded analysis on PPD's 2014 Senate Map Predictions model. The state was chosen for purposes of relevance and timing because, similarly to what we are seeing now as well, it represented a clear rightward shift in the electorate, which was and still is more favorable to the Republican Party than the national political landscape.
It has been nearly one year and in many ways the race has been strikingly consistent. PPD's model is a "big picture" model that lends more weight to the fundamentals than knee-jerk reaction to polling. That's why — in March of 2014 — when polling showed Democrat Rep. Bruce Braley with a consistent lead over his potential GOP challengers, we released an article entitled "Why Iowa Senate Poll Showing Braley Leading GOP Hopefuls Doesn't Mean Anything."
Early in the cycle, at a time other election projection models and political prognosticators were gyrating wildly back-and-forth on their Iowa Senate ratings, we held a more bullish position toward the inevitable GOP nominee so long as they were viable. We were even more bullish on the GOP's chances of taking Iowa in the event Joni Ernst prevailed in the crowded GOP primary field, which we favored her to do outright. She had all the makings of a top-tier candidate, despite what others argued.
Let's take a look at where this race stand now.
[tabs id="IASen" title="Iowa Senate Race – Ernst Vs. Braley"] [tab title="Analysis"]
Save for Josh Kraushaar at the National Journal, only PPD did not give Braley a clear edge because they foolishly bought into the Beltway buzz, which held he was a stronger candidate and blatantly ignored the preferences of Iowans. Nate Silver at FiveThirtyEight may now be pretending he favored Ernst all along, but he repeatedly suggested she was a second-tier candidate.
"Our model will view the fundamentals of the race as slightly favoring Braley," Silver wrote as recent as August. "The candidate-quality measures it evaluates all come out in his favor: He rates as being slightly closer to the center of the electorate than Ernst, he's been elected to a higher office, and he's raised considerably more money. Iowa is normally as purple as purple states get — the sort of state where candidate quality can make a difference."
Here's why he and all the other pundits were wrong.
PPD, too, calculates a "candidate strength" variable based on numerous factors, including ideology as Silver referred to, but we didn't arrive at the same conclusion. By March, even before Ernst locked the nomination, it became clear that the data suggested Braley's lead was soft, based solely upon name recognition and that the more Iowans seemed to get to know him the less they liked him. These are the makings of a weak candidate that sometimes even large money advantages cannot balance out.
That's the problem with solely relying upon data. It separates a political prognosticator from the human factor, disconnecting them from voter emotion and sentiment, which inevitably leaves them blind to movement in the electorate.
Ernst, on the other hand, built a center-right to right coalition during the primary, landing endorsements from Sarah Palin, conservative groups like the Senate Conservatives Fund and The Club For Growth, while also getting the nod from Establishment icons like Mitt Romney and Florida Sen. Marco Rubio. She was a proficient fundraiser who covered all her bases, yet still maintained her real authentic, folksy Iowan image. She solidified her favorability among her base when she discussed castrating pigs in her breakout "Squeal" ad, and built her general election appeal by running a campaign that set her sights beyond the primary.
Iowans consistently expressing their desire to see a Republican-controlled Senate and aligned themselves firmly with the GOP agenda. Quinnipiac University — a solidly rated firm on PPD's Pollster Scorecard — found Iowan voters by a margin of 46 – 41 percent said as early as the spring that they wanted the Republican Party to control the U.S. Senate, while a less stellar firm Harper Polling found Iowa voters by a margin of 42 – 38 percent want a Republican senator.
If not for Quinnipiac and the fact Iowans approved of Republican Sen. Chuck Grassley far more than outgoing Democrat Sen. Tom Harkin, we may not have given Harper a second look. By a 2 to 1 margin, Iowa voters repeatedly said they wanted a senator who opposes ObamaCare and a path to citizenship for illegal immigrants (before the border crisis), and a plurality wanted someone who will oppose stricter gun laws.
That said, Iowa is still slightly more Democratic than the nation as a whole, and Bruce Braley has single-handedly thrown what little advantage partisan leanings may have offered him out the window. First, he was caught on video trashing Iowa's favorite senator in the same breath he trashed Iowa farmers. Then, he was caught on video falsely claiming he was a farmer, which he isn't, The third and final blunder came after he was caught lying about why he hasn't been attending hearings for the Veteran's Affairs Committee.
Elections have little in common with baseball, but in this case three strikes and Braley's out.
Since September 10, he led Ernst by just 1 point in only one survey, which was conducted by Greenberg Quinlan Rosner, a firm that is banned from both our model and average after PPD's Scorecard analyzed their past 50 surveys. This pollster not only missed the 3.8 percent margin of error by roughly 2 points a supermajority of the time, but during an equally shameful number of times, they also produced results 3 points more Democratic than the actual result.
Early voting in Iowa tends to favor Democrats and has been underway for quite a while. Before releasing this final rating — or, at least we anticipate it to be — we had thoroughly analyzed early voting data, which show performance increases on behalf of both the Republicans and Democrats from 2010, but shy of 2012. Worth noting, Democrats have watched their early voting advantage erode, particularly over the last week. Too many pundits focus on ballot requests when they should be focusing on ballots received.
As of October 3, the Iowa Secretary of State received 31,437 Democratic ballots and 20,732 Republican ballots. Although it may seem as if Democrats are outperforming, they previously had an approximate 2 to 1 advantage and will likely be outvoted 2 to 1 on Election Day.
Joni Ernst is now a 70-percent favorite to make history by becoming Iowa's first female elected senator, leaving only the state of Mississippi to hold that controversial distinction.
News, Analysis & Commentary
Full: Ernst, Braley Trade Blows In First Iowa Senate Debate – 9/29/2014
Iowa Senate Race Firm 'Toss-Up' Following Joni Ernst's Nomination Domination – 6/7/2014
Why Iowa Senate Poll Showing Braley Leading GOP Hopefuls Doesn't Mean Anything – 3/13/2014
Iowa Senate Race Rating: Analysis Finds Dem Disadvantage – 12/19/2013
[/tab]
[tab title="Polls"]
| Poll | Date | Sample | MoE | Ernst (R) | Braley (D) | Raw Spread |
| --- | --- | --- | --- | --- | --- | --- |
| PPD Average | 9/10 – 9/28 | — | — | 45.5 | 41.1 | Ernst +4.4 |
| Gravis Marketing | 9/28 – 9/30 | 1192 LV | 2.8 | 50 | 41 | Ernst +9 |
| PPP (D) | 9/25 – 9/28 | 1192 LV | 2.8 | 45 | 43 | Ernst +2 |
| Des Moines Register* | 9/21 – 9/24 | 546 LV | 4.2 | 44 | 38 | Ernst +6 |
| Rasmussen Reports | 9/17 – 9/18 | 750 LV | 4.0 | 43 | 43 | Tie |
| FOX News | 9/14 – 9/16 | 600 LV | 4.0 | 41 | 41 | Tie |
| Quinnipiac | 9/10 – 9/15 | 1167 LV | 2.9 | 50 | 44 | Ernst +6 |
(Please note: Our model uses separately calculated averages from weighted polls based on PPD's Pollster Scorecard. Above is the raw spread and average. When we weigh pollsters based on past results, Ernst leads by an average of 6.3 points.)[/tab]
[tab title="State Data"]
| | | |
| --- | --- | --- |
| POLITICS | Iowa | National Average |
| | | |
| --- | --- | --- |
| Partisanship | | |
| % Republican/Lean Republican | 40 | 39 |
| % Democratic/Lean Democratic | 41 | 43 |
| Registered Republicans | 600,439 | — |
| Registered Democrats | 618,775 | — |
| Unaffiliated/Undeclared | 703,955 | — |
| Registered Other | 5,130 | — |
| | | |
| --- | --- | --- |
| Ideology | | |
| % Conservative | 36 | 36 |
| % Moderate | 37 | 36 |
| % Liberal | 22 | 23 |
| | | |
| --- | --- | --- |
| Presidential Job Approval | | |
| % Approve | 38 | 43 |
| | | |
| --- | --- | --- |
| Partisan Voting Index | | |
| Barely Democratic | D+1 | — |
[/tab] [/tabs]