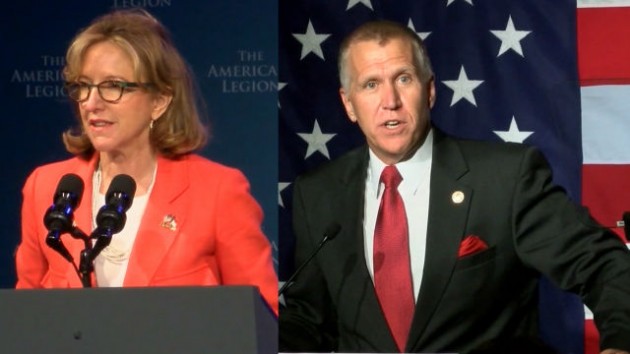 Recent developments in the North Carolina Senate race have increased Republican Thom Tillis' chances of defeating incumbent Democratic Sen. Kay Hagan. Polling and focus groups are suggesting the race is once again beginning to converge on the "big picture" fundamentals.
Let's take a look at the commentary, analysis, polling, state data and, of course, you can always get an idea of the overall political landscape by checking out the 2014 Senate Map tab on the end.
[tabs id="NCSen" title="North Carolina Senate Race – Hagan Vs. Tillis"] [tab title="Commentary"]The National Republican Senatorial Committee has reportedly reserved more than $6 million in additional airtime in North Carolina Monday, sources told Politico.
We suspect that Politico's sources are seeing what we are seeing in our tracking numbers, which is that the race is tightening and Republican Thom Tillis is at least in striking distance if not slightly ahead. We have not seen internal polls from either side in about three weeks, but PPD's tracking of undecided voters has ballooned over the last week. Previously undecided voters who told us they were leaning toward Hagan last month are now leaning back into undecided or have switched their support, altogether.
The Republican candidate will have the money to close the deal, though voters tell us they have largely tuned out advertising at this stage. At this point, news headlines on the economy, ISIS, Ebola, and immigration are top concerns. The NRSC has reportedly given the nod to the independent-expenditure wing of the organization to shell out an additional $6 million to $6.5 million in the final weeks.
Tillis allies have already reserved $3 million for the same period.
"Our internals show that North Carolina is starting to break toward Thom Tillis, and we are prioritizing the North Carolina race, ensuring that Tillis has the resources necessary to defeat Kay Hagan," NRSC strategist Brad Dayspring told Politico.
Let's check out the analysis to find out why.
[/tab]
[tab title="Analysis"]
We realize that other pundits have seen this race in a more favorable light for the Democrat, but we are a "big picture" model that does not allow gyrations in poor polling to outweigh the fundamentals of the race. Further, when we actually look at the polling everyone is so surprised over, we find more than enough reason for Sen. Hagan to bite her nails.
The ad blitz no doubt damaged the image of Tillis last month, but Hagan's small and soft lead was temporary because, as we explained previously, it was only the result of a modest improvement in her support, which remains around 45 percent. The majority of her lead was largely the result of Tillis' numbers plummeting during the ad blitz. But, for weeks now, we have seen signs that his efforts were bearing fruit.
Hagan's approval and favorability ratings have been awful for a while, but they are actually falling slightly in the final weeks of the campaign. Her approval is now firmly in the mid-30s, which is why she could never come close to the 50-percent threshold in polling support.
A Libertarian on the ballot no doubt still threatens to play the role of spoiler. However, just about two weeks ago Hagan's lead was slightly over 5 percentage points and is now just about gone, showing what was predictably soft support. Libertarian candidate Sean Haugh, who everyone agrees is taking more votes from Tillis than from Hagan, is beginning to see his support decline somewhat.
As far as polling North Carolina in general — among polls conducted at this point in the cycle — our research shows pollsters have routinely projected results 3 – 5 points more Democratic than the actual vote results. We liken it to the underestimation of Democratic support in the state of Colorado during recent elections. It is also worth noting that we have repeatedly demonstrated the fact that robo-call polls are of poor quality, as is the case with both PPP and Rasmussen Reports.
But let's get back to the fundamentals.
Unlike say, Mitch McConnell in Kentucky, another incumbent with terrible approval ratings, Hagan cannot rely upon her state's overwhelming political leanings. Our research into the Census data found the increase in eligible black votes is simply not enough to combat the measured rightward shift documented by Gallup's annual party ID by-state survey, PPD tracking and others. In fact, it isn't even clear whether "purple" is a correct characterization of the Tar Heel State, nor whether pollsters are even being realistic with their projected makeup of the midterm electorate.
For instance, Hagan's 8.5-point margin against Sen. Elizabeth Dole in 2008 far outperformed typical Democratic candidates in the state, including President Obama who enjoyed overwhelming black turnout and support. However, that was an environment so favorable to Democrats that they won the popular vote nationwide in U.S. House races by 10.6 percentage points. That data suggest Hagan may not even have won that election in a neutral political environment, let alone an environment favorable to the GOP. As of now, Republicans have a consistent lead on the generic congressional ballot, and a near-20-point lead in the states with competitive Senate races.
Still, Tillis has some major image repair to do if he wants to win this race, which is why candidate strength is so important. If Tillis ends up losing the race, it will have been the result of a sit-back and play-it-safe strategy that enabled Democrats to exploit his controversial role in the state legislature, while running as a perceived moderate.
[/tab]
[tab title="Polls"]
(Please note: Our model uses separately calculated averages from weighted polls based on PPD's Pollster Scorecard. Above is the raw spread and weighted PPD average.)[/tab]
[tab title="State Data"]
| | | |
| --- | --- | --- |
| POLITICS | North Carolina | National Average |
| | | |
| --- | --- | --- |
| Partisanship | | |
| % Republican/Lean Republican | 41 | 39 |
| % Democratic/Lean Democratic | 42 | 43 |
| Registered Republicans | 2,007,545 | — |
| Registered Democrats | 2,759,488 | — |
| Unaffiliated/Undeclared | 1,791,357 | — |
| Registered Libertarians | 24,976 | — |
| | | |
| --- | --- | --- |
| Ideology | | |
| % Conservative | 40 | 36 |
| % Moderate | 32 | 36 |
| % Liberal | 22 | 23 |
| | | |
| --- | --- | --- |
| Presidential Job Approval | | |
| % Approve | 38.7 | 40 |
| | | |
| --- | --- | --- |
| Partisan Voting Index | | |
| Moderately Republican | R+3 | — |
[/tab]
[tab title="2014 Senate Map Predictions"]
[show-map id='1′]
LEGEND: SAFE DEM | LIKELY DEM | LEANS DEM | TOSS-UP | LEANS GOP | LIKELY GOP | SAFE GOP
[/tab]
[tab title="Generic Ballot"]
[table id=3 /]
[/tab][/tabs]