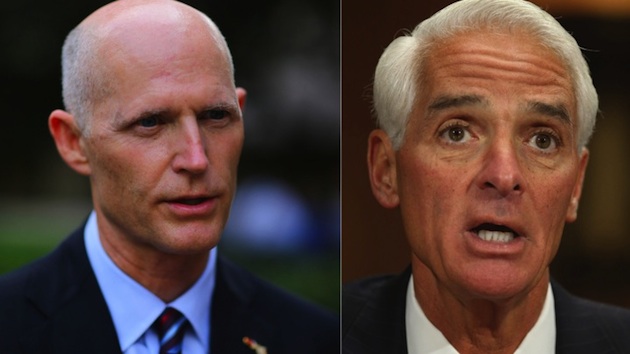 Florida Governor Rick Scott (R) leads his challenger and former governor Charlie Crist (D) in early voting totals with just over two weeks to go before Election Day. PPD's 2014 Governor Map Predictions model currently gives Scott a tenuous edge over Crist, with the incumbent enjoying a small 56 percent chance of reelection.
The race remains Leans Republican, but the low probability of reelection reflects a clear volatility in the race.
(UPDATE: Crist and the Democrats have whittled away at Scott's and the Republicans' lead in early voting. However, GOP ballots still make up 43.2 percent compared to 39.1 percent for the Democrats. That translates into an early voting lead of approximately 223,884-vote lead for Governor Scott, still comfortable roughly 70,000 votes higher than Crist needs it to be if he wants to match historical margins.)
Let's take a look at the commentary, analysis, polling, state data and, of course, you can always get an idea of the overall political landscape by checking out the 2014 Senate Map tab on the end.
Incumbent Republican Gov. Rick Scott entered the 2014 midterm election cycle as one of the most vulnerable GOP governors on the map. Democrats decided to pick a once-popular former governor, Mr. Charlie Crist, to unseat Scott in November. Crist, a Republican-turned-independent-turned Democrat, left the Republican Party after he failed to secure the GOP nomination for U.S. Senate in 2010, and was badly defeated as an independent by now-Sen. Marco Rubio.
Both campaigns have invested heavily in GOTV operations, which Democrats claim will get them over the top, and the raw average of polls show Crist holding a tenuous 1.2-point lead. However, we have good reason to doubt both.
Let's take a brief look at both variables before moving on to the analysis, beginning with GOTV efforts.
Tim Saler, Scott's deputy campaign manager, is correctly arguing that early statistics show Republicans comprise 48 percent of the early-vote total, while Democrats represent just 35 percent. Not only is that nearly identical to the advantage Scott held in 2010 — when Republicans outnumbered Democrats 49 percent to 37 percent among early voters — but Republicans haven't even put their best foot forward yet. Republican-leaning counties in Florida don't open their early voting locations until this Saturday.
It is worth noting that Scott won the 2010 election by just over one percentage point with early voting performances at roughly the same levels. Meanwhile, Crist is underperforming 2010 Democratic nominee, Alex Sink, which we will discuss further in the analysis. But he is far underperforming President Obama in 2012 — when Democrats had a 4-point advantage on early voting at this point — and the president won the state by roughly just 70,000 votes (under 1 percentage point).
On polling, PPD's tracking, which factors in early voting totals, now shows Scott holding just above a 1-point lead over Crist. The two candidates are deeply disliked by the electorate, with Scott's average favorability rating slightly overtaking Crist by a 3-point spread. In such cases, digging a little deeper into the electorate is needed to decide what factors may determine how people will vote, or voted.
When asked whether the phrase "provides leadership" describes Crist, 43 percent said it does, while a far larger 50 percent said the phrase describes Gov. Scott. Another danger sign for Democrats is that Scott peels off more Democrats than Crist does with Republicans. In elections, there is a strong correlation between expectations and outcomes, and nearly half of respondents expect Gov. Scott to win reelection, while under a third say Crist will win. A slight majority of Democrats (52 percent) say Crist will win, while 76 percent of Republicans and 65 percent of independents expect Scott to win.
Let's go to analysis to look deeper into the GOTV operations.
In the weeks leading up to the primary election, Crist openly and frequently touted the fact his campaign had President Obama's GOTV operation on-loan, an advantage that Democrats said would close the Republican enthusiasm gap and take Gov. Scott by surprise.
"The president's campaigns, in both 2008 and 2012, have really rewritten the book on how you get out the vote," Crist said in an interview. "I can tell you, since I used to be one, Republicans don't know how to do this."
However, in politics, what people say in public about the state of a campaign is rarely the truth. The primary results suggested the Obama operation did not translate into energy for Crist, which is now being reaffirmed by early voting results.
Crist defeated Democratic challenger Nan Rich with 620,689 to 214,111 votes, or 74.4 to 24.6 percent. In 2010, Democratic gubernatorial candidate Alex Sink not only defeated her primary challenger by a slightly larger margin, but she earned roughly 43,200 more primary votes than Crist, or 663,802 (76.9 percent). That was a huge disappointment for Democrats who had spent two months leading up to the primary listening to the Crist camp claim their efforts in the vote-rich, Democratic bastion of South Florida exceeded Alex Sink's.
Scott not only won his primary with more votes — or, 833,593, approximately 210,000 more votes than Crist — but he won it by a larger margin, suggesting the governor solidified his base to a greater extent than Crist and, perhaps more important, Republican enthusiasm was not blunted by the on-loan Obama machine.
Unlike Crist, Scott built his GOTV operation from scratch, which currently boasts more than double the number of field offices Crist has borrowed from the Obama campaign. In August, the Scott campaign said they estimated that their volunteers had already knocked on the doors of 700,000 Floridians, blowing the 200,000 doors that the Romney camp had knocked on by that point in the 2012 election out of the water. Now that we have some early voting data to digest and put into perspective, it would appear that Gov. Scott may just be one of the few Republicans to outdo his Democratic challenger on the ground game front.
(Please note: Our model uses separately calculated averages from weighted polls based on PPD's Pollster Scorecard. Above is the raw spread and the PPD weighted average that includes PPD tracking polls.)
| | | |
| --- | --- | --- |
| POLITICS | Florida | National Average |
| | | |
| --- | --- | --- |
| Partisanship | | |
| % Republican/Lean Republican | 39 | 39 |
| % Democratic/Lean Democratic | 43 | 43 |
| Registered Republicans | 4,172,232 | — |
| Registered Democrats | 4,628,178 | — |
| Unaffiliated/Undeclared | 2,778,547 | — |
| | | |
| --- | --- | --- |
| Ideology | | |
| % Conservative | 33 | 36 |
| % Moderate | 37 | 36 |
| % Liberal | 25 | 23 |
| | | |
| --- | --- | --- |
| Presidential Job Approval | | |
| % Approve | 40 | 40.6 |
| | | |
| --- | --- | --- |
| Partisan Voting Index | | |
| Barely Republican | R+2 | — |