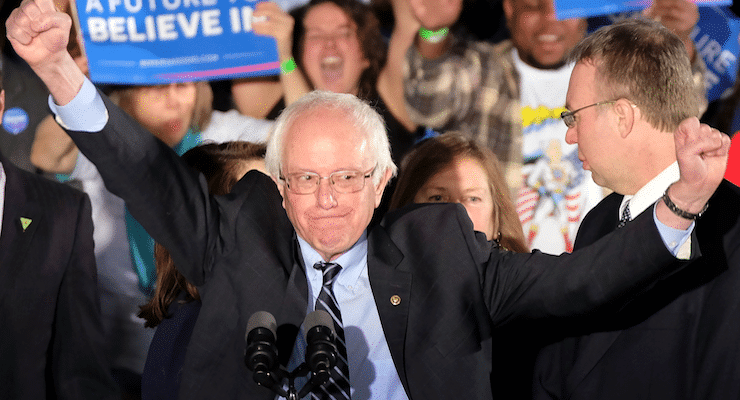 Vermont socialist Sen. Bernie Sanders, a former rival for the nomination, endorsed Hillary Clinton for president in Portsmouth, New Hampshire on Tuesday. The announcement comes after the candidate repeatedly vowed to take the nomination fight all the way to the Democratic National Convention.
"Secretary Clinton has won the Democratic nominating process and I congratulate her for that," Sen. Sanders said. "She will be the Democratic nominee for president and I intend to do everything I can to make certain she will be the next President of the United States."
People's Pundit Daily learned last week that Sen. Sanders asked President Barack Obama during a meeting in June "how to land this plane," meaning how to end his campaign without looking like a sellout to his supporters. The president expressed his doubt about Mrs. Clinton getting indicted for mishandling classified information–something Jane Sanders publicly stated was a factor–and promised the socialist senator he would have a say in the Democratic Party platform.
The result, which was adopted last weekend, was the most radical leftwing party platform ever adopted in the history of the party. But that's not due largely to Sen. Sanders and doesn't include the central issues he ran his campaign and championed. The platform includes the repeal of the Hyde Amendment that permits taxpayer-funded abortion up until the day the baby is born. But Sen. Sanders did get a $15 minimum wage promise in the platform, though he made no progress on free trade.
Over the months, the only measurable significant overlap between Sen. Sanders and Donald Trump, the presumptive Republican nominee, has been driven by the issues of trade and Wall Street corruption. Those are the voters Democrats will have to ensure stay on the voting plantation. This is particularly dangerous in the Rust Belt states, including Michigan and Pennsylvania.