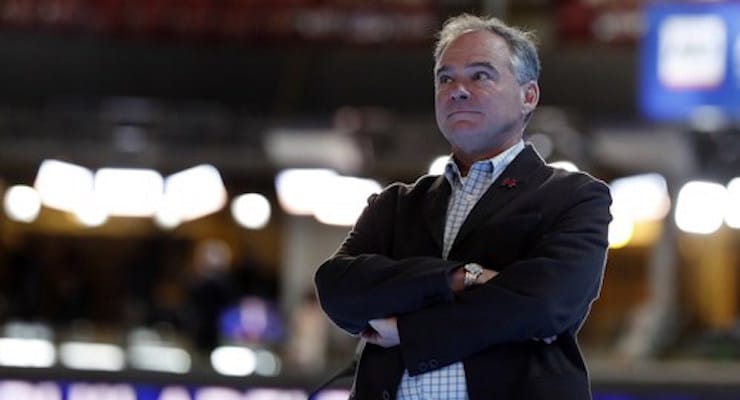 Virginia Sen. Tim Kaine, who accepted the Democratic nomination for vice president, has been accused by the Left and Right of being owned by big banks. Republican nominee Donald Trump said he was "bought and paid for by the banks" and, like Hillary Clinton, would "betray" voters on trade. Criticisms have come as hard and as often from the Left as they have from the Right.
Well, we took a look at Mr. Kaine's political benefactors as revealed by documents at the Federal Election Commission and they're right. For those looking to elect a team to upset the status quo, Sen. Kaine is not their change agent. His support from the building and the halls of power that have a financial incentive to keep the country moving in the same direction is even more than we've typically seen from most members of the U.S. Congress.
Progressives, particularly those who supported Sen. Bernie Sanders, were not at all excited about Mrs. Clinton's vice presidential choice. Mr. Kaine came under fire immediately after the announcement from members of his own party over a letter he had written to banks. Sen. Kaine signed a letter requesting regulators to rethink how banking rules cover regional banks, while leaving small community banks to be burdened by disproportional regulation.
The letter was addressed to chiefs at the Federal Reserve, Federal Deposit Insurance Corp. and Office of the Comptroller of the Currency. Sen. Kaine was one of four Senate Democrats to sign on to the letter, to include Virginia Sen. Mark Warner. Sens. Kaine and Warner have strong lobbyist ties to Capital One, the tenth biggest bank in the United States by assets, which is based in McLean, Virginia (thanks to the Democratic Party).
"Let's be really clear: It should be disqualifying for any potential Democratic vice presidential candidate to be part of a lobbyist-driven effort to help banks dodge consumer protection standards and regulations designed to prevent banks from destroying our economy," Democracy for America executive director Charles Chamberlain said in a statement Thursday. "Our presidential ticket cannot beat the billionaire bigot by simply being not-Donald Trump. To win in November, our ticket needs to have an unquestionably strong record in the fight against income inequality, one of the defining issues of the 2016 election."
According to FEC filings, the McLean region is the largest political contributor to Mr. Kaine behind only D.C. and Wall Street. Banking and finance are among his top five contributing industries from 2011 to 2015, and the globalist "full service" public affair firm McGuireWoods LLP is among his top five individual contributors.
McGuireWoods, a lobbyist firm with more than 1,000 lawyers in 23 offices in every major U.S. city playing for taxpayer dollars and special interest tax breaks, represents some of the worst elitist offenders. They are completely in favor of globalization, were against Brexit and involved in the fear-mongering campaign to "Remain," spent millions promoting the Trans-Pacific Partnership and much, much more.
"We have unique cooperative arrangements in China with law firm FuJae Partners, in France with KGA, in Israel with Shenhav Konforti Rotem & Co. (SKR), and in Saudi Arabia with Badr Alarishi," the company writes in a statement. "Our international presence is further enhanced by participation in the global legal networks Lex Mundi and LNI."
In fact, we find it all but impossible for Mr. Kaine to have the political strength to oppose TPP and certainly is overwhelmingly funded by those who have a financial interest to fight Mrs. Clinton's promise to the UAW to renegotiate NAFTA.
Worth noting, he is deeply entrenched with trial lawyers associations and those who have spent hundreds of millions of dollars making money off of frivolous lawsuits. Even on individual contributions, lawyers are the top contributing professionals, by far.