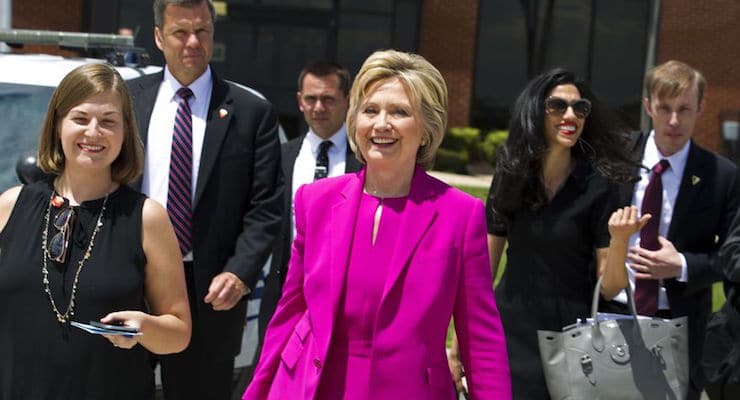 Democratic presidential candidate Hillary Clinton this week will reserve nearly $80 million in television advertising for the fall campaign season, a senior campaign official told Politico. The campaign decision comes as polls, which have shown the former secretary of state leading nationally and in the battleground states, appear to be tightening leading up to Labor Day.
The total amount includes $3 million for ads airing in the remaining days of August, with roughly $77 million reserved specifically for September and October. The number doesn't include $15 million reserved for radio advertising in the fall, a large buy in a race that is supposed to over and in states where she is supposed to have a large lead.
The ads target Florida, Iowa, Ohio, New Hampshire, Nevada, North Carolina and Pennsylvania. Interestingly, Nebraska's Omaha market will also see the campaign's investment, as the state has been reliably Republican yet awards electoral votes based on districts, one of which she believes she can win. The purchase, which is typically subject to change, aims to lock in lower rates as it is more expensive to reserve the time last-minute.
Despite her two-week long lead in the polls, Mrs. Clinton has already burned $70 million worth of advertising in the aforementioned states as well as Virginia and Colorado.
"Our campaign is going to use every tool in our toolbox from a massive grassroots campaign, state-of-the-art digital outreach and a significant advertising campaign to make sure every voter knows the stakes in this election and the danger Donald Trump represents," a senior campaign official allegedly told Politico.
While Donald Trump has now begun to advertise in Florida, North Carolina, Ohio, and Pennsylvania, and reserved the time through August 29, the Republican candidate doesn't have any spending earmarked for the fall.