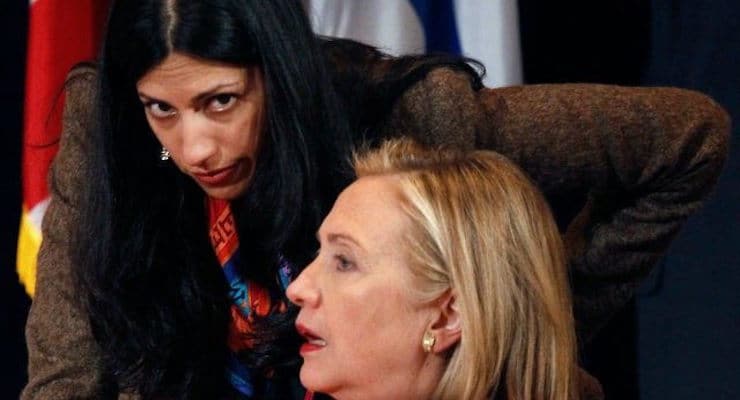 The Clinton campaign is denying top Clinton aide Huma Abedin played a formal role in a radical Muslim journal after a bombshell New York Post report on Sunday. The comments come even though she was listed as an editor on the hate-filled periodical's masthead for a dozen years.
"My understanding is that her name was simply listed on the masthead in that period," Clinton spokesman Nick Merrill said. "She did not play a role in editing at the publication."
Mr. Merrill said Abedin was just a figurehead and not actually on staff at the Saudi-based and -funded Journal of Minority Muslim Affairs, which featured radically anti-feminist views and backed strict Islamic laws roundly criticized for oppressing women…
Meanwhile, her brother, who was an associate editor, and a sister, who was also employed as an assistant editor, are listed as staff members, as well. The Abedins have a long and documented history of being radical Muslim sympathizers, including with the Muslim Brotherhood. However, the Clintons have either ignored charges or long denied Huma Abedin, herself, was a sympathizer.
Abedin's Pakistani mother, Saleha Mahmood Abedin, remains editor-in-chief.
The recent report is not the only potential toxic story surrounding Abedin that is making headlines this week. New emails show donors sought access to Mrs. Clinton and her aides at the State Department through the charity's staff, a dual role Ms. Abedin played during the Democratic presidential candidate's tenure. Emails released Monday as a result of a Freedom of Information Act lawsuit connected the Clinton Foundation to the State Department, with one showing a Clinton donor told Ms. Abedin in a message that "it goes without saying" that her outreach on behalf of a client was based on "relationships to the Clinton's."