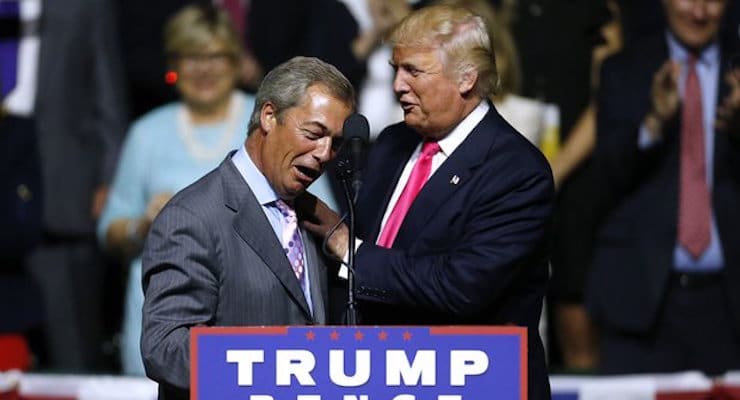 Donald Trump was joined by the former leader of the UK Independent Party Nigel Farage, "the man behind Brexit," at a rally in Jackson, Mississippi on Wednesday night.
Mr. Farage left the UKIP after the United Kingdom voted to "Leave" the European Union despite proponents of the "Remain" campaign smearing him and Brexit supporters as racists, bigots, Islamophobes and worse. The fear campaign, which included political class pundits and economic analysts, attempted to shame and/or scare Brits into voting against the movement Mr. Farage worked for over his political career.
"I come to you from the United Kingdom with a message of home, with a message of optimism," Mr. Farage said addressing the 10,000-strong crowd. It's the message that says if the little people, if the real people, if the ordinary decent people are prepared to stand up and fight for what we believe in we can overcome the big banks. We can overcome the multinationals. And we did it."
As People's Pundit Daily reported, the Brexit polls were not even close, with many proponents accusing Reuters and other pollsters of openly fudging the data. We also recently drew a comparison to the social desirability bias that existed in the disparity between polling and voting results.
Saying "the parallels are there" between what was happening in the U.S. and what happened in Great Britain, Mr. Farage told the crowd voters habe a "fantastic opportunity" to "beat the pollsters … the commentators … Washington".
"You can beat the pollsters, you can beat the commentators, you can beat Washington," Mr. Farage said to a cheering crowd. "If you want change, you better get your walking boots on. Anything is possible if enough decent people want to fight the establishment."
The comment was a clear suggestion to the U.S. presidential race, which Democratic pollster Pat Caddell has openly said was being unethically influenced by firms like Reuters. After a two-week period that saw Mr. Trump erase Hillary Clinton's lead in their daily tracking poll and hold it for five more days, Reuters/Ipsos decided to change their methodology and back-date the results to scrub the horse race data for the period.
Mr. Farage also slammed President Barack Obama for campaigning against Brexit and having the audacity to tell voters in one of the "oldest functioning democracies in the world" how to vote.
"The big card the prime minister (David Cameron) decided to play in the referendum is he got a foreign visitor to come to London to talk to us. Yes, we were visited by one Barack Obama. And he talked down to us. He treated us as if we were nothing," Mr. Farage said.
While he wouldn't openly endorse Mr. Trump, as not to make the same condescending gesture as Mr. Obama, the Brexit leader jokingly told the crowd who he wouldn't vote for if he was an American voter.
"I could not possibly tell you how to vote in this election," he told the crowd. "But, you know, I get it. If I was an American citizen, I wouldn't vote for Hillary Clinton if you paid me. In fact, I wouldn't vote for Hillary Clinton if she paid me."
[brid video="60417″ player="2077″ title="Nigel Farage UKIP and Brexit leader Speaks at Trump Rally in Mississippi"]