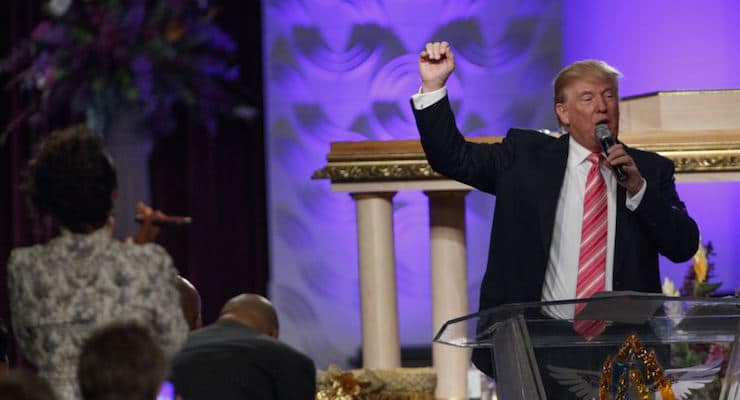 Republican presidential candidate Donald Trump in Detroit, Michigan on Saturday said our "nation is too divided" and called for a "new civil rights agenda." Mr. Trump spoke to the Great Faith Ministries International after meet with local black leaders during a trip that followed another in a predominantly black community in North Philadelphia.
"Our nation is too divided. We talk past each other and not to each other. And those who seek office do not do enough to step into the community and learn what's going on. I'm here today to learn, so that we can together remedy injustice in any form, and so that we can also remedy economics so that the African-American community can benefit economically through jobs and income and so many other different ways," Mr. Trump said. "I believe we need a civil rights agenda for our time, one that ensures the rights to a great education so important. And the right to live in safety and peace, to have a really, really great job, good paying job and one you love to go to every morning."
While Mr. Trump has been making a pitch to black voters on the stump, the events kick off what will be the first serious concerted effort by a Republican presidential candidate in at least a decade. He said during his roughly 10-minute speech that he recognized the importance of the African-American church and that he will protect their right to worship and that he is here to listen.
"For centuries, the African-American church has been the conscience of this country. The African-American faith community has been one of God's greatest gifts to America and its people," the New York businessman and Republican nominee for president said. "I will always support your church, always, and defend your right to worship. I hope my presence here will also help your voice to reach new audiences in our country and many of these audiences desperately need your spirit and your thought."
The visit was well-received in church located in a city where 83% of the population is black, a city which went bankrupt after decades of Democratic dominance. He said "there are many wrongs that should be made right" in the country.
Pollsters are painting two very different pictures regarding Mr. Trump's support among African American voters. A USA Today/Suffolk University Poll [PPD Pollster Scorecard Rating: C-] showed only 4% support among African Americans. However, it also appeared to be an outlier relating to the national race. The poll had Mrs. Clinton maintaining a 7-point lead in a week Reuters [PPD Pollster Scorecard Rating: C] and IBD/TIPP Tracking [PPD Pollster Scorecard Rating: A] had the race tied and Rasmussen Reports [PPD Pollster Scorecard Rating: C] showed her down by 1 point.
Pew Research[PPD Pollster Scorecard Rating: B–] found roughly 13% of African American voters support Mr. Trump nationwide, while SurveyUSA Poll and other A-Rated pollsters found upwards of 30% in battleground states such as North Carolina. A recent [content_tooltip id="38226″ title="Emerson College Polling University"] in North Carolina, which gave the Republican a slight edge overall, found 16% of likely African American voters say they'll support the Republican.
As of Sunday, the People's Pundit Daily U.S. Presidential Election Daily Tracking Poll finds Mr. Trump taking 11% of the African-American vote, outpacing the prior two Republican nominees. In fact, the same week Mrs. Clinton made what some viewed as an over-the-top speech trying to link Mr. Trump to the alt-right and the KKK, his support among African Americans increased from 5% to 11% in the nationwide poll.
[brid video="61924″ player="2077″ title="Full Speech Donald Trump Speaks to African American Church in Detroit 9316″]