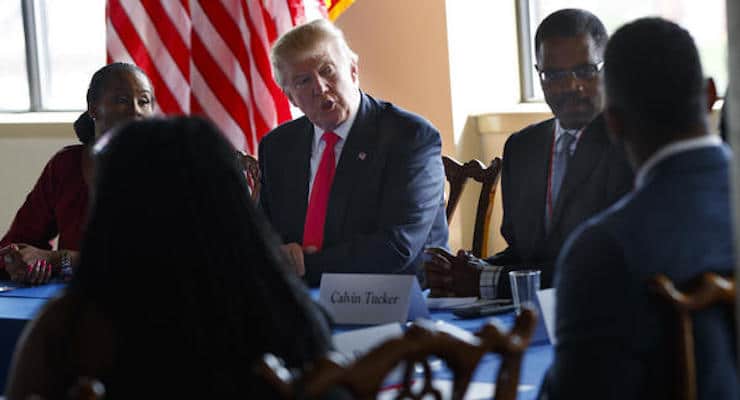 On Saturday, Donald Trump will head to Detroit to meet with local black leaders following a trip to another predominantly black community in North Philadelphia. While Mr. Trump has been making a pitch to black voters on the stump, the events kick off what will be the first serious concerted effort by a Republican presidential candidate in at least a decade.
Mr. Trump on Friday sat down with African American elected officials and clergy at a charter school in Philly to discuss the cost and accessibility of healthcare, the impact on the black community from immigration and criminal justice reform.
While the GOP nominee said his opponent Hillary Clinton and Democrats have long-taken advantage of the black community and its votes for granted, surrogates have publicly mocked the reach out effort. The Clinton campaign on Friday sent out an email to supporters citing a housing discrimination lawsuit the Department of Justice filed against Trump in the 1970s, making a joke of the strategy though insiders concede they are mindful of his working-class appeal across the racial spectrum.
And not everyone is laughing.
Last week, during an interview on "CNN Newsroom," Clarence "Charles" Henderson, one of four African American college students who sat down at a "whites only" lunch counter at Woolworth's in Greensboro, N.C., endorsed Mr. Trump. Mr. Henderson, speaking with CNN's Jim Sciutto, said that he was backing the New York businessman because of his business experience and unique understanding of how to create jobs, which black communities desperately need and have lacked under President Barack Obama.
"Donald Trump is a businessman and America is a business," Mr. Henderson said. "In order to run America, in order to be a part of running America, you have to understand the economics of America and that we are free society."
While the Woolworth lunch-counter sit-in was not the first of the Civil Rights Movement, the Greensboro sit-ins were instrumental and the most well-known. Worth noting, the Woolworth store is now the International Civil Rights Center and Museum. Just one week after the Greensboro sit-ins began, students in other North Carolina towns launched their own protests and the movement quickly spread to other Southern cities, including Richmond, Virginia and Nashville, Tennessee.
Renee Amoore, deputy chairman of the Pennsylvania Republican Party and early Trump supporter who attended Friday's meeting in North Philadelphia, challenged the conventional wisdom that Trump's message is not appealing to black voters. She pointed out that his media critics have attacked Mr. Trump for making pitches to black voters while speaking before what they say are predominantly white audiences.
"He's here, in a black community — that's news," Ms. Amoore said. "He is starting a conversation."
Ardent Trump supporters push back on the notion that the crowds at rallies are all white. To be fair, People's Pundit Daily has observed the surprisingly diverse nature of the rally crowds at events in Florida. The diverse delegations at the Republican National Convention were largely the result of minority Trump supporters. For instance, roughly two-thirds of the California delegation, which cast all their ballots for Mr. Trump, had never been to a GOP convention.
But pollsters are painting two very different pictures. A USA Today/Suffolk University Poll [PPD Pollster Scorecard Rating: C-] showed only 4% support among African Americans, though it also appears to be an outlier on the national race. Mrs. Clinton maintained a 7-point lead in a week Reuters had the race tied and Rasmussen Reports showed her down by 1 point.
Pew Research [PPD Pollster Scorecard Rating: B-] found roughly 13% of African American voters support Mr. Trump nationwide, while [content_tooltip id="37972″ title="SurveyUSA"] and other A-Rated pollsters found upwards of 30% in battleground states such as North Carolina. A recent [content_tooltip id="38226″ title="Emerson College Polling University"] in North Carolina, which gave the Republican a slight edge overall, found 16% of likely African American voters say they'll support the Republican.
As of Saturday, the People's Pundit Daily U.S. Presidential Election Daily Tracking Poll finds Mr. Trump taking 10% of the African-American vote.
In fact, the same week Mrs. Clinton made what some viewed as an over-the-top speech trying to link Mr. Trump to the alt-right and the KKK, his support among African Americans increased from 5% to 11% in the nationwide poll.
"Trump's support has always been attitudinal, meaning it's not necessarily constrained by traditional demographics," said PPD's senior political analyst Richard D. Baris. "That's the power of nationalism and economic populism. He's had the potential to outperform previous Republican nominees among black voters and in black communities since the start of the cycle. It's up to him how serious he wants to take that opportunity."
"Publicly, Democrats mock the effort," he added. "Privately, they're terrified."