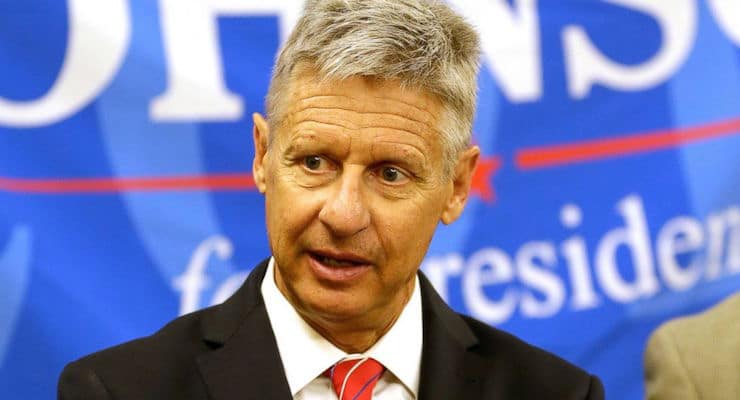 [brid video="66521″ player="2077″ title="Gary Johnson "Im Having An Aleppo Moment""]
Libertarian candidate and former New Mexico Gov. Gary Johnson was berated and baited on MSNBC until he admitted he was having another "an Aleppo moment." The cringing, painful admission came when host Chris Matthews asked Gov. Johnson and his running mate Bill Weld a series of questions, including to name their favorite foreign leader.
It was the second time Gov. Johnson drew a blank on the network this month.
"I guess I'm having an Aleppo moment," Gov. Johnson said, in an attempt to make light of the awkward moment.
He said he was trying to remember the name of the former president of Mexico, but was "having a brain freeze." Weld, his vice presidetnial running mate, chimed in that he was thinking about Vicente Fox, Mexico's president from 2000 to 2006. Fox has exchanged criticisms with Republican presidential nominee Donald Trump after he announced his plan to build a wall on the U.S.-Mexico border and to have the country pay for it.
"I'm not going to pay for that fucking wall," the former president, a known corrupt and fallen political figure, shouted during the interview.
But it was clearly a political gaffe the host was hoping to have the candidate make, as Matthews has long been a Clintonite and feels Gov. Johnson is taking too much of the youth vote from Mrs. Clinton, who young voters simply do not like. Many, too many for Clinton, are choosing Johnson and Weld, who were speaking at town hall at the University of New Hampshire in appeal to millennial voters.
President Barack Obama has come out to say that a third-party vote was essentially "a vote for Trump."