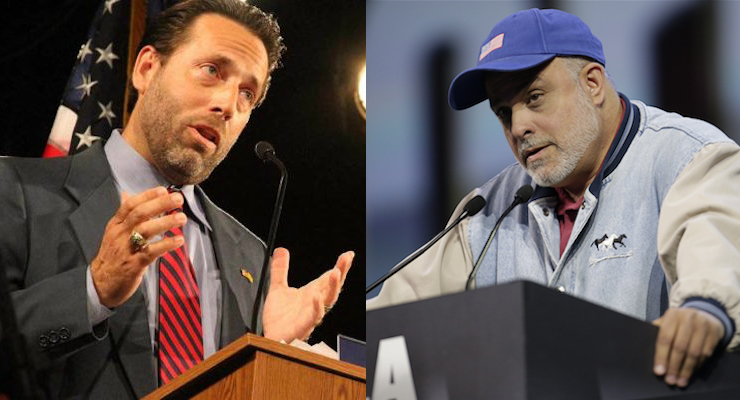 Conservative talk radio host Mark Levin endorsed Joe Miller, the Libertarian Party candidate in the Alaska U.S. Senate race over Republican Sen. Lisa Murkowski. Mr. Miller, who won the 2010 Republican Senate nomination against Sen. Murkowski, replaced Cean Stevens on the ballot after he withdrew and the board of directors of the Alaska Libertarian Party unanimously voted in favor of the move.
"Murkowski really is a leftist," Levin said on his show Friday. "She's Mitch McConnell's right-hand person, but she votes left all the time."
Almost immediately after entering the race in mid-September, Mr. Miller quickly racked up the endorsements of Gun Owners of America, Alaska Right to Life and the support of the Alaska Republican Assembly. In fact, five members of the Alaska GOP's Central Committee stepped down in order to throw their support behind Mr. Miller after it voted to remove one of its members due to his decision to back him over Sen. Murkowski.
"Miller has consistently held a pro-life position and has viewed the tragedy of abortion as the genocide that it is" said Christopher Kurka, Alaska Right to Life's Executive Director. "Once elected he will continue to be a true champion for the pre-born in the US Senate. Joe Miller is exactly the caliber of man we need fighting for the weakest of Alaskans in the Senate."
Mr. Miller would be the first third-party nominee to win a federal seat in decades. Enthusiasm has long-followed the conservative-libertarian and recent data indicate the bid could be contentious. A recent expanded subsample of the PPD U.S. Presidential Election Daily Tracking Poll asked 317 likely Alaskan voters who they would support for the Senate in November. Sen. Murkowski took 38% to Mr. Miller's 30%. Democrat Ray Metcalfe was at just 13%, topped by "Undecided" at 19%.
When told about Mr. Miller's candidacy, "very conservative" voters backed him while Democrats abandoned Mr. Metcalfe to support Sen. Murkowski. To be clear, the incumbent Republican is not a conservative. She is a pro-choice Republican with an 80% approval rating from NARAL Pro-Choice America and openly defended her support of Planned Parenthood even after undercover videos revealed the alleged practice of selling the body parts of aborted babies for a profit.
"I believe Planned Parenthood provides vital services to those in need and disagree with their funding cuts," Sen. Murkowski said at the time.
Indeed, during the last session of Congress the Alaskan senator voted with President Barack Obama and the Democrats 72% of time, second only to the liberal Republican Sen. Susan Collins of Maine.
"This is a beautiful race where a true conservative has the opportunity to win, as long as everybody activates," Mr. Miller said. "So we have a clear path to victory, and the grassroots are excited as can be that I'm in."
Despite the historically high turnout on the presidential level during the party primary, Alaska saw a near-historic low of only 15.4% turnout–with only 7.7% of Alaska's registered voters casting a vote–in the election for the incumbent senator in her primary.
As a result of the polling and subsequent data, the Alaska Senate race is rated a BATTLEGROUND on the PPD 2016 Senate Election Projection Model. PPD will revisit the race with more polling surveys in the near future.
Sen. Murkowski defeated Mr. Miller during her historic general election write-in candidacy in 2010, though it was under circumstances that were suspect. In 2014, he nearly took out two establishment favorites for the GOP Senate nomination, then-Lt. Gov. Mead Treadwell and former Natural Resources Commissioner and Attorney General Dan Sullivan. Then-AG Sullivan ended up only eking out a win that all the polls predicted would be a long-shot for Mr. Miller.
With only 7 weeks to go before the votes are counted, Mr. Kurka said he is "calling on every life-loving Alaskan to throw their support behind the only pro-life candidate for US Senate. It's time for Murkowski to be replaced with someone who will take their oath of office seriously and do whatever they can to end the genocide of abortion that is taking the lives of millions of the most vulnerable of Americas populace – the pre-born."