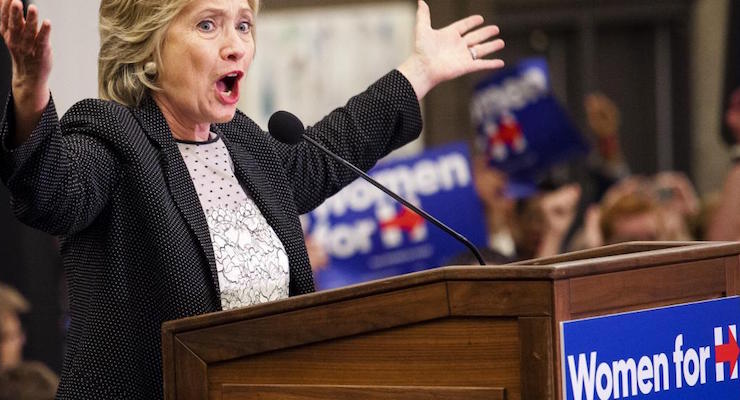 [brid video="69534″ player="2077″ title="Rigging the Election Video II Mass Voter Fraud"]
The election integrity group Project Veritas Action exposes on video how the Clinton campaign, super PACs and other organizations commit mass voter fraud. In the second explosive video of a multipart series, project lead James O'Keefe explains how the group caught officials at the Democratic National Committee (DNC), Hillary Clinton campaign and Democratic party operatives telling everyone how to successfully commit voter fraud on a massive scale.
Scott Foval, the National Field Director at Americans United for Change, was fired after it was revealed Monday he admitted on video to sending agitators to Trump rallies and coordinating these efforts with Hillary Clinton's campaign, the latter of which is a clear violation of federal election law. Federal campaign finance laws prohibit a candidate's election campaign from coordinating with the candidate's super PAC.
The video also exposes the role of Bob Creamer, the founder and partner at Democracy Matters and husband of Rep. Jan Schakowsky, D-Ill., who represents the district covering Chicago.
"The campaign is fully in it," Creamer said. "Well, I mean, Hillary knows what is going on through the chain of command."
Creamer has not yet been fired, which is likely due his wife being a friend of Hillary Clinton.
The question is, whether when you get caught by a reporter, does that matter?" Foval mocks. "Because does it turn into an investigation or not? In this case, in this state, the answer is no, because they don't have any power to do anything."
What PPD found particularly damning was conversation regarding get out the vote activists' registration efforts. Mass voter fraud People's Pundit Daily has reported on and witnessed is committed on Election Day, or at least the final stage. The absentee ballots are filled out that night, despite the registrations being either phony or illegal in another manner. That's why "Spigot Cities" in counties such as Fairfax County, Va., Loudoun County, Va., Broward County, Fla., Miami-Dade County, Fla., etc. all hold their vote totals back until the rural and suburban precincts report their results.
It's simple. They are waiting to see how many more they need to overcome the Republican candidate's advantage in the rest of the state.
On Monday, People's Pundit Daily reported on the first video proving illegal communication between the Clinton campaign, super PACs and other organizations. The officials admit to inciting violence at Trump rallies by using "mentally ill people" whom they pay, including a scheduled rally in Chicago that nearly turned into a riot and put the lives of police officers in danger.
This video also stars Cesar Vargas, the founder of the Dream Action Coalition. Vargas works with Cramer, in fact, "is really good friends with him." A "dreamer" born in Mexico, he is an undocumented alien and lawyer. He was the man the Clinton allies believed would be the one to pull off the voter fraud scheme.
"Yeah, for me I totally get it," he says on the video. "This is illegal, this is something that can be done."
The video comes as Republican presidential candidate Donald Trump is spending the final weeks of his presidential bid claiming there's an unprecedented election fraud conspiracy to elect former Secretary Clinton.
Many top Republican Party officials agree and, with more videos to come, the outrageous evidence is beginning to pile up.
Rigging the Election: Part 1
[brid video="69388″ player="2077″ title="Rigging the Election Video I Clinton Campaign and DNC Incite Violence at Trump Rallies"]