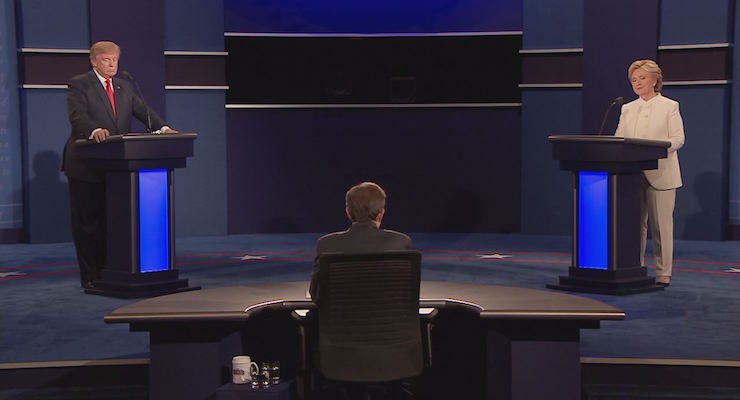 At the final presidential debate in Las Vegas, Nevada, Republican Donald Trump hammered Democrat Hillary Clinton over damning revelations of fraud and colluding. While most Big Media outlets spent the night covering Trump refusing to say whether he will accept the outcome if he loses and concede, they will also be forced to cover the release of undercover videos that have already led to the firing of two Democratic campaign operatives.
I will tell you at the time," Trump told moderator Chris Wallace during what analysts are saying was his best debate of the cycle. "I'll keep you in suspense, okay?"
Hillary Clinton responded, "That's horrifying."
But Americans might also find it "horrifying" to here Democratic officials admitting to inciting violence at Trump rallies by paying "mentally ill people," including a scheduled rally in Chicago that nearly turned into a riot, put the lives of police officers in danger and resulted in two being injured.
"If you look at what came out today on the clips," he said, "I was wondering what happened with my rally in Chicago and other rallies where we had such violence. She's the one, and Obama, that caused the violence. They hired people, they paid them $1,500, and they're on tape saying, be violent, cause fights, do bad things."
Scott Foval, the National Field Director at Americans United for Change, was fired after it was revealed Monday he admitted on video to sending agitators to Trump rallies and coordinating these efforts with Hillary Clinton's campaign, the latter of which is a clear violation of federal election law. Federal campaign finance laws prohibit a candidate's election campaign from coordinating with the candidate's super PAC.
Foval worked under and for Bob Cramer, the founder and partner at Democracy Matters. Cramer, who is the husband of Rep. Jan Schakowsky, D-Ill., who represents the district covering Chicago, is part of elaborate dark money operation funded by the Clinton campaign in what is a clear case of illegally coordinating with super PACs. The Democratic National Committee claimed Cramer, who visited the White House more than 200 times, stepped aside to prevent him from becoming a distraction following the videos.
"The campaign is fully in it," Cramer says in the video. "Hillary knows what is going on through the chain of command."
[brid video="69893″ player="2077″ title="DNC Schemes to Bully Women at Trump Rally"]
According to a new Economist/YouGov poll following Trump's recent claims that the November election is "rigged," 72% of respondents said they were very or somewhat concerned about the security of the electoral system. Only 21% were either not very concerned or not concerned at all.
"She's guilty of a very, very serious crime," Mr. Trump said of Clinton at the debate. "She should not be allowed to run. And just in that respect I say it's rigged."
Following the debate, campaign manager Kellyanne Conway responded to Trump refusing to say whether he would accept the results.
"He said he's going to take a look at the results," she said. "Remember, Al Gore did concede. He conceded to Governor George W. Bush and then called and rejected the concession and went on to contest the results. It went all the way to the Supreme Court. Election day was early November. Maybe November 6 that year. And that case was decided on December 12."
Sean Spicer, the Republican National Committee's communications director, also said after the debate that Trump will "accept the results of the election. One hundred percent."
"I think right now he's very concerned about the bias that exists in the media," Spicer said. "I think he wants to make sure people … are focused on the election. But he will accept the results. No question about it."
"He's going to win this election soundly," Spicer added, "And this won't be an issue."