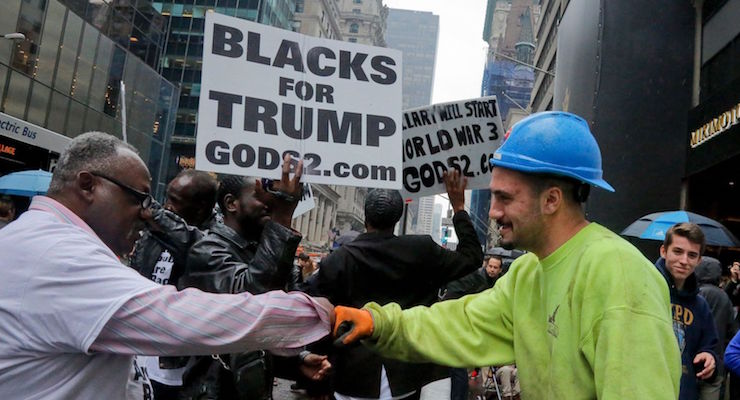 The People's Pundit Daily (PPD) Election Projection Model was again the most accurate election forecaster in 2016 and, overall, put out the most accurate polling before Election Day. As subscribers know, 2016 marks the second straight election cycle in which PPD topped Big Media pundits, pollsters and forecasters.
Since July, millions of political junkies visited People's Pundit Daily to view our outside-the-paywall PPD U.S. Presidential Election Daily Tracking Poll, which along with the USC Dornsife / LA Times Presidential Election Poll and, later the Investor's Business Daily TIPP Poll, were alone in a sea of Big Media polling data giving the edge to Donald Trump.
Of the three, PPD's final result (Trump +0.6%) as of today tracks most closely with the actual election result. While we were largely ignored, because Big Media opposes consumers getting "the inside story from an outsider's point of view," the other two pollsters who got it right were viciously attacked.
In October, I defended the LA Times model, which was predicated on the Rand "Daybreak Poll," against those who clung to the failed phone-only random sample polls that have now blown the last three elections. While they were off margin-wise relative to the popular vote, they were more consistent in their findings and ultimately called the correct winner (there are valid reasons for that, which I'll leave up to them to explain).
The good news: Americans, voting Americans, are on to them and no longer hold credibility against outlets like PPD anymore. Even in their defeat they don't seem to understand what has happened to their monopoly on information. Exhibit A:
Hey @FoxNews @Peoples_Pundit predicted this spot on. Makes 3 polls. How two polls predicted Trump's surprise victory https://t.co/H5oyETkDUd

— Ed Brace (@Ed_Brace) November 10, 2016
In addition to our national tracking poll, we also released several PPD Battleground State Polls, some of which turned out to be in states all the major pundits and pollsters didn't even know were battlegrounds. With the exception of New Hampshire, where the final PPD Granite State Battleground Poll showed President-Elect Trump leading Hillary Clinton by less than a percentage point, we were right about the lean in each of these states.
Let's look at the final polling results and our projected results below.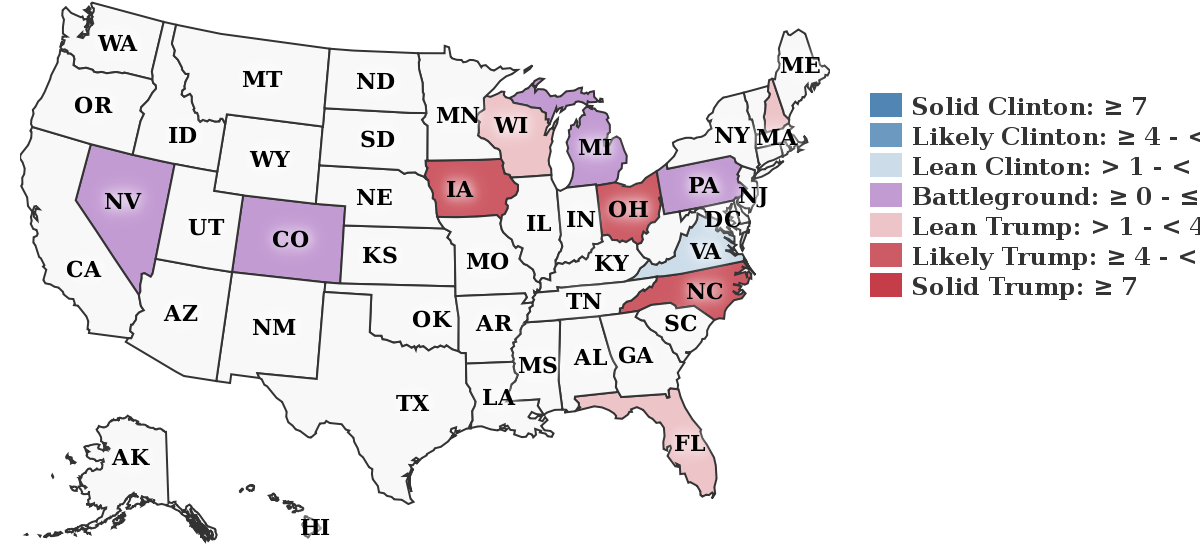 The final PPD Keystone State Battleground Poll released on November 6 found a rounded-statistically tied race, but almost nailed the margin exactly. Donald Trump took 48.4% of the vote in Pennsylvania to Hillary Clinton's 47.8% in our last poll. The final results: Trump 48.8%, Clinton 47.6%. In Michigan and Wisconsin, the final PPD Battleground State Polls released on the same day found tied races also leaning to the Republican nominee by less than 0.5%.
Now let's look at the final projection results. Even given the polling results in New Hampshire, the Democrats ability to hang on to the competitive Senate seat against Scott Brown during a wave in 2014 cast doubt on the data.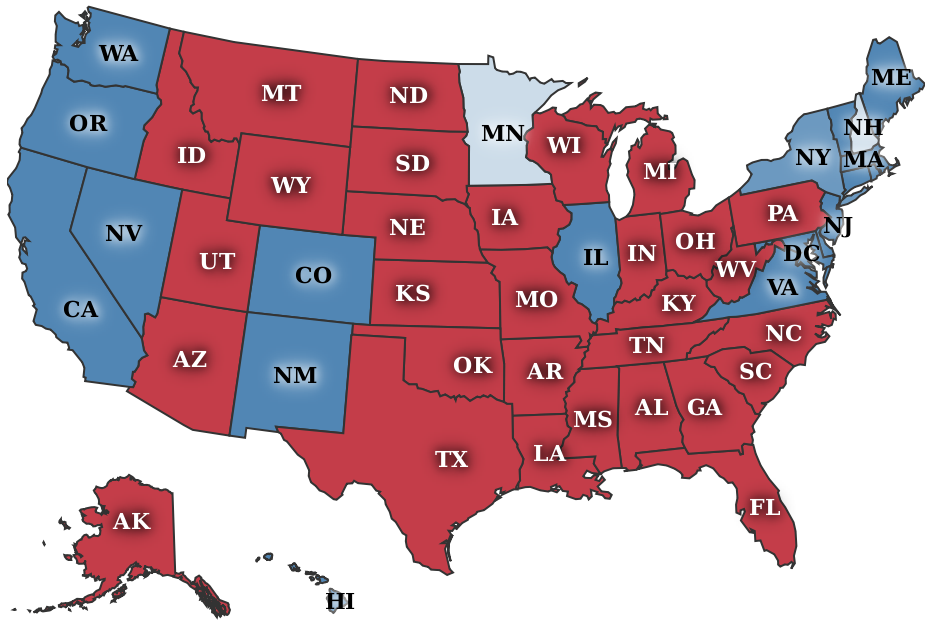 Nevertheless, not too shabby for a polling operation RealClearPolitics and the HuffPollster refused to aggregate. Michigan hasn't been called yet to due provisional ballots, but we have already projected it will be in the Trump column. Worth noting, Wisconsin voted for the Republican presidential candidate for the first time since 1984.
Now, let's cut the crap.
Nobody knew this was going to happen outside of People's Pundit Daily. Two polls released by the Republican-leaning Trafalger Group had Mr. Trump slightly up over Mrs. Clinton in Michigan and Pennsylvania, with particularly interesting results asking, "who do you think your neighbor will vote for?" in the poll. But the overwhelming Big Media poll consensus showed a rout for Mrs. Clinton that just never happened.
Well, I'm writing this article to tell you all that it was likely never going to happen. Look at the historical data from the tracking poll and it will quickly become clear it was not likely to happen in July, a little more likely in August, less likely in September, a little more like in early October, and definitely not likely by late October to early November. In truth, Mr. Trump was ahead more than he was behind the entire time.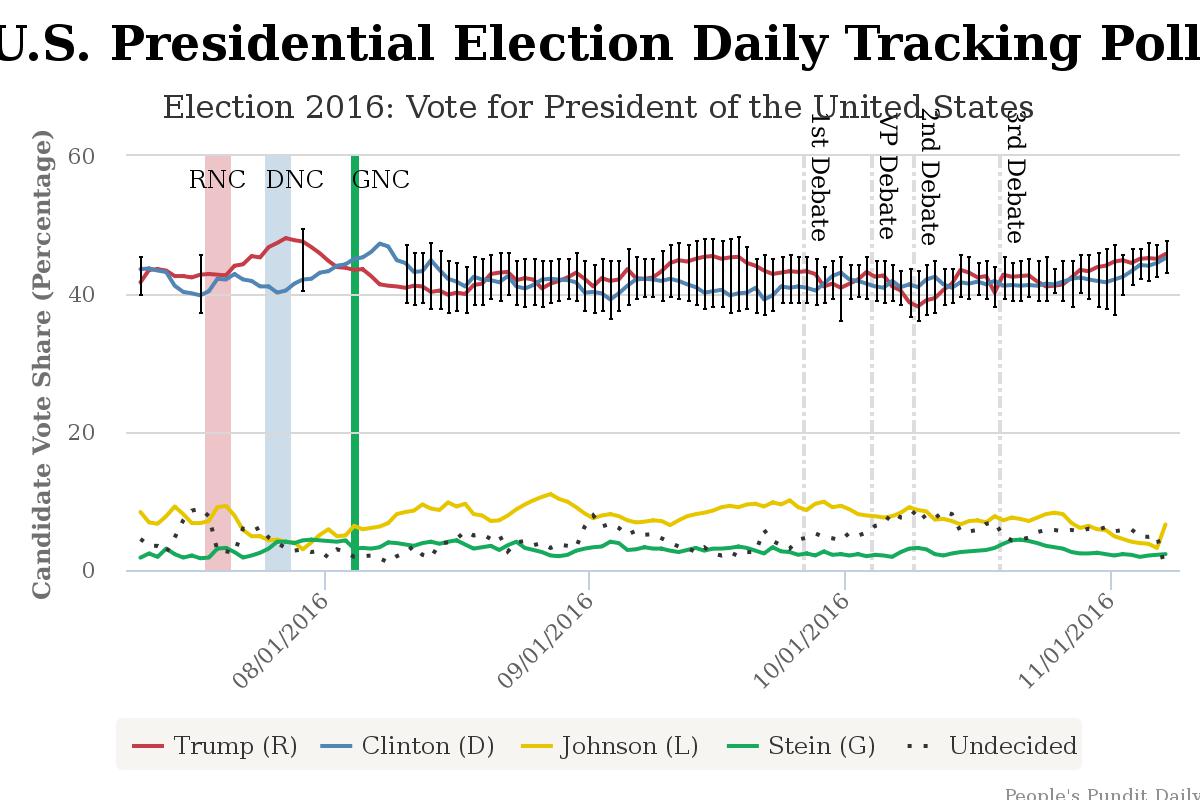 Going back to May 2016, I warned our readers that Nate Silver is wrong, a lot. I argued he was also wrong about Mr. Trump, for the second time. Mr. Silver, the election forecaster at FiveThirtyEight who gave Mr. Trump a 5% chance of winning the GOP nomination, at the time gave him a 25% chance of defeating Mrs. Clinton.
We haven't compiled our track record by simply poll-reading or mimicking other models. We stuck to our guns, made the tough calls and swam against the current of conventional wisdom.
We'll deal with all of these pundits and pollsters in the very near future, but we sincerely hope that consumers after this election expect and demand more from the media. These guys are no longer "authorities" to be cited. They must now be taken with a grain of salt until they earn back the benefit of the doubt.
In the meantime, we urge readers–as we have been doing since 2014–to remember one very simple fundamental truth: U.S. political history is riddled with endless examples of political realignments and coalition shifts. Successful and trustworthy election forecasters should not only know that the map on the presidential level isn't static, but also learn how to recognize when the map is shifting.
Hypotheses that presuppose the existence of Blue Walls–or, even Red Walls once upon a time–are destined to fail.
The PPD Election Projection Model was "hands down" the most accurate election projection model in 2014. During the 2016 primary, we had the best track record again, being the only outlet to catch on early to the dynamic and grossly underestimated political coalition behind Mr. Trump's success.
Now, PPD sits on top again. Mr. Silver and Team FiveThirtyEight again ended up in Wrongville–population: Upshot via The New York Times, The Fix via The Washington Post, RollCall, Cook Political Report and the Crystal Ball.
This time, we're publicly claiming the mantel until they perform well enough to take it back from us.