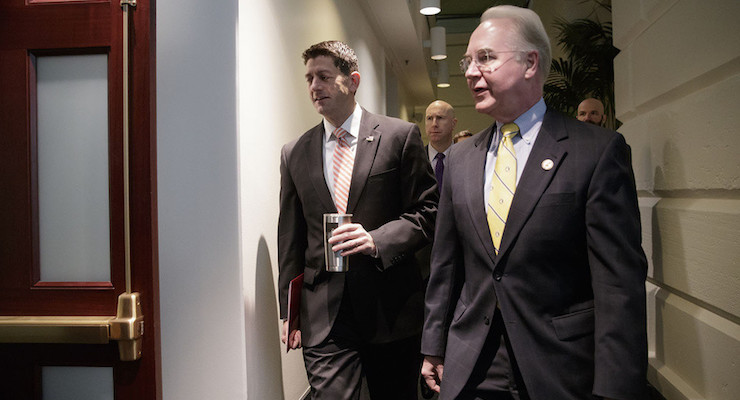 The race for Georgia's 6th Congressional District may not be getting a lot of press attention, but it is getting a lot of attention from both parties. The seat vacated by Health and Human Services Secretary Tom Price remains Leans Republican on the PPD Election Projection Model, but Democrats see a real chance to notch a much-needed electoral win after being decimated up and down the ballot during the Obama era.
Democrats are hoping to exploit internal party strife in what will now basically be a jungle primary. Eighteen candidates filed to run: 11 Republicans, 5 Democrats, and 2 independents. All candidates will compete in the same general election on April 18 and, if no candidate receives at least 50% of the vote, which is almost a certainty, the top two vote-earners will compete in a runoff regardless of party affiliation on June 20.
There are two top Republicans, at least as of now.
Before she resigned to run for governor, Karen Handel served as the Georgia Secretary of State from 2007 to 2010. While she received more votes than Nathan Deal in the Republican primary, 34% to 23%, she ultimately lost in the August 10 runoff 50.2% to 49.8%–or, about 2,500 votes out of nearly 580,000 cast.
In 2013, Handel announced her bid for the U.S. Senate after incumbent Republican Sen. Saxby Chambliss did not seek reelection. Despite again receiving the endorsement of former Gov. Palin in March 2014, she finished third in the primary and threw her support behind Jack Kingston.
David Perdue still went on to defeat Mr. Kingston in the runoff and crushed Michelle Nunn, as only the PPD Senate Election Projection Model forecasted would happen.
The Club for Growth, a conservative group that endorsed Bob Gray on March 14, dropped six figures to run an ad appearing on the air Wednesday. It aims to paint Handel as a "career politician" and Big Government Republican tax-and-spend liberal.
"Karen Handel is a career politician who wants to take her big-spending ways to Washington," said Club for Growth Action president David McIntosh. "She's wasted taxpayer dollars on trees for government properties and budget increases for her own office. The last thing voters in GA-06 need is a representative who will feel right at home in the D.C. swamp."
Meanwhile, Democrats have coalesced behind Jon Ossoff, the establishment-picked candidate and are already holding D.C. fundraisers for him. They have recruited a celebrity who doesn't have any roots in Georgia's 6th Congressional District to help Mr. Ossoff, who also doesn't even live in the district.
Democrats tweeted out a phone line voters could call promising actress Alyssa Milano would pick them up to vote early.
But Republicans overall will hammer Ossoff as an out-of-touch D.C. insider who is funded by leftwing radicals, a charge that isn't necessarily without merit. His personal financial disclosure raised serious questions about monies received from Al Jazeera, a Qatar-based propaganda outlet that has been linked to various Islamic terror organizations.
There are also questions about his qualifications, which can have a significant impact on "candidate strength," a key variable in the PPD Election Projection Model. Ossoff claimed to have "5 years of national security clearance," but in truth at least 2 of those years were as a part-time congressional staffer.
"It turns out Jon Ossoff's 'national security experience' includes time when he was a part-time staffer for radical Hank Johnson," Madison Anderson of the NRCC said in a posted statement. "Not exactly something to brag about."
He also touts his CEO background as a qualification to bring back jobs.
However, while he is in fact a CEO, it's of a UK-based business. Not very impressive for a businessman running in the America First era.
The race is a quagmire and anything is certainly possible by the time voters in Georgia's 6th Congressional District go to the polls. But the fundamentals and the latest data from the PPD Battleground State Likely Voter Metrics still point to a Republican advantage. While it's true Mr. Ossoff leads the entire crowded field, we do not believe he has the ceiling to defeat an equal Republican in what is likely to be runoff.