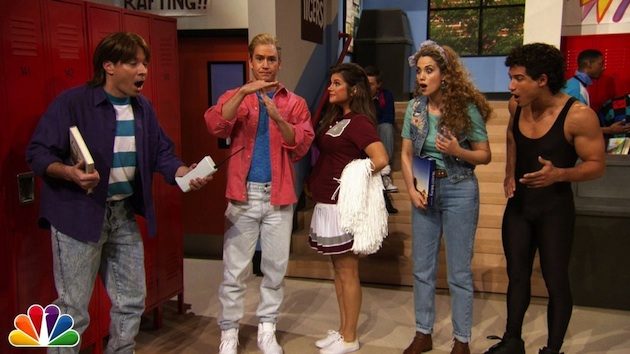 Jimmy Fallon hosted a "Save By The Bell" mini reunion on the "Tonight Show" Wednesday, for those who grew up watching the teen hit show. Nearly all of the original cast and crew of the show made appearances, including Zack Morris (Mark-Paul Gosselaar), 'A.C.' Slater (Mario Lopez), as well as the still-beautiful girlfriends Kelly Kapowski (Tiffani Thiessen) and Jesse Spano (Elizabeth Berkley).
Even Dennis Haskins, who played the father-like Principle Richard Belding, made an appearance.
Dustin Diamond, who played Samuel "Screech" Powers, the nerdy best friend to Zack, and Lark Voorhies, who played the love of Screech's life, Lisa Turtle, are noticeably absent. While Turtle's absence and not known, Diamond is currently involved in a legal battle in Wisconsin after being accused of stabbing a man in a bar around Christmas.