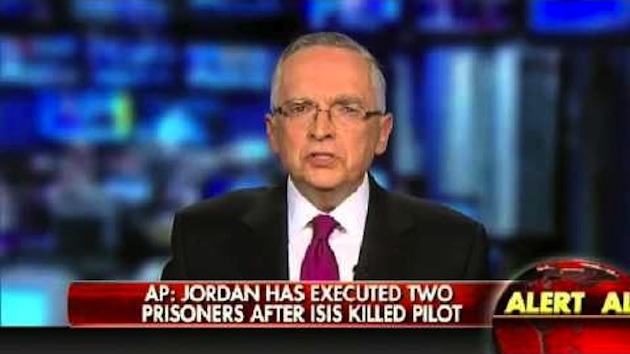 https://www.youtube.com/watch?v=jHWt86QeLvM
Lt. Colonel Ralph Peters said Tuesday night that America and the Obama administration need to get serious about the threat from ISIS, or the Islamic State.
Lt. Colonel Peters appeared with Sean Hannity Tuesday night following the release of a video showing ISIS burning a captured Jordanian pilot alive. Peters said ISIS is "having the the time of their lives" and, unlike it was suggested by other talking heads, are not acting out of desperation.
"It was a brilliant recruiting video," Lt. Colonel Peters told Hannity. "Those guys who burned that young man alive, they're having the time of their lives. This kind of violence is captivating, exhilarating, thrilling to these guys. It's never going to get better for them than this. They have power now. They can exert their will over others."
Former congressman and retired Lt. Colonel Allen West led the segment off by saying "the only way that you can deal with savage, barbaric animals is to be tough and ruthless."
Jordan executed two al Qaeda prisoners early Wednesday in response, indicating that Jordan and other Arab nations in the U.S.-led coalition may have come to the same conclusion. Sajida al-Rishawi and Ziad al-Karbouly, two Iraqis connected to al Qaeda were executed by hanging at Swaqa prison about 50 miles south of the Jordanian capital of Amman at sunrise. Two ambulances carrying the bodies of al-Rishawi and al-Karbouly drove away from the prison with security escorts.
"This was better than the best sex they've ever had and it's easier on the goats," Peters added, underscoring that President Obama's "false choice" between air power alone or hundreds of thousands of soldiers on the ground is "absolute bull."