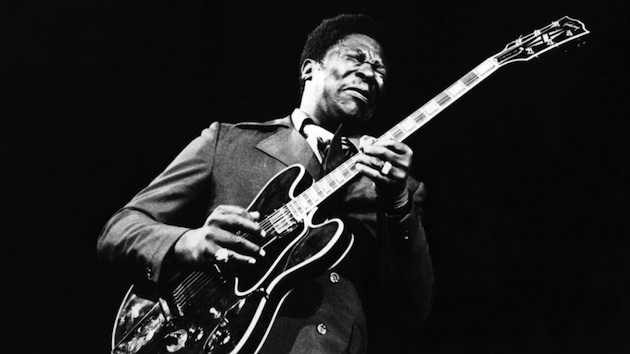 B.B. King, the legendary blues guitarist and singer-songwriter died peacefully in his sleep at 9:40 p.m. local time Thursday in Las Vegas at 89 years old.
Attorney Brent Bryson told The Associated Press that that funeral arrangements were being made for King, who died at his home where he had been in hospice care in declining health during the past year. He collapsed during a concert in Chicago last October, which was blamed on dehydration and exhaustion. King, a 15-time Grammy winner, suffered from diabetes, as well, and even helped to raise awareness sponsoring commercials for medical products.
For most of a career that spanned nearly 70 years, Riley B. King was a mentor to other renowned blues and rock guitarists, including Eric Clapton, Otis Rush, Buddy Guy, Jimi Hendrix, John Mayall, Slash and Keith Richards. He recorded more than 50 albums, appeared and played with hundreds of musicians, and toured around the world. Not only did his career continue well into his 80s, but B.B. King often put on some 250 or more concerts each year.
On his well-known Gibson guitar he affectionately called, and the world knew as Lucille, King made a blues sound and style all his own. He would and could go on single-string runs during a solo like no other before or after, punching his rhythm with a combination of loud jazz, blues and power chords, each interrupted with subtle vibratos and sustained yet sultry bent notes.
"The Thrill is Gone," perhaps his best known song, will be a classic for the ages to blues and rock guitarists alike. It features a crying guitar and angry chords that projects the pain and anguish that comes along with forsaken love we cannot live with or without.
"Now that it's all over, all I can do is wish you well," King sang to an audience anticipating the final weeping shout.
"Sometimes I just think that there are more things to be said, to make the audience understand what I'm trying to do more," King told The Associated Press in 2006. "When I'm singing, I don't want you to just hear the melody. I want you to relive the story, because most of the songs have pretty good storytelling."
King was born Riley B. King on Sept. 16, 1925 in dire poverty conditions in the Mississippi Delta, which was the birthplace of American blues music. He was raised by his grandmother after his parents separated and his mother died, and worked as a sharecropper for five years in Kilmichael. His father eventually found him and took him back to Indianola.
But it was in the Mississippi Delta where he spent hours developing his skills with his preacher uncle, who taught him to play the guitar. He began picking cotton on tenant farms before he was even a teenager. Being paid as little as 35 cents for every 100 pounds, King was still working off sharecropping debts after he got out of the Army during World War Two.
"I was a regular hand when I was 7. I picked cotton. I drove tractors. Children grew up not thinking that this is what they must do. We thought this was the thing to do to help your family," he said.
When the weather was bad and he couldn't work in the cotton fields, he walked 10 miles to a one-room school before dropping out in the 10th grade.
Though King got his start in radio with a gospel quartet in his home state of Mississippi, he would find his stepping-stone in Memphis, Tennessee, where a job as a disc jockey at WDIA gave him an in to the music world. The unfettered access to music records didn't hurt, either, as he studied the great blues and jazz guitarists, including Django Reinhardt and T-Bone Walker. He played live music a few minutes each day as the "Beale Street Blues Boy," which was later shortened to B.B. King.
From his first recorded hit in 1951 — "Three O'Clock Blues" — to the best-selling Grammy winner "Riding With the King" recorded with British-born guitarist and singer Eric Clapton, the influence from the Mississippi Delta rang true. However, he only began to reach white audiences in the 1960s with his album "Live at the Regal," which would later be declared a historic sound recording worthy of preservation by the Library of Congress' National Recording Registry. He gained a great deal of exposure and notoriety that helped him break into stardom in 1968, during an appearance at the Newport Folk Festival. That gig landed him a chance to open for the Rolling Stones in 1969.
"I've always tried to defend the idea that the blues doesn't have to be sung by a person who comes from Mississippi, as I did," Joe Smith quoted B.B. saying in his 1988 book Off the Record: An Oral History of Popular Music. "People all over the world have problems, and as long as people have problems, the blues can never die."
King was inducted into the Blues Foundation Hall of Fame in 1984, the Rock and Roll Hall of Fame in 1987 and received the Songwriters Hall of Fame Lifetime Achievement Award in 1990. He received the Presidential Medal of Freedom from President George W. Bush, gave a guitar to Pope John Paul II and had President Barack Obama sing along to his "Sweet Home Chicago."
"The Thrill Is Gone" landed him the best male rhythm 'n' blues performance in 1971, which preceded the best ethnic or traditional recording in 1982 for "There Must Be a Better World Somewhere." He also won the best traditional blues recording or album multiple times after for various recordings, and his final Grammy was won in 2009 for best blues album for "One Kind Favor."
When he wasn't recording in 1956, King toured the world playing 342 one-nighters. In 1989, he spent 300 days on the road, but after he turned 80 he promised family, friends and fans he would slow down the pace. So, he only did about 100 shows a year. Despite his admirable and impressive lifestyle, King was a modest man who simply saw himself and his performances as maintaining a great tradition, one he loved with every fiber of his being.
"I'm just one who carried the baton because it was started long before me," he told the AP in 2008.
He had 15 biological and adopted children and is survived by 11. Whether through his name or his music, B.B. King may be dead, but the thrill will never be gone.
[brid video="8515″ player="1929″ title="B.B. King Live At Sing Sing Prison He Said It Was One Of His Best Performances"]
This video of B.B. King, who died at age 89, is one scene in a must-see and one of the best music documentaries ever made – Live at Sing Sing Prison. Get it on Amazon. This is one of the Producer Harry Wiland and David Hoffman filmed inside the joint. Scenes include a concert and other behind the scenes stories. Other scenes involve B.B. King and Joan Baez, Jimmy Walker and the Voices of East Harlem.