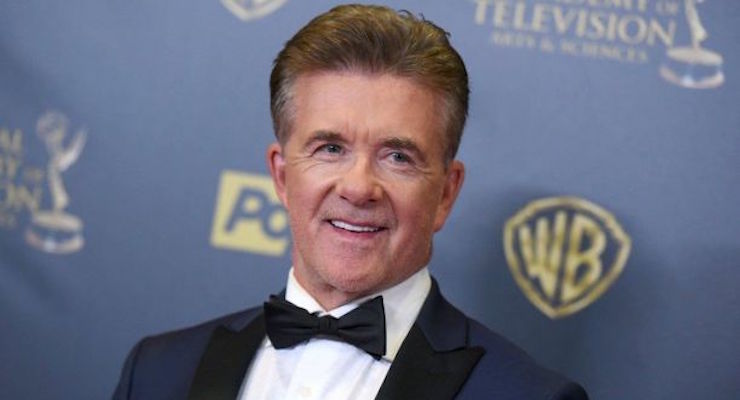 Actor Alan Thicke, who was best known for his role as Dr. Jason Seaver in the 1980s sitcom "Growing Pains," died Tuesday at the age of 69, his publicist confirmed. TMZ first reported Thicke's death on Tuesday night, as the Hallmark Channel continues to run a series of holiday movies in which he also starred.
"Alan's sudden passing has been confirmed," Mr. Monique Moss wrote in a statement. "At present, we have no further details."
Carleen Donovan, who is a publicist for Thicke's son, singer Robin Thicke, told the Associated Press the actor died from a heart attack in Los Angeles. She had no further details.
"Thank you for your kindness concerning Alan Thicke's passing. It is a shock. We were all just together for Thanksgiving. He was talented, funny and deeply devoted to his family. Rest In Peace, dear one," Gloria Loring said on the passing of Thicke. Loring and Thicke were married from 1970 until 1984. They had two sons together.
The ABC series "Growing Pains" aired from 1985 until 1992 and featured Thicke as one of the most beloved TV fathers of all time. He played a psychiatrist raising his children along with his wife, a role played by Joanna Kerns. Kirk Cameron plated his oldest son, Mike, who was a bit of a trouble maker in the family.
More recently, he made appearances in the comedy "How I Met Your Mother" and the Netflix series "Fuller House.," while being the frequent ad voice on Sirius.
Thicke was born in Ontario, Canada, in 1947 and was a popular Canadian talk show host before making his name in the United States. He was nominated for three Emmy Awards for his work in the late 1970s as a writer for Barry Manilow's talk show, and later for a satirical take on the genre in the variety show "America 2-Night."
He was also the composer of several popular theme songs, including the original theme to "The Wheel of Fortune," and shows such as "The Facts of Life" and "Diff'rent Strokes."
The Los Angeles County coroner's office told the AP Thicke's death was not reported to them.