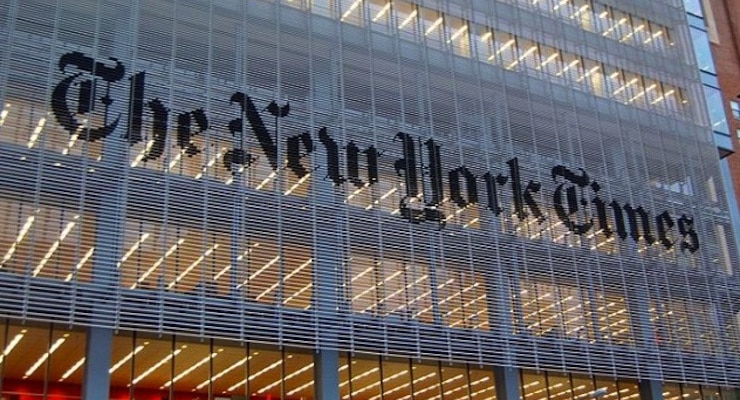 The New York Times is fielding "letters of complaint at a rapid rate" following their abhorrent and bias coverage of the 2016 presidential election. Liz Spayd, their public editor, railed against her own paper for their election coverage.
"Readers are sending letters of complaint at a rapid rate," she wrote. "Here's one that summed up the feelings succinctly, from Kathleen Casey of Houston: 'Now, that the world has been upended and you are all, to a person, in a state of surprise and shock, you may want to consider whether you should change your focus from telling the reader what and how to think, and instead devote yourselves to finding out what the reader (and nonreaders) actually think.'"
Spayd also pounced on Upshot, one of PPD's election projection and polling competitors. Rich Baris, the People's Pundit himself, frequently accused Upshot of willful ignorance and scale-tipping. Upshot projected there was an 84% chance Hillary Clinton would defeat President-Elect Donald J. Trump.
"Siena has a scar on their reputation for what Nate Cohen at Upshot did with their data," Mr. Baris, PPD's editor and analyst says. "He frequently played with the data given to him to get the result he wanted. In North Carolina, Upshot took a raw lead for Mr. Trump and turned it into a lead for Mrs. Clinton. He decided who was going to vote and for whom, rather than listen to the respondents."
The reader outrage prompted Arthur O. Sulzberger Jr., the paper's embattled publisher, to write a letter appealing to their readers not to cancel their subscriptions.
[pdfviewer width="740px" height="849px" beta="true/false"]https://www.peoplespunditdaily.com/wp-content/uploads/2016/11/New-York-Times-Letter.pdf[/pdfviewer]
In a letter to readers on Friday, Sulzberger said the paper would "reflect" on its coverage of this year's election and rededicate itself to reporting on "America and the world" honestly. Sulzberger also reportedly sent a note to staffers on Friday reminding the newsroom to "give the news impartially, without fear or favor." However, he still insisted that the paper covered both candidates fairly.
"We cannot deliver the independent, original journalism for which we are known without the loyalty of our subscribers," the letter states. "But we also approach the incoming Trump administration without bias."
But Spayd didn't see it that way, either. Agreeing with the readers sending them letters, she underscored how one said the paper should focus on the electorate instead of "pushing the limited agenda of your editors."
"Please come down from your New York City skyscraper and join the rest of us."