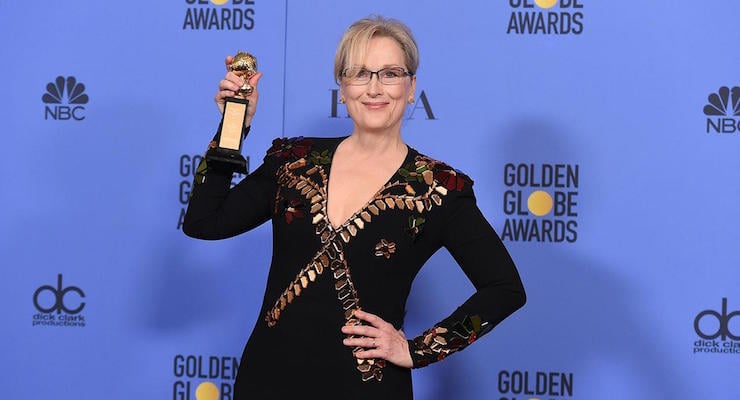 Actress Meryl Streep used her lifetime achievement award to trash Donald J. Trump, topping a long list of Hollywood hypocrites. As the leftwing Hollywood elites trashed the incoming president as a misogynist and a bully, they praised actual rapists and sexual harassers.
Hell, Casy Affleck, who won Best Actor in a Motion Picture for his leading role in Manchester by the Bay, has been accused of sexual assault that actually cost women their jobs. Streep, herself, gave a standing ovation to convicted rapist Roman Polanski at the 2003 Oscars. At the 1:10 mark, she can be seen vigorously applauding Polanski when he won the Academy Award for Best Director for "The Pianist" in 2003.
Polanski fled the U.S. to avoid prosecution and imprisonment after he raped a 13-year old girl. In 2011, he admitted his guilt. The Supreme Court in Poland rejected the final U.S. petition to extradite him.
Then there's Mr. Affleck, the brother of far-leftwing superstar Ben Affleck. From The Daily Beast:
In December 2008, Amanda White agreed to serve as a producer on an untitled documentary headed by Affleck and Flemmy Productions, which ultimately became I'm Still Here. She had a decade-long history of working with Affleck. Over the course of filming, White alleged in the complaint that she was repeatedly harassed. On one occasion, she claimed that Affleck ordered a crew member to take off his pants and show White his penis—even after she vehemently objected. She claimed that Affleck repeatedly referred to women as "cows," and recounted his sexual exploits with reckless abandon. In her complaint, White recalled Affleck asking her "Isn't it about time you get pregnant?" once he learned her age, and suggesting that she and a male crew member reproduce.

White's accusations go on, ranging from incredibly unprofessional behavior to actual physical intimidation. She described an instance where she was prevented from returning to her bedroom during shooting, because Affleck and Phoenix had locked themselves in her room with two women where they had sex with them (Affleck was married with two children to Phoenix's sister, Summer, at the time—though the couple recently split). She also alleged that Affleck attempted to manipulate her into sharing a hotel room with him. When she resisted, White claimed, he grabbed her threateningly and attempted to scare her into submission. Affleck then allegedly proceeded to send White abusive text messages, calling her "profane names" for refusing to stay with him. White filed a $2 million lawsuit against Affleck in Los Angeles Superior Court on July 23, 2010.
The Guardian also did an informative report taking a look at the potential "monkey wrench" threatening to damage the publicity campaign for the movie. And how did entertainment elites and media react to these charges?
"Casey Affleck joins the ranks of giants," Time Out wrote declared in a puff piece.
Just to recap, it's okay to rape little girls and sexually harass women in the workforce just as long as your politics are liberal. Got it? Hollywood did everything they could to get Hillary Clinton elected. She got trounced. They did everything they could to get faithless electors to abandon President-elect Trump, she lost more electors than any other candidate in 104 years.
Americans rejected the out-of-touch partisan views of Tinseltown. Since it's clear they aren't going to be doing any introspection exercises anytime soon, it will only get worse.
UPDATE: Well, we all knew this was coming…
Meryl Streep, one of the most over-rated actresses in Hollywood, doesn't know me but attacked last night at the Golden Globes. She is a…..

— Donald J. Trump (@realDonaldTrump) January 9, 2017
Hillary flunky who lost big. For the 100th time, I never "mocked" a disabled reporter (would never do that) but simply showed him…….

— Donald J. Trump (@realDonaldTrump) January 9, 2017
"groveling" when he totally changed a 16 year old story that he had written in order to make me look bad. Just more very dishonest media!

— Donald J. Trump (@realDonaldTrump) January 9, 2017