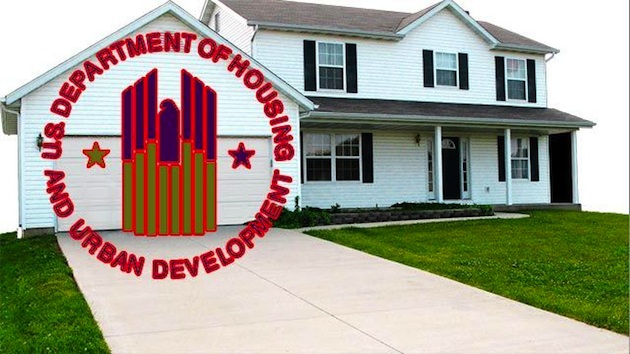 The Obama administration's HUD neighborhood diversity scheme is forcing many veterans to leave suburban areas for downtrodden, Section 8 neighborhoods. Last year, Obama announced plans to use the federal government to undertake forced racial integration, and now we are beginning to see what that means.
The stated purpose of mapping every neighborhood in American by race was to use the data to force local officials to loosen zoning laws, build more public housing and allow poor inner-city minorities to access better opportunities for housing and education. But that isn't what is happening, at all.
It is "one despicable back-door kind of policy," one housing authority official told People's Pundit Daily.
And here is how it works.
Because the government cannot lift up those less fortunate, they have decided to tear others down. In this case, unfortunately, that means forcing veterans who are receiving HUD-VASH assistance to move into Section 8 neighborhoods, rather than allowing them to find more suitable arrangements in suburbs with better-performing schools in safer neighborhoods.
Veterans who are determined low-income or at-risk of homelessness, many of which have families and are attending higher education or training schools, are eligible for Veterans Affairs Supportive Housing (HUD-VASH), a program that "combines Housing Choice Voucher (HCV) rental assistance" with case management and clinical services through the Department of Veterans Affairs, according to the Housing Department site. Services for those eligible are provided at VA medical centers (VAMCs) and community-based outreach clinics.
While HUD-VASH was originally geared toward older veterans with physical or mental illness, the program has transformed into a reentry program for many younger veterans who work with their case managers and others to find gainful employment or retraining programs. The program works very much in the same manner that Section 8 does, with veterans completing necessary paperwork at local housing authorities around the country. But landlords in better neighborhoods are far more willing to rent to tenants who receive HUD-VASH than Section 8, allowing veterans to find decent homes in decent neighborhoods.
However, because of new administration rules being funneled down through the Department of Housing and Urban Development, the agency in charge of racially diversifying neighborhoods, that is all about to change.
The amount of assistance, or the monthly amount the program allows for rent, has been substantially decreased for veterans with families, as well. In some cases, landlords are either forced to accept a several hundred dollar decline in monthly rent, or the veteran tenant must find cheaper housing, in Section 8 neighborhoods. Further, for veterans who have two children of the opposite sex — i.e. one boy and one girl — they are no longer allowed separate bedrooms up to ages that in many cases violate state law.
An official who works as a HUD-VASH case manager at the Department of Veteran Affairs told People's Pundit Daily that these and other seemingly subtle changes that took hold in October, 2013, are now starting to have a negative impact on the veterans.
"Many of them are beginning to find out about these changes now, but most will not get hit with this until they attempt to renew their lease," they said. "The housing authority officials are telling them on an as-needed basis, so really… they can't really plan for this."
In Florida, for example, families with children of the opposite sex over the age of two were allowed separate accommodations, which would be needed to comply with standards the Florida Department of Children and Families expects from other households. But the federal government is forcing local housing authorities to change that age requirement to ten years-old.
"First they told me my children had to share a room, something any sane parent knows is inappropriate, then they tell me they have to share it in a crappy neighborhood," one veteran said. The veteran was afraid to give his name, fearing they would retaliate by pulling his voucher.
"We had our rent reduced from $1150.00 to $900.00 a month," he said. "One, maybe two neighborhoods are that cheap around here, and they are both drug neighborhoods. Thank God my landlord is Christian," he said.
He was forced to tell the landlord that he and his wife had been reduced, but will be allowed to stay in his present home because the landlord didn't want him and his family to have to take his kids out of the better-performing school system and move across town.
Still, though the federal government is imposing much of these new rules in their effort to racially diversify neighborhoods, local housing authorities are relied upon to actually carry them out. And not everyone is willing to do it.
"I want no part of this social engineering garbage," the veteran's housing authority official told us. Speaking on the condition of anonymity, the official told us that other housing authority officials still have some options. "A lot of this stuff is income based, and guess who verifies the income," they said. "If they need another hundred or two-hundred dollars in income to get them to the requested landlord amount or an amount they are willing to work with, then guess what, we'll just have to put that down."
Even though the program is largely based on Section 8, many landlords and officials don't see the program in the same light. But if Section 8 isn't welcomed in many suburban neighborhoods, thus recipients' children cannot access better-performing schools, then why does the administration believe sending veterans' children to poorer neighborhoods will help the poor?
"Look, are some of these veterans older veterans who have substance abuse problems and can't seem to get their life together? Sure, lots of them," the housing official said. "But many of them are not; they have families and are young people who need a safety net while they get their lives together."
"Besides, regardless, they are veterans," the VA case manager interjected. "And unlike Section 8 recipients, they've earned a hand up, not a hand out," they said, as the housing official nodded in approval.