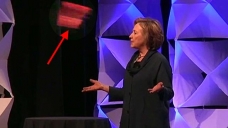 WATCH VIDEO: Woman throws shoe at Hillary Clinton at fundraising event in Las Vegas, Nevada, and then was taken into federal custody.
It wasn't long after Clinton took the stage before an Institute of Scrap Recycling Industries meeting at the Mandalay Bay resort as part of a week-long speaking circuit at $250,000 a pop, when a woman decided to throw a shoe at her.
Clinton ducked after the fact — despite the superwoman move the AP fabricated — and she was not hit by the object.
"Is that somebody throwing something at me? Is that part of Cirque de Soleil?" Clinton joked.
"My goodness, I didn't know that solid waste management was so controversial," Clinton said, as if she isn't a known liar over Benghazi and many, many other events. "Thank goodness she didn't play softball like I did."
Brian Spellacy, who is a U.S. Secret Service supervisory special agent in Las Vegas, told the AP the woman was being questioned and would face criminal charges, though it isn't clear why people are arrested when they throw shoes at aristocracy but not their neighbors. Spellacy wasn't even clear what the charges would be.
It may ring a bell that President George W. Bush dodged two shoes thrown by an Iraqi journalist during a news conference in Baghdad in December of 2008. Obviously, shoe-throwing is considered an insult in Arab cultures, but the woman's attire certainly wasn't suggestive of such a motive. That may turn out to be the case, but she was a middle-aged blonde woman wearing a blue dress and thong sandals.
Unlikely radical "Islamo-shoeism" is the motive.