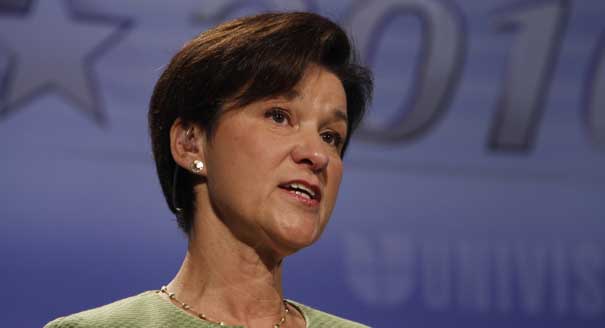 Democrat Alex Sink, who took on now-Rep. David Jolly and lost in the FL-13 special election, has decided to opt-out of a rematch in November. Members of the Democratic Party Establishment in Florida and in the DCCC had attempted to convince Sink that turnout in November would benefit her, but she wasn't buying it.
In a message to supporters on her Facebook page, Sink vowed to remain relevant to the conversation and the party, quoting the late Republican Representative Bill Young who served and represented FL-13.
Friends, I have made a very personal decision not to run for the 13th Congressional District seat in the 2014 election. I want to thank every voter, volunteer and donor for standing beside me these past months – we can all be proud of the strong campaign we ran.

While I will not seek election in 2014, I will continue our dialogue here so that we can continue to work together to find new ways to continue to find common ground, to promote problem solving and find commonsense solutions to our most pressing problems.

In the words of Bill, I look forward to continuing to do good. I remain totally convinced that a Democrat can and will win this congressional seat in the fall, and I look forward to helping the Democratic nominee. Stay tuned!
However, in reality, Bill Young was far more aligned philosophically with David Jolly than he was with Alex Sink. Sink carried the district in her 2010 gubernatorial bid against now-Gov. Rick Scott, and the district was narrowly carried by President Obama in 2012 against Mitt Romney. And while the Democrats downplayed the loss in the special election, Sink's defeat was a devastating sign that ObamaCare has hurt the Democratic Party, Republicans closed at least some of the tech gap with "Honeybadger," and seniors have continued their move toward the Republican Party.
The late Bill Young, though an incumbent, was a popular Republican in a district that was moving toward the left. It has become a painful reality for Democrats to swallow, but FL-13 is a casualty of their lock-step pursuit of big government. Older, whiter seniors who were once reliable constituencies for the Democratic Party, have abandoned them in droves. In fact, they are the only bloc who identify consistently Republican, according to Gallup.
Alex Sink originally passed on both the gubernatorial rematch with Scott and her first bid for FL-13, citing the recent death of her husband.  Republicans point to Sink's decision as a serious problem the Democrats have yet to acknowledge, and once which the media refuses to cover.
"These candidates who live outside the beltway understand what Obama and the DCCC [don't] — their continued devotion to ObamaCare is not only costing them votes, it is costing them their star candidates," National Republican Congressional Committee spokeswoman Andrea Bozek said in an email.
David Jolly, in what was no doubt a move to distance himself from the media narrative, actually voted against the Ryan budget that the House passed last week.