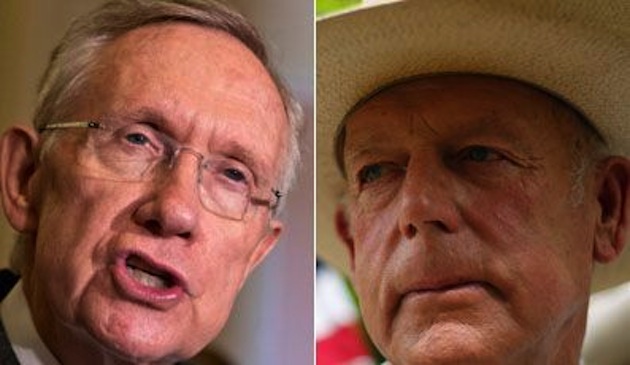 Senate Majority Leader Harry Reid said Thursday that Nevada rancher Cliven Bundy and his supporters are "domestic terrorists," adding that Bundy does not respect his country or its laws. However, with the help of a friendly national media, Reid continues to boldly weigh-in on the Nevada standoff without having to respond to allegations surrounding his own questionable role in the affair.
While the Las Vegas Journal-Review reported that Reid, the Democrat majority leader, made enflaming comments at the paper-hosted event Thursday, dubbed "Hashtags & Headlines," not a single question covered his two-front connection to the Bureau of Land Management and a Chinese solar company represented by his son and former Nevada gubernatorial candidate, Rory Reid, which were first raised by InfoWars.com.
"They're nothing more than domestic terrorists," Reid boldly stated. "I repeat: what happened there was domestic terrorism."
The fact that the Las Vegas Journal-Review is still citing the "threatened desert tortoise," may speak to why Reid chose the venue and was not challenged by reporters.
"Some of the land includes habitat for the threatened desert tortoise, which the federal government is trying to protect by limiting grazing," wrote Las Vegas Journal-Review reporter, Laura Myers, despite the "save the tortoise" narrative being widely debunked. The Associated Press reported on August 25, 2013, that the desert tortoise, with a life span of 100-plus years, was being euthanized as a matter of public policy.
With the desert tortoise removed as a potential motive for the Bureau of Land Management to restrict public land use in and around Gold Butte and the Lake Mead National Recreation Area, investigative journalists are left with Senator Harry Reid and his long history of funneling money to family.
In 2003, The Los Angeles Times reported on a Clark County land bill, which was passed in a late-night session in the dead of night when taxpayers were sleeping. "The Clark County Conservation of Public Land and Natural Resources Act of 2002" secured an astronomical amount of legislative rents, or pork, for real estate developers, corporations and local institutions that were all paying hundreds of thousands of dollars in lobbying fees to his sons' and son-in-law's firms.
More recently, in late March, 2014, Reid was visibly annoyed by reporters when he was forced to answer questions about an illegal $9,064 payment back in December 2012, which was made to "Ryan Elisabeth," a.k.a. Ryan Elisabeth Reid, his granddaughter.
But it was a land deal in 2012 between Clark County and ENN Energy Group, a Chinese solar energy company represented by Rory Reid, which is of relevance to the Nevada rancher, Cliven Bundy. The land was appraised at $38.6 million, but thanks to Rory Reid being the son of one of the most powerful men in Washington, D.C., as well as the single-most powerful man in Clark County poltics, the Chinese made out like bandits, agreeing to pay just $4.5 million.
Enter Cliven Bundy, who owns what the BLM has dubbed "trespass cattle" currently threatening ENN and other public lands "managed" by the Bureau for the purposes of implementing the "Solar Energy Development in Six Southwestern States" scheme, which includes the Dry Lake Solar Energy Zone, property BLM documents specifically state are occupied by the Nevada rancher. Documents that have now been pulled from BLM.gov stated, "Non-governmental organizations (a.k.a. ENN Energy Group) have expressed concern" that plans for solar farm development were "not durable with the presence of trespass cattle," i.e. Nevada rancher Cliven Bundy.
In other words, the Dry Lake Solar Energy Zone would remain an elitist idea unless Bundy and his cattle were dealt with, which brings us back to Reid and his established connection to the Bureau of Land Management.
On April 9, just a few short days before the roundup, Harry Reid pushed through the Senate confirmation of his former senior advisor, Neil Kornze. By a 71 – 28 vote, Kornze was approved and quickly took the helm at the Bureau of Land Management. The agency oversees more than 245 million acres of public lands nationwide, and roughly 48 million acres in the state of Nevada, including the Gold Butte and Lake Mead National Recreation Area Cliven Bundy is currently using to graze his "trespass cattle."
And the rest is history.
Thus far, Harry Reid had remained relatively unscathed by this information, largely because the Las Vegas Journal-Review and others are still claiming the "BLM long ago revoked Bundy's grazing rights on that land after citing concern for a federally protected tortoise." Yet, both the Department of Energy and the Bureau of Land Management have confirmed that tortoise-related rules have been waved numerous times for solar and wind projects, and the BLM as recently as last fall killed hundreds of the supposedly "protected tortoise."
Some supposed journalists have even gone so far as to claim the nearly $5 million dollar project wasn't a big deal because it had been shelved, suspiciously just in time for the military-like assault on the Bundy ranch.
The connection between said solar schemes and Harry Reid is evident from his attendance at a groundbreaking ceremony for a new solar project just a few days ago. But while Mr. Reid with shovel in-hand was digging at the surface of the Nevada desert, we were digging in to these allegations. And PeoplesPunditDaily.com will continue to investigate this story further until Americans can definitely draw a conclusion. 
In the meantime, the attacks on Cliven Bundy will only serve to further fan the flames of outrage from those on both the right and middle of the political spectrum, who feel increasingly alienated by Reid and other big government politicos, in general.
"Well, I guess he's right," Bundy told Eric Bolling Thursday. "I don't know what else we'd be. We're definitely citizens riled up. I don't know whether you could call us terrorists. There are the most loving people here I've ever met in my life."
Yet Reid wants the public to see it his way, despite the behind-the-scenes backstory.
"They had sniper rifles in the freeway. They had weapons, automatic weapons. They had children lined up. They wanted to make sure they got hurt first … What if others tried the same thing?" Reid said, suggesting American citizens who exercise their right to bear arms are dangerous to the community. However, as previously reported by PeoplesPunditDaily.com, the Bundy ranch standoff occurred amid reports of excessive arming among federal agencies who traditionally are not seen in a law enforcement light.
Coupled with a sentiment that the Democrat Senate Majority Leader is collaborating with foreign governments to subvert the citizenry, the absence of journalists willing to pursue the truth may just aid in bringing about a most-undesirable conclusion to this story.